Want to know how to travel in style, just like the pros? We check in with frequent fliers to find out how often they fly, their favorite destinations and what they never leave home without.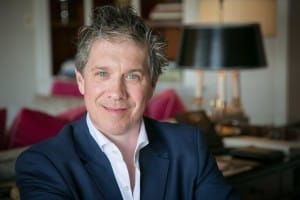 Name: Michael Holtz
Occupation: Owner of SmartFlyer
Hometown: New York
Residence: New York
College: Washington University in St Louis
College major: Industrial Engineering
Website: smartflyer.com
Twitter: @MrSmartFlyer
Facebook: Michael Holtz
Instagram: mikeyholtz
Short bio: Michael founded SmartFlyer over 20 years ago after graduating from Washington University in St. Louis and he has been everywhere ever since. His curiosity to discover sends him around the globe in search of the best that the world has to offer. Michael is widely known for designing unique, once-in-a-lifetime itineraries and the smartest way to issue First/Business class tickets for his discerning clients and SmartFlyer has been recognized as Travel + Leisure A-List agents for 2012, 2013, & 2014. Michael sits on both the Starwood and Park Hyatt Advisory Board.
How often do you fly? At least 2-3 times/month.
How many countries have you been to? Approx. 60.
How many continents have you been to? Six of seven, #7 is on my list, but cannot handle no Wi-Fi!!
Earliest travel memory: Going to London with my family when I was 10.
Favorite American city: New York City!
Favorite international city: Singapore.
I have no desire to go to: I want to go everywhere!
Friendliest people in the world: New Yorkers, if you know how to work it!
Country with the meanest immigration officers: Vietnam—the visa on arrival service is worse than a bakery the day before a Jewish holiday!
Favorite World Heritage Site: Angkor Wat—it's magical.
Favorite airline: CX.
Favorite aircraft type: Dreamliner, arrive in better shape—BUT—it does not have a true First Class cabin.
Aisle or window: Window.
Favorite airport lounge: The Wing in HKG.
Favorite U.S. airport: JFK—because that means I am home.
Favorite international airport: Frankfurt—LOVE the Lufthansa First Class Terminal.
Favorite hotel: Dolder Grand.
Favorite cruise line: Aqua Expeditions.
Favorite travel credit card: Chase Palladium Card.
Favorite island: Laucala.
Favorite beach: Soneva Kiri.
Favorite fancy restaurant: Jean-Georges in NYC.
Favorite hole-in-the-wall: Juban on Tenth Ave in NYC.
Favorite bar: Soho House NYC.
Favorite fruit: Banana.
Favorite food: Japanese.
Least favorite food: Hot dogs at Yankee Stadium.
Drink of choice (in the air and on the ground): Titos vodka.
Favorite travel movie(s): Up in the Air (George Clooney).
Favorite travel show(s): Gilligan's Island.
Favorite travel book(s): OAG (official airline guide).
Right now I am reading: Periodicals only.
Top 3 favorite travel newsletters/magazines/blogs: Wallpaper, Monocle, Afar.
Favorite travel website(s)—besides JohnnyJet.com, of course! First Class Flyer.
5 things you bring on a plane: iPhone, iPad, charger, Kiehl's lip stuff, extra set of contacts.
What do you always seem to forget? Nothing—I am very organized! 
What do you like least about travel? I LOVE it all!!
What do you want your loved one to buy you from an airport Duty Free store? Never go in—it always offers stuff I don't need/want.
Favorite travel app(s): Uber.
Most embarrassing travel moment: Having an industry colleague catching me in First Class, but NOT in seat 2A!!
I'm embarrassed but I haven't been to: Maldives.
Worst travel moment:  Emergency landing on CO over San Antonio.
What's your dream destination? North Island in the Seychelles.
Favorite travel charity: Ubuntu.
Best travel tip: Spring for flying in the front of the bus!!