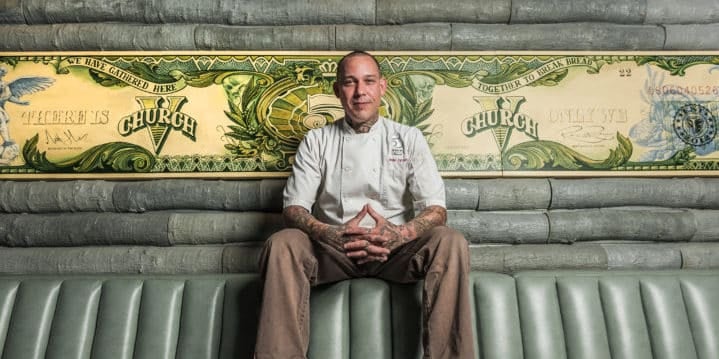 Want to know how to travel in style, just like the pros? We check in with frequent fliers to find out how often they fly, their favorite destinations and what they never leave home without.
Name: Chef Jamie Lynch
Occupation: Executive Chef/Partner, 5Church Group; Top Chef contestant
Hometown: Rochester, NY
Residence: Charlotte, NC
Website: bravotv.com/people/jamie-lynch
Twitter: @Chefjamielynch
Instagram: chefjamielynch
Short bio: Chef Jamie Lynch is a New York native and attended the New England Culinary Institute in Burlington, Vermont where he was awarded a degree in Culinary Arts. Upon graduation, Lynch was offered a position by New York Times' four-star Le Cirque 2000 Restaurant in The Palace Hotel. He went on to gain experience at culinary heavyweights Aureole, Café Boulud and Tocqueville before moving to Charlotte in 2002 to pursue his dream and open 5Church. Lynch has garnered many accolades such as being voted Best Chef in 2013, 2014 and 2015 in Charlotte Magazine's "Best of the Best" Awards. He currently serves as the Executive Chef and Partner at 5Church Group, overseeing all three restaurant locations in Charlotte, N.C., Charleston, S.C., and Atlanta, G.A
How often do you fly? Multiple times a month.
How many countries have you been to? Four, other than US.
How many continents have you been to? Two—NA and Europe.
Earliest travel memory: A flight with my mom between Florida and New York.
Favorite American city: NYC.
Favorite international city: Paris.
Least favorite country: Djibouti.
I have no desire to go to: Djibouti.
Friendliest people in the world: The Irish.
Country with the meanest immigration officers: Djibouti.
Favorite World Heritage Site: Kathmandu Valley in Nepal.
Favorite airline: Delta.
Favorite aircraft type: One that works well.
Aisle or window: Window.
Favorite airport lounge: The Centurion Lounge in NYC.
Favorite U.S. airport: Atlanta Hartsfield Jackson.
Favorite international airport: CDG in Paris.
Favorite hotel: The Franklin Hotel in NYC.
Favorite cruise line: Norwegian Cruises.
Favorite travel credit card: Southwest Rapid Rewards.
Favorite island: The kitchen island.
Favorite beach: Tulum, Mexico.
Favorite National Park: Adirondack National Park.
Favorite fancy restaurant: 11 Madison Park, NYC.
Favorite hole-in-the-wall: Hattie's Tap & Tavern in Charlotte, NC.
Favorite bar: I don't think I've been to a bar I didn't like. Favorite is Sanctuary, Noda, Charlotte.
Favorite fruit: Finger limes.
Favorite food: Jameson.
Least favorite food: Out of season tomatoes.
Drink of choice (in the air and on the ground): Jameson, neat.
Favorite travel movie(s): Planes, Trains & Automobiles.
Favorite travel show(s): Parts Unknown by Anthony Bourdain.
Favorite travel book(s): "Fear and Loathing in Las Vegas" (my autobiography).
Right now I am reading: My 1,602 emails.
Top 3 favorite travel newsletters/magazines/blogs: Travel + Leisure, Conde Nast Traveler, Architectural Digest.
Favorite travel website(s)—besides JohnnyJet.com, of course! Johnny, you're the only one for me!
5 things you bring on a plane: My everyday pants.
What do you always seem to forget? Phone charger, keys, computer.
What do you like least about travel? Packing.
What do you want your loved one to buy you from an airport Duty Free store? Jameson.
Favorite travel app(s): iCal.
Most embarrassing travel moment: Recently on a road trip, I blew up the bathroom at the Flying J Truck Stop. As I was washing my hands, someone walked in and recognized me from Top Chef. The burritos were delicious though.
Worst travel moment: See above.
What's your dream destination? I want to see it all.
Favorite travel charity: Myself.
Best travel tip: Go everywhere. Wear layers. Bring a snack. Always wear sunscreen.