Want to know how to travel in style, just like the pros? We check in with frequent fliers to find out how often they fly, their favorite destinations and what they never leave home without.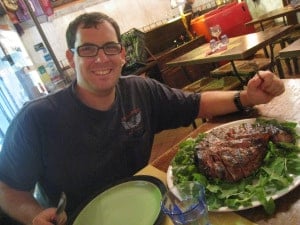 Name: Andrew Kamphey
Occupation: Travel Writer/Video Creator
Hometown: Clearwater, FL
Residence: Los Angeles, CA
College: University of Florida (Go Gators!)
College major: Theatre
Website: kamphey.com
Twitter: @KampheyApproved
Facebook: Travel Bites You
YouTube: Travel Bites You
Short bio: YouTube Travel Producer, Travel Video Expert, Travel Writer, Former Cruise Ship Crew, Former Santa. Currently directing the YouTube travel show Travel Bites You.
Languages spoken: I wish I spoke Japanese.
How often do you fly? If I have to work. Last year took 12-14 flights.
How many countries have you been to? 18
How many continents have you been to? Four.
Earliest travel memory: Houseboating along the St. John's River in North Florida.
Favorite American city: Chicago (if it weren't for the weather, I'd be living there).
Favorite international city: Eze, France.
Least favorite country: Mongolia.
Country with the meanest immigration officers: U.S.A.
Favorite airline: None yet.
Favorite aircraft type: Those Wright brothers really had a nifty thing going. Would love to ride a bicycle with wings.
Aisle or window: Aisle.
Favorite airport lounge: Spa in the basement of Incheon airport
Favorite U.S. airport: I wish they were better so I could say I had a favorite.
Favorite international airport: Incheon, Seoul, Korea.
Favorite hotel: Hyatt Regency.
Favorite cruise line: Only been on Royal Caribbean.
Favorite island: Japan.
Favorite beach: Cemetery Beach, Grand Cayman.
Favorite fancy restaurant: None.
Favorite hole-in-the-wall: Yoshinoya (even though it's a chain, it's great and cheap).
Favorite bar: No Name Bar ("hidden" bar only for ship crew in Cozumel).
Favorite fruit: Mango (Philippine dried mangoes).
Favorite food: Char Siu (chinese BBQ pork).
Least favorite food: Durian.
Craziest thing you've eaten: Fermented horse milk (in Mongolia).
Drink of choice (in the air and on the ground): Ginger ale.
Favorite travel movie(s): The American (yes, the one with George Clooney).
Favorite travel show(s): Insomniac with Dave Attell.
Favorite travel book(s): "Last Chance to See" by Douglas Adams.
Right now I am reading: "What The Dog Saw" by Malcolm Gladwell.
Top 3 favorite travel newsletters/magazines/blogs: Any in-flight magazines (yes I read them), NY Times 36 Hours…, Vice Travel is always interesting.
Favorite travel website(s)—besides JohnnyJet.com, of course! vice.com/travel, skift.com.
5 things you bring on a plane: A book, a pen, a pad, candy, bottle for water.
What do you always seem to forget? A sharpie.
What do you like least about travel? Frustration when I don't do the proper research.
What do you want your loved one to buy you from an airport Duty Free store? Gummy bears.
Favorite travel app(s): TripIt (saved me time at least once this year).
Most embarrassing travel moment: Getting on wrong train in Italy. Conductor came by to take our ticket, started running to stop the train. Ended up in a town between Pisa and Florence called Empoli. We stayed for almost two hours until the next train came through and we barely made it back to the ship in time.
Worst travel moment: Missing a connection in Newark. Had to cross NYC at 1 am to get to JFK by 5:30 am for the soonest flight. The worst part was that I had had the opportunity to stay in Chicago for the night but I took a flight that night instead. Passed up a Chicago hotel for a 3-hour trek by train across NY.
What's your dream destination: Anywhere my fiancee is.
Best travel tip: Research and get lost.