Want to know how to travel in style, just like the pros? We check in with frequent fliers to find out how often they fly, their favorite destinations and what they never leave home without.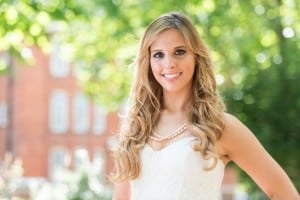 Name: Alicia Drewnicki
Occupation: Travel TV host, video producer and blogger
Hometown: Peterborough, UK
Residence: London, UK
College: Loughborough University
College major: BSc (Hons) Communication and Media Studies, MA English
Website: aliciaexplores.com
Snapchat: AliciaExplores
Twitter: @AliciaExplores
Facebook: Alicia Explores
Google+: Alicia Drewnicki
Instagram: aliciaexplores
YouTube: Alicia Drewnicki
Short bio: I'm a travel TV host, producer and blogger from London with a focus on making top-quality travel video content. (Here's a little secret though: I'm a bit of a Snapchat addict). Began working in TV/online video in 2009 and then became the face of Ireland's first ever multi-platform urban lifestyle series Beat Generation in partnership with The Belfast Telegraph. Presented 30 episodes of the show where I learnt stunts with a zombie martial arts film director, tried cage fighting, cocktail making, walked the catwalk, and interviewed musicians, comedians and actors to name a few things.
Have fronted many high-profile TV projects and video campaigns eg represented The Guardian and Red Bull at The Red Bull Air Race World Championship in San Diego and interviewed some of the world's best pilots. Picked by Lonely Planet as one of three of the world's top travel bloggers to be the face of Japan National Tourism Organization's spring advertising campaign 2015 and created video guides about food, sightseeing and culture in Nara, Osaka and Kyoto. These videos have had over one million views online and have aired on BBC World News, Euronews and Discovery. Was chosen as Viator's first European videographer and host for their YouTube channel. Have been writing for Skyscanner since 2013 and have appeared in both Skyscanner #24hPeriscope campaigns as well as doing solo live periscope broadcasts (#AliciaExploresUSA) from The New York Times Travel Show in January 2015.
How often do you fly? So far—four flights in Jan/Feb 2016. Usually at least two flights every 1-2 months.
How many countries have you been to? 27
How many continents have you been to? 5
Earliest travel memory: Hugging Pluto the dog at Disneyland when I was six-years-old. I remember asking my Mum: "How does Pluto manage to move around the park so quickly? I've met him three times today already…" Ah the innocence of childhood…
Favorite American city: It was New York…but it may now be Miami ;)
Favorite international city: Cape Town or Kyoto.
Least favorite country: I always give places a second chance. I've promised myself to revisit a couple before "naming and shaming"…
I have no desire to go to: North Korea.
Friendliest people in the world: North Americans, but also the people in Japan are so kind-natured and honest :)
Country with the meanest immigration officers: I've been lucky…not had any really bad ones.
Favorite World Heritage Site: Rothenburg Ob Der Tauber.
Favorite airline: Singapore Airlines or Norwegian.
Favorite aircraft type: Boeing 777.
Aisle or window: Window.
Favorite airport lounge: I've not tried the lounges at Changi Airport, Singapore but I've heard amazing things.
Favorite U.S. Airport: McCarran International (Las Vegas)—slot machines, live music, flashing lights; brilliant!
Favorite international airport: Changi Airport (Singapore)—so many shops and things to do.
Favorite hotel: Knickerbocker NYC for the A* service, décor and the glam factor and Kyoto Garden Ryokan Yachiyo for its connection to nature and preservation of Japanese traditions.
Favorite cruise line: Still to be discovered. However for evening cruises—Bateaux is fantastic.
Favorite travel credit card: Don't ask! I need to find a new one! Any tips?
Favorite island: I loved the Yasawa Islands in Fiji in 2005—but part of me wonders how much they've changed in 11 years.
Favorite beach: Boulders Beach (Simon's Town, Cape Town)—check it out, there's a super cute penguin colony there.
Favorite fancy restaurant: Da Dong Roast Duck—Beijing. A speciality duck restaurant. Still salivating thinking of the crispy duck skin in pancakes with melon, sugar, salt, and spring onions.
Favorite hole-in-the-wall: So many unnamed places in China. You could be having a 5* quality meal while sitting on plastic chairs in a car park. (Thanks to the advice of my cousin and his wife who live in China.)
Favorite bar: 230 Fifth Avenue, New York.
Favorite fruit: Sharon fruit (persimmon).
Favorite food: Pierogi or lobster…hmm new idea—lobster pierogi?!
Least favorite food: Goat cheese or Marmite.
Drink of choice (in the air and on the ground): Champagne or sauvignon blanc in the air, apple and ginger mojito or Zubrowka and apple juice on the ground.
Favorite travel movie(s): The Terminal.
Favorite travel show(s): I've always been obsessed with Globe Trekker but these days a big fan of anything featuring Anthony Bourdain, and also for a giggle—An Idiot Abroad.
Favorite travel book(s): Paulo Coelho—"The Alchemist" or anything by Paul Theroux.
Right now I am reading: "Way of the Peaceful Warrior"—Dan Millman.
Top 3 favorite travel newsletters/magazines/blogs: lonelyplanet.com—travel advice, greenglobaltravel.com—inspiring articles, storytravelers.com—world-class videos.
5 things you bring on a plane: Sausage-shaped huggable inflatable sleep pillow (it's as ridiculous as it sounds), eye mask, noise-canceling headphones, eyedrops, notebook (always jotting down ideas).
What do you always seem to forget? Spare iPhone wire or plug converters.
What do you like least about travel? Nightmare neighbors on planes/jobsworths on power trips at airports. I was recently asked to repack and buy an extra suitcase because of being 0.5 lb over the weight limit.
What do you want your loved one to buy you from an airport Duty Free store? New perfume or a good bottle of wine.
Favorite travel app(s): Skyscanner, Hotel Tonight, Expedia, Airbnb, Uber, Lodgeo.
Most embarrassing travel moment: I've got a couple. I walked out of the shower in my NYC hotel and started getting changed…not realizing the skyscraper opposite was an office. A company was having their Monday morning meeting and saw me stark naked. Oh the shame! They probably wouldn't recognize me in the street with my clothes on though.
The second was in China. A group of us decided to go horse riding through some marshland—really picturesque setting, lovely relaxing experience…I thought. The guy who owned the paddock asked in Chinese, "Has anyone ridden a horse before?" I'd been for a couple of lessons when I was 12-years-old so said, "Yes I have!" Big mistake. He gave me the horse whose name translates as something along the lines of "wild one" in Chinese and he could only be ridden WITHOUT a saddle (holding onto his mane). He was completely out of control and I looked like a terrified fool rather than a rodeo master! When I got off the horse, I swear he looked like he was laughing at me.
I'm embarrassed but I haven't been to: Central or South America!
Worst travel moment: My bank card was blocked and I was stranded in Miami without any cash, I couldn't get a cab, buy food and then my hotel almost didn't let me check in. Oh and worst timing ever—the bank phone lines and the app were down for system maintenance when that happened. Nightmare.
What's your dream destination? The Maldives or Mars…
Favorite travel charity: Save Elephant Foundation.
Best travel tip: Buy some luggage scales and make sure you weigh your bags on both legs of the journey to judge how close you are to reaching the weight limit. If you're borderline, consider wearing some of the heavier items or cutting down on what you pack in the first place (especially when it comes to heavy toiletries as you can just purchase them at your destination).