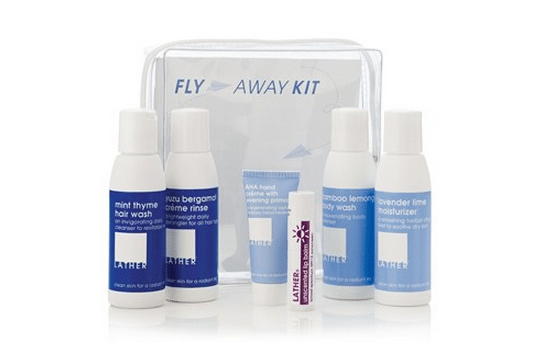 Here's a cool travel product to buy for yourself or your favorite frequent flyer. If you don't like using hotel toiletries, and don't feel like pouring your home toiletries in little containers, check out the Lather Fly Away Kit. It sells for $22 and comes with travel sizes of the company's most popular body and hair care formulas. According to Lather, "The collection's natural aromatherapy will revive the senses of any weary traveler." The zippered travel bag set includes four bottles with two fluid ounces of:
Mint thyme hair wash
Yuzu bergamot creme rinse
Bamboo lemongrass body wash
Lavender lime moisturizer
There's also an unscented lipbalm with SPF 15 and a sample of their AHA hand creme with evening primrose. I barely have any hair, so this stuff doesn't get me too excited, but it makes my wife go gaga. Lather's website lists the features and benefits:
Sulfate-free mint thyme hair wash and bamboo lemongrass body wash gently cleanse without stripping away natural beneficial oils. Their natural, invigorating scents help to energize weary travelers.
Yuzu bergamot crème rinse contains avocado oil, a great natural moisturizer, panthenol (Vitamin B5) and rice protein to fortify hair and protect it from breakage.
Lavender lime moisturizer contains natural botanicals and antioxidant-rich vitamins to nourish the skin. Lavender and lime pure essential oils contribute an uplifting, all-natural fragrance
Unscented lip balm hydrates and soothes dry, chapped lips while SPF 15 broad spectrum sunscreens protect from sun damage.
AHA hand crème contains alpha hydroxy acids, natural substances derived from fruits, that gently exfoliate and help to minimize the appearance of wrinkles and age spots.
So if you're into nice products, hair and skin, and want to travel more easily, give the Lather Fly Away Kit a whirl!