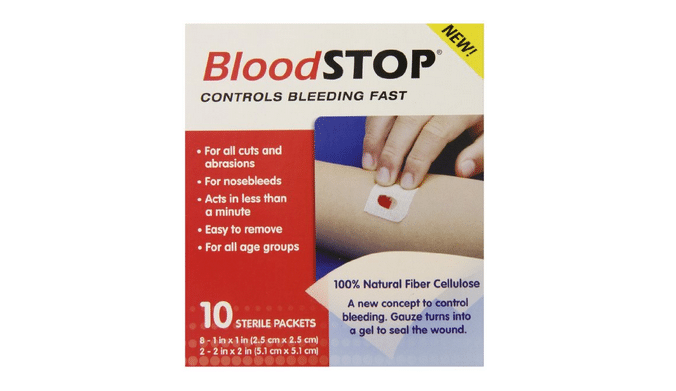 The good folks from the biotech company LifeScience Plus just sent me an innovative, life-saving product that every family should keep in its first-aid kit: BloodSTOP. According to their press release, "BloodSTOP is a product that stops bleeding, prevents blood loss and seals even serious wounds better than any other in existence. It was initially developed for use by surgeons in the operating room to stop bleeding faster. But because of its effectiveness, efficiency, and simplicity it has made it the go-to product for many emergency workers, medics, firefighters, police forces, and parents alike."
It's made of 100% natural-fiber cellulose and to use it, you simply clean a wound and apply BloodSTOP. Just apply "light pressure until bleeding stops completely." It works with nosebleeds, too. You just cut BloodSTOP into a small strip and insert it into your nose and compress your nostrils until it stops.
It's a brilliant tool to have for family vacations, roadtrips, camping adventures, and really, around the house. BloodSTOP is available at major drug stores nationwide and is retailing at Amazon for $16.14.