Happy New Year! Hauoli makahiki hou! Felice anno nuovo! Feliz año nuevo! Godt nytír! Voorspoedige nuwe jaar! Kul 'am wa antum bikhair! Urte berri on! Shuvo noboborsho! Sun nien fai lok! Xin nian yu kuai! Stastny novy rok! Gelukkig nieuwjaar! Onnellista uutta vuotta! Bonne année! Ein gluckliches neues jahr! Eutychismenos o kainourgios chronos! Shana tova! Boldog uj evet! Selamat tahun baru! Akemashite omedetou gozaimasu! Sehe bokmanee bateuseyo! Nyob zoo xyoo tshiab! Felix sit annus novus! Barka da sabuwar shekara! Godt nytt ír! Manigong bagong taon! Szczesliwego nowego roku! La multi ani si un an nou fericit! La manuia le tausaga fou! Heri za mwaka mpya! Gott nytt ír! Sawatdee pi mai! Chuc mung nam moi! Blwyddyn newydd dda!
Ring in The New Year With These Incredible Webcams
Almost half of the world has already rung in 2021 while Africa, Europe, North and South America are still stuck in 2020. If you receive my Daily Travel Tip newsletter (you can sign up here) then you already have links to some of the coolest webcams to watch to ring in the new year. I just added a new multi-view cam with five views of New York City and a camera with 2021 celebration fireworks so check them all out here.
2020: A Rough Financial Year
I, for one, am really looking forward to 2021 since 2020 has been one of the most challenging years financially. By April, business had just fallen off a cliff but fortunately, I had saved a little for a rainy day. But for the first time in 25 years, I had to ask for donations from readers, which hurt and was a hard thing to do, but it was necessary. I can't end this year without expressing my deep gratitude to all of you. Thank you all for everything.
25 Year Anniversary
Speaking of 25 years … This year marked a quarter century since beginning  Johnny Jet's Travel News, Deals and Tips newsletter. I started it all for fun and to help friends and family learn how to travel smarter and never in my wildest dreams did I ever think it would turn into a full-time job and allow me to travel to over 70 countries and 47 states. Thank you so much for coming along on this amazing ride and hopefully, I can knock off those three remaining states in 2021!
I Haven't Flown Since February
As you no doubt noticed, I took the safe route by not traveling since February. The longest I had previously gone in my adult life, not being on a plane, was about three to four weeks. Never did I imagine I would go a year or so. Naturally, I took some heat from a few readers and it dented my wallet to not promote travel but I never have and never will put money over health or over what I believe to be right. My mother ingrained in me that it's always better to be safe than sorry and that motto quadrupled in meaning when my two kids were born (they're 4 years and 16 months old).
Where I Will Fly To First
Once my wife and I get our two vaccine shots, we are going to be off. First stop will be to see my father in Florida and Natalie's mom in Toronto since they both desperately need hugs from their children and grandkids. Then we will visit family in New York and Connecticut (where I grew up) before relaxing in Hawaii. That is … if I have enough miles and points left over.
My Travel Prediction for 2021
My prediction for 2021 is that travel will pick up big time but won't happen until at least the second quarter. It seems that the rollout of the vaccines are going a tad slower than planned but my fingers are crossed that we can keep the April flight I booked using miles a few months ago. If COVID-19 cases drop considerably in the USA and around the world, then recovery will be quicker than most are predicting since there's so much pent-up demand. However, if the numbers don't drop, then the opposite will happen. Fingers crossed. Either way, I think airlines will require people to wear masks until at least September and countries will require visitors to show proof of vaccination.
One of My Top Tips for 2021 Travel
My passport is expiring in August so I'm going to work on getting it renewed today. Here's one of my top tips for 2021 travel so I highly encourage you to read it.
RIP
2020 was a devastating year in so many ways. It felt like Kobe Bryant's death marked a turning point in 2020 and that the year just went downhill from there. 343,000+ Americans have died from COVID-19, including my Uncle George who passed away in March. I lost a couple of friends this week and was very saddened to hear about the passing of Dawn Wells (Mary Ann on Gilligan's Island) and Phil Niekro, who I had the great honor of meeting and spending some time with.
Phil Niekro, Hall of Fame pitcher, famous for signature knuckleball, died at 81.
I was so fortunate to spend a long weekend with Phil and Ken Burns (thanks to Tauck Tours) at the Baseball Hall of Fame and then we had breakfast together in the Albany Airport while waiting for our flights. He told me so many stories and kept giving me riddles to solve that they used to test each other during rain delays. He was just a seriously cool guy! Here's my story from the long weekend. RIP, Phil. You will be missed.

Dawn Wells, 'Gilligan's Island's' Mary Ann, Dies of COVID at 82
I grew up watching Gilligan's Island and dreaming of tropical islands so I was sad to see Dawn Wells who played Mary Ann, die from COVID-19 yesterday. From the Gilligan's gang, only Ginger (Tina Louise) is still alive.
Celebs we lost in 2020 via NBC News.
Airlines We Lost 2020
CrankyFlier always does an excellent job each year highlighting the Airlines We Lost. His post just dropped this morning so check it out!
Travel News
There's been a ton of travel news in the last week, so much so that I created two round-ups on back-to-back days (Monday and Tuesday). That's in addition to the regular travel news I always feature and just updated, which can be found at the bottom of this newsletter. Check them out here:
-Earthquake strikes central Croatia, killing five and damaging buildings
-American Airlines restarts U.S. commercial Boeing 737 MAX flights
-U.S. to allow small drones to fly over people and at night
-Yesterday's TSA Numbers
-Southwest backs off threat of furloughs after Covid relief package signed
-Omni Hotels Accepted Millions In PPP Funds But Didn't Pay Workers
-The Most Exciting International Hotel Openings In 2021
-What's Ahead For Airlines And Aviation In 2021
-Couple travels without daughter after being kicked off flight when she wouldn't wear a mask
-COVID-19 Vaccine Passport? You Might Need It To Travel In 2021
-Dominican Republic Extending Complimentary Traveler Health Insurance
-Which aircraft has the largest windows for passengers? It's not the Boeing 787.
-What happened when two virtual strangers booked an Airbnb together
-When will the pandemic be over?
-Video: Stay-at-home order likely to be extended into 2021
-Man Hands Out $100 Bills To Everyone On Flight
-Two Widowed Penguins Overlooking Melbourne Skyline Together Wins Best Photo of 2020
Click here to read these stories!
Round-Up #2
-TSA Screened Over 1.2 Million Travelers Sunday, Setting A New Pandemic Record
-U.S. to Require People Flying From the UK to Test Negative For COVID-19, CDC says
-Japan Banning Foreign Nationals From Entering
-Flight Attendant Union Leader On What Trump Signing COVID-19 Relief Bill Means For Airlines
-Ryanair's Controversial New Ad
-Another European Flag Carrier Ceases Operations
-Man Punches Fellow Passenger at Florida Airport Over Canceled Flight, Racist Remark
-Still Disinfecting Surfaces? It Might Not Be Worth It
-British Airways Flight Forced to Make Emergency Landing
-Engine Trouble Forces Emergency Landing for Air Canada 737 Max Jet
Click here to read these stories!

My New Sunglasses: SPY+ Optic Discord Lite Sunglasses
I posted a photo of me on the beach with my new Santa beard and sunglasses Tuesday on Instagram and my personal Facebook page and I had some friends (and family) ask me who makes my cool new shades. Here's more information about them. They're also 39% off today!
New Glasses For Color Blindness
Fortunately, I'm not color blind but my brother is so he tested these color blind glasses out and this is what he had to say. (Spoiler alert: He loved them.)
Totally Random
–What the 'Love Actually' Cast Looks Like Now
Recommended Read For Pasta Lovers
If you're Italian or love Italian food, then you have to read this hilarious story that was in New York Magazine: Why Is There a Bucatini Shortage in America? It's one of the best pieces of writing I've read all year.
What I'm Binge Watching
I don't watch a lot of TV except news, sports and webcams. But my wife and I binged watched Ted Lasso this week and it's really amazing. It's set in London so it gives you a taste of travel but the acting and storylines are really captivating.
Travel Quote of The Week
"The three most exciting sounds in the world … anchor chains, plane motors, and train whistles." ~ George Bailey from It's a Wonderful Life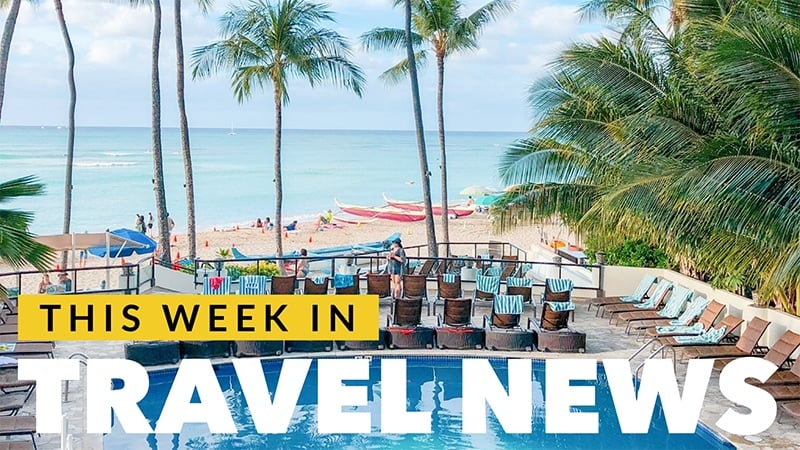 Airline and Airport News:
Cruise News:
Domestic News:
International Travel News:
Hotel and Lodging Travel News:
Miscellaneous Travel News: