Greetings! If you get my daily travel tips newsletter, then you might have seen some of these articles already but definitely not all of them! There's lots more news and helpful tips today so keep on reading.
The photo above is from Tuesday when it was like summer (81F) here in Los Angeles. My wife and I took the kids to the beach for a couple of hours to run off some steam, which is always heavenly but nerve-racking as well, especially during a pandemic. We want to make sure no one is near us and the kids don't get too close to passersby or the waves. Fortunately, there are rarely many people on the beach during the week in the off season.
Manhattan Beach has been my happy place this pandemic, since it really feels like we are getting away. I just love taking in the view, listening to the crash of the ocean waves (they've been huge lately), and seeing pods of dolphins frolicking not far from shore. And if you're an aviation geek like me, the fact that you can see all the planes taking off from nearby LAX is always a welcome bonus. Whenever, I see a widebody taking to the skies, it gets my travel juices flowing. It makes me want to run to the airport and board a plane. Hopefully, in the next 3-6 months.
American Airlines Bait and Switch
Back in February, I bought three American Airlines tickets from LA to Toronto for Christmas this year. This was pre-pandemic and we planned to spend the holidays in Toronto with my wife's family, then head to Hawaii to thaw out as we always do for New Year's. Of course, 2020 had other plans for all of us! Normally, I would have waited until the last-minute to cancel those tickets but I went into my online reservation and noticed something had changed. So I called American Airlines up to see if I qualified for a refund. In the end, they pulled a complete bait and switch on me and I'm not happy. Read the story here.
Great News
First of all, let's start with the incredible news. This week the U.K. has begun administering the first COVID-19 vaccine outside of trials. It really proves that there is light at the end of this long, dark, depressing tunnel. However, we can't throw away our masks just yet (in fact, I'm not sure that we ever will), as health experts say it's going to take months to get everyone vaccinated in the United States, which will begin within days. But it's a magnificent feeling to think that we should (fingers crossed) get our lives back soon.
RELATED: Best Face Masks for Flying During COVID-19
How to Find Your Place in the Vaccine Line
With the COVID-19 vaccine being rolled out as early as next week, a lot of people (including myself) are wondering how soon we can all get the shot. As you've probably read, health officials are, as they should, creating vaccine timelines to give some Americans, like essential workers and the elderly, priority over others. Well, the New York Times worked with the Surgo Foundation and Ariadne Labs using their vaccine tool to calculate the number of people who will need a vaccine in each state and county — and where you might fit in that line. Read the story here.
Terrible News
Los Angeles Mayor Garcetti informed everyone that once hospital ICU bed capacity falls below 15%, the state will shut down the region. And guess what? I woke up Saturday morning to the bad news. Here's what you need to know about travel not just to Southern California but most of California as well as international destinations, including a stark warning for Mexico. Read the full story here.
RELATED: Ordering in? Use one of these cards to earn at least 2x the rewards on your dining purchases.
California Contact Tracing App
Starting today (December 10) The statewide launch of the CA Notify app will be available which allows for people who opt in to know whether they were exposed to positive case. This "means that the tool based on Apple and Google's exposure notification API will be available for download and opt-in use to anyone with a compatible iPhone or Android device." There's no personal information transmitted from a user's device via the notification system. (Tech Crunch)
Delta Launches Effort to Improve Contact Tracing
Delta has been arguably the best airline to fly during this pandemic and they're not settling. Last Thursday, they announced they're "launching the industry's first contact tracing program for inbound international flights to the U.S. Flyers will be asked to submit personal contact information to health authorities to better track the spread of the coronavirus." The program is voluntary so I don't think many people will sign up but for those that are serious about keeping loved ones healthy it's a great addition. (MSN)
Delta Air Lines Eliminates International Change Fees
More good news! One of the silver linings of the pandemic is airlines have been eliminating change fees and they say permanently. Today, Delta joins American and United by eliminating international change fees. "No change fees on Delta tickets for travel originating from North America to anywhere in the world (including flights operated by joint venture and codeshare partners). Basic Economy fares are excluded." Note: United's are only for domestic or between the U.S. and Mexico or the Caribbean.
Delta/KLM Offering COVID/Quarantine-Free Flights to AMS
In addition Delta and KLM are offering their customers on 26 combined weekly Atlanta-Amsterdam flights COVID-19 and quarantine- free.
Passengers will be required to follow a strict testing regime:
"-A PCR test five days before arrival in the Netherlands
-Self-isolation period until departure
-Rapid antigen test prior to boarding
-A PCR test required upon arrival at Schiphol Airport
-No quarantine will be required once the third test comes back negative, though it's worth noting travel to the Netherlands remains restricted (more on that below)." (MSN)
CEO of Delta Air Lines Talking Vaccines 
Since we're on the subject of Delta. On Monday, Ed Bastian, CEO of Delta Air Lines, was on the TODAY Show to talk about how travel will change as the COVID-19 vaccine begins to be distributed across the U.S. He said: "I think for international travel, it will become a requirement, whether it's the airline that does it or some international authorities do it." He's encouraging all of his employees to get the vaccine when it's available. See the video here. BTW: Ed's not alone as last week, Qantas CEO says airline will require passengers traveling internationally to get COVID-19 vaccine.
TSA Numbers Way Down
The spokesperson for the TSA tweeted yesterday morning: that "TSA screened 501,513 people at airport security checkpoints yesterday, Tuesday, Dec. 8. That's the fewest people screened since July 4th when 466,669 individuals passed through security checkpoints–five months ago." This morning Lisa Farbstein tweeted: "JUST IN: @TSA screened 564,372 people at airport checkpoints nationwide yesterday, Wednesday, Dec. 9. One year ago, 2,020,488 people were screened on the same day. Please continue to mask-up!"
As you can see from this graph posted by David Rowell on Twitter that air passenger numbers are still dropping compared to 2019.
Good to see less people are traveling right now since the virus is so out of control in the U.S. and most of the world but let's hope this turns around once people get vaccinated.
Holiday Travel
Unfortunately, I'm pretty confident those low TSA numbers aren't going to stay that low over the next few weeks. I think flights are going to be full for the holidays even though the CDC is urging people to cancel their travel plans. There will still be far fewer people traveling than last year, but thanks to much less capacity and seeing the sold out seat maps on the flights I booked back in February but just canceled (story below) the planes will be packed. If you want an empty seat next to you, choose one of these airlines.

10 Ways to Find Cheap Christmas Flights
If you have to travel this Christmas, here are some tricks to lower your airfare. Again, the CDC is strongly urging people to stay home and many destinations aren't even really open.
Pandemic Travel: How to Make your Hotel Stay Safe
If you do need to stay in a hotel or if you're going to book one for 2021, here are some great tips on how to make it safer during COVID-19. Read the story here.
How To Quickly Destroy Harmful Airborne Viruses
One way to make your travels safer during COVID-19, or to protect against any virus for that matter, is using the Purashield Mini Air Scrubber ($119). It's Air Filters Delivered's newest product and it's designed for people on the go. Travelers in particular will love it. According to their website, "it quickly destroys harmful airborne viruses, bacteria, and molds in the air using a patented technology. It removes 99.9% of airborne pathogens and has a clean air delivery rate of 11 cubic meters per hour, creating a safe breathing space during traveling." The mini air scrubber features a compact and mobile design and includes a USB power cord so you can use it in a crowded station, in your car or ride share, hotel room, or even in an airplane seat, which makes it the perfect personal air purifier for travel. Read the story here.
Free Round-Trip Ticket to Hawaii?
Who doesn't want to go to Hawaii for free? Well, the old adage that nothing in the world is truly free is, in this case, true. Before the COVID-19 pandemic, over-tourism was a concern in Hawaii and now, barely anyone's visiting. Now, the state of Hawaii is offering to buy airfare for qualified individuals as long as they stay for 30 days or longer. But there's a bit more to it than that. Read the story here.
Secret Phrase Will Get You Free Stuff at Kimpton
Kimpton has issued a secret password for guests to use at check-in to get free stuff (from free drinks and free parking to room upgrades!) Find out the three magic words here.
American Airlines Offering At-Home COVID Tests
Today, American Airlines announced that they will begin offering at-home COVID-19 tests to help travelers start traveling more safely and in some cases, even avoid quarantining. But is it going to work? Read the story here.
Two Great Gift Ideas For Women
The other night I was channel surfing aimlessly as I usually do late at night, trying to skip all the annoying commercials … but one of the hazards of channel surfing is getting sucked into exactly what you're trying to avoid. Before I knew it, I was suddenly so completely absorbed in an ad that I almost actually bought the product. But it's for women so I didn't. But still. I thought this product was so cool that I made note of the website and showed it to my wife in the morning. She agreed that it looked awesome. It's a handy little bag for women, whether you're traveling or just running errands at home, so if you're shopping for a woman or looking for something for yourself, you'll want to check this out. Read the story here.
Natalie's Take
Speaking of gifts for women, Natalie says that the Revlon Hair Dryer Brush is a travel must-have for women (not just because it's an awesome product that has cut down her drying time significantly) but especially since hotel hair dryers are one of the dirtiest things in a hotel room. Read the story | Buy it now (it's 28% off today).
How To Prevent Someone From Spying on Your Device
Tech Candy Bad Guy Blocker
Do you ever worry about the camera on your phone, your iPad and your laptop getting hacked? It's such an unnerving thought. The Bad Guy Blocker is a handy little adhesive 'curtain' that you can place over your device's camera and slide open and shut as needed. You'll want to pick up a few for all your devices and they make great gifts, too. Price: $5.50. UPDATE: This is a great deal, too – it's a 6-pack of webcam covers for $6.99.
EasyJet To Start Charging For Overhead Bin Space
This sucks for European travelers. "EasyJet to start charging for overhead bin space beginning Feb 10, 2021. "The fare difference ranges from £7.99 to £29.99 (US $10.70–$40) more, depending on the length of the flight." (Frommers)
Carnival Cruise Line's Postponing Sailings
Carnival advised that it has cancelled cruises on Carnival Magic (up to and including the embarkation on Sept. 24, 2021), Carnival Paradise (May 31, 2021) and Carnival Valor (Sept. 11, 2021) so they can all be dry docked. Guests will have the option of a 100 percent future cruise credit combined with a generous onboard credit, or a full refund.
Travel Video of the Week
Air New Zealand has done it again. They are no doubt the leaders when it comes to making in-flight safety videos and here's a clever campaign they created with Tourism New Zealand. Unfortunately, Americans won't be seeing it on one of their flights anytime soon since the island nation is closed and this new safety video is only being shown on their domestic flights.
Northern Lights May Glow Over Parts of US This Week
According to ABC7.com: "NOAA's Space Weather Prediction Center is forecasting a multi-day solar storm that is expected to peak Wednesday night into Thursday morning at G-3 intensity (strong) on a scale ranging from G-1 (minor) to G-5 (intense)." "Minnesota and Wisconsin look to be among some of the places with the least amount of cloud coverage, according to Samuhel, though northern New England and the Northwest will have poor conditions for viewing the aurora."
Money
€1 EUR = $1.21 USD <— In March it was $1.06 USD
$1CAD = $0.78 USD <– In March it was $0.69
£1GBP = $1.32 USD <– In March it was $1.14
Travel Quote of the Week:
"If you want to grow old as a pilot, you've got to know when to push it, and when to back off." ~ Chuck Yeager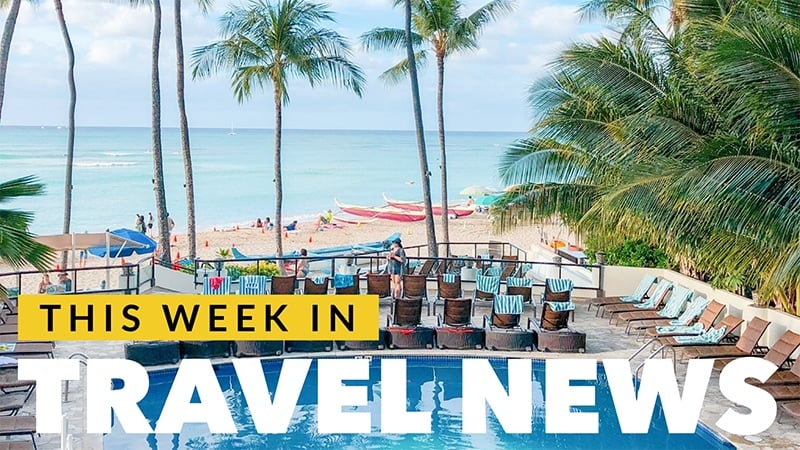 Airline and Airport News:
Cruise News:
Domestic News:
International Travel News:
Hotel and Lodging Travel News:
Miscellaneous Travel News: