When my wife, Cindy, and I traveled to what is arguably California's #1 romantic getaway, we took along our four-year old son Ben. Much to our delight, Laguna Beach also proved to be an incredible family vacation destination. Here are 10 of our favorite family activities:
1) Dana Wharf Whale Watching Cruise: Leaving from nearby Dana Point, this two-hour cruise will provide you and your kids with the thrill of a lifetime. During our cruise, we saw no less than seven Gray Whales on their southern migration, as well as a dozen dolphins, and a slew of sea lions. Our pilot, Captain Jack, provided a fun and informative narrative that kept us thoroughly entertained. At $32 per adult and $19 per child, this is a must-do activity the next time you visit the California coast. Advance purchase of tickets is strongly recommended.
2) Tide Pools: Laguna's rocky shores and unique coves provide the perfect home for an amazing display of sea life. Many of these animals can be found in the tide pools that form along the coast.    Just a few feet from shore, kids can expect to see vast populations of fish, hermit crabs, mussels, snails, and anemones. Several paid or volunteer tidepool curators are on location to provide free information. All of Laguna's beaches and coves are designated "Marine Protection Areas", so be prepared to look but not touch.
3) Pacific Marine Mammal Center: Where else can you see seals and sea lions on the mend just a few feet from where you're standing? PMMC has been rescuing, rehabilitating and releasing aquatic mammals since 1971. As we made our way through the small facility, a friendly volunteer answered all of our questions about the wild animals being given a second chance at life. The Center is free, but donations are accepted.
4)  Laguna Main Beach Park: This beachfront playground will give your child a chance to work off some energy while you rest your legs after a full day of shopping. The above-ground tunnel system provides a maze of excitement. The swing set offers an impressive aerial view of the entire beach, but with only two swings available, get there in the early morning unless you're prepared to wait in line. And with Main Beach Toys nearby, you'll have the chance to rent or buy practically every beach toy under the sun.
5) Festivals: The weekend we visited Laguna, the locals were celebrating Kelpfest 2012, featuring live performances and exhibits to celebrate the return of the giant kelp forests off Laguna. Whether it's Kelpfest, The Festival of Arts, The Sawdust Art & Craft Festival, or The Pageant of the Masters, this town sure knows how to throw a party!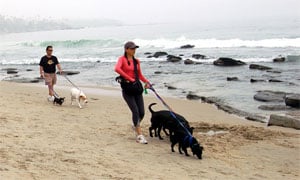 6)  Hiking Trails: Laguna boasts some of the most magnificent hiking trails in all of  Southern California. For sheer beauty, it's hard to top The Top of the World or Alta Laguna hiking trail, which offers amazing panoramic views of the ocean that will leave you breathless. For something a bit less challenging, check out the Valido Trail, a 2.5 mile climb with a gorgeous view of the ocean at the top.
7) Art Galleries & The Laguna Art Museum:  Looking for a little culture while traipsing through Paradise? It's never too early to begin exposing your children to the arts. Laguna boasts dozens of galleries and art shows featuring the works of local artists. And the Laguna Art Museum offers rotating exhibitions and a variety of programs for kids. What's more, admission for children under 12 is free.
8)  Shopping:  For pure variety, it's hard to beat the shopping at Laguna. Whether you're picking up a seashell chandelier at Tuvalu, a doggie backpack at The Laguna Beach Dog Company, or a ceramic Hula wind chime at Fawn Memories, Laguna has a shop or boutique that will thrill and delight every member of your family.
9)  People Watching: It's not everywhere you can run into a guy walking around with a bevy of exotic birds sitting atop his arms and head. Or a grown man dressed like a giant piece of kelp. Or a team of bikini-clad volleyball players who look like they were torn from the pages of Maxim Magazine. That's Laguna, perhaps the premiere people-watching site in Southern California. And part of the reason why tourists from all over the world keep coming back.
10) Active Culture:
 How's this for a concept: Healthy wraps & salads your kids will eat, flavorful frozen yogurt with fresh fruit & granola toppings, a gorgeous ocean view, and an art gallery… all under one roof. That's what you get when you step into this quaint, Spanish-style eatery. The staff is warm and friendly. The cups and utensils are biodegradable. And the shop offers a perfect cool California ending to a weekend of fun & sun in Laguna.