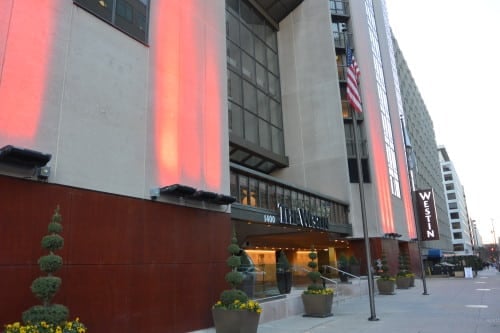 The 406-room Westin Washington, D.C. City Center (1400 M Street NW, Washington, DC; 202-429-1700) recently completed a $17 million renovation. The hotel made upgrades to its guest rooms, restaurant, lobby, and meeting facilities this past summer, and now, the hotel feels comfortable, offers great service and is located only a few blocks from the White House.
Updated elements include:
1. Bright lobby
As soon as you walk into the lobby, you see vertical gardens and natural colors in an atrium setting. The gardens are a concept designed to improve indoor air quality and create a calming, more natural environment, which you see in many Westin properties. You'll also see free-standing check-in pods and an open space that looks inviting.
2. Guest rooms
Each guest room and suite at the hotel now features remodeled bathrooms, a 50-inch LED TV, a refrigerator, and a safe. And of course you get to sleep in one of the popular Westin Heavenly beds and get to use the White Tea Bath & Body amenities.
Tip: The interior-atrium suites are the place to be if you can snag a room. The hotel only has a couple of these and while they overlook the lobby, they are massive suites, with large tubs, balconies and great people-watching down below!
3. Fringetree
Fringetree is the Westin Washington, D.C. City Center's new on-site restaurant and bar under the direction of Executive Chef Felix Nunes. It offers a full menu with traditional dishes and health-conscious options.
The restaurant has high-top tables and bar stools, giving it a lounge feel, as well as regular tables offering more privacy. While I was there, the atmosphere was bustling during the week with a happy hour crowd and a more intimate group on the weekends for dinner. They serve local beers on tap as well as some great handcrafted cocktails. I loved the strawberry basil smash.
Tip: Our favorite items on the menu included the tuna tacos, Maryland-style jumbo crab cake and the steak.
It was a great dinner spot and I'd definitely go back. But don't forget to bring an extra coat if you get cold easily. There was a bit of a draft with the lobby doors being in close proximity to the restaurant. (What can I say, I live in LA—probably everything on the east coast is cold to me!)
4. Meeting space with Tangent
There's a new look to the 17,500 square feet of meeting and banquet space. The venue caters events like weddings, social galas and business functions. The hotel also offers a cool workspace concept called "Tangent" that allows business travelers to stay mobile with video conferencing and share digital content during small meetings.
I love that the hotel is in a great location too. It's just blocks from the White House and K Street, next to some great restaurants and bars in the K Street corridor. This renovation has turned the hotel into a cozy retreat with the signature Westin services and amenities we know and love.
Oh I miss you many days, D.C.
Westin Washington, D.C. City Center. 1400 M Street NW, Washington, DC. Tel.: 202.429.1700
All photos courtesy of Caitlin Martin.