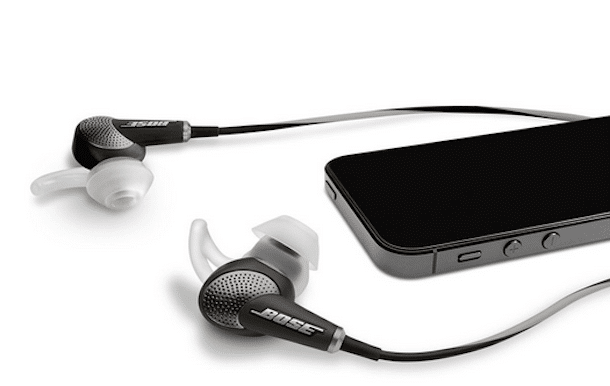 If you follow me on Facebook, Instagram, Twitter, Pinterest, Google+—you name it—then you know I travel a lot. I usually fly around 175,000 miles and visit 20 countries each year. And since I spend more time on the road than I do at home, people are always asking me what I travel with—and when the holidays roll around, what they can get as gifts for their frequent travelers or themselves. So, here's my ultimate traveler's gift guide for Christmas (and all holidays) 2013. Note: I could easily list 100 items but to spare everyone time (and money), I'm only including 13.
Bose QuietComfort 20i Acoustic Noise Cancelling Headphones: Everyone always raves about Bose's Noise Cancelling Headphones, but I've never bought a pair myself because they take up too much space in my carry-on and I've found that after a long time wearing them, big headphones hurt my ears. Well, Bose just released new QuietComfort 20i (QC20) Acoustic Noise Cancelling Headphones, and they are amazing! They're the first in-ear noise cancelling headphones in the Bose line, and despite their small size, they really do block the outside world out with full-on noise reduction. They're perfect for drowning out the noise of a screaming baby on the plane or the annoying hum of the plane's engines. And besides their size, I love the fact that they come with a rechargeable battery and so are more environmentally friendly. The battery charges in just 2 hours using a USB cable and delivers up to 16 hours playing time per charge.
Underwater Camera/Phone Covers: Going to the beach? Snorkeling? Scuba diving? No need to run out and buy an underwater camera because there's a company based out of southern California that makes waterproof cases (in up to 16 feet of water) for digital cameras, cell phones, iPads and even for large SLR/DSLR cameras. Their flexible camera cases allow you to shoot high-quality, digital pictures while participating in water sports or other harsh environments. The digital camera cases are transparent and equipped with a built-in optical lens that allows full functional use while the camera is safely encased in the protective package. Prices start at $19.50. I also love E-Cases for protection from sand, water, dirt and snow.
Touchscreen Gloves: Here's a product your loved one—or at least your hands—will really appreciate: the first leather crochet touchscreen gloves! The gloves are made out of a well-considered combination of Ethiopian lambskin leather and crocheted Egyptian cotton. The crochet pattern on the top creates a deliberate and powerful contrast with the leather on the palm of the gloves while sleek lines and uniform dark tones amplify harmony. Most importantly: nanotechnology integrated into the leather of the gloves mimics the conductive properties of the human skin, which makes the gloves touchscreen compatible (meaning you can use your phone with the gloves on). It's important when ordering to get the exact size! They're retailing for $99.
Mophie Juice Packs: One of the biggest problems that I can see among iPhone 5 users is that their batteries are always dying. To avoid being one of those fools sitting in a remote corner of the airport monopolizing the only power outlet, get Mophie's new, ultra-thin, protective battery case that provides your phone with 80% more battery life. The juice pack helium is around 13% thinner than previous Juice Pack Air versions released for the iPhone 4S and iPhone 4, and is available in a metallic gunmetal soft touch finish. It's available for $79.95, and there's also a version available for the Galaxy S4 for $99.95.
Aspire S7 Series Ultrabook: I found my favorite gadget of the year this year when Microsoft sent me a sleek Aspire S7 Series Ultrabook with Windows 8. My model has a 13.3 inch screen and is ultra-thin (11.9 mm). It took me a little while to adapt but now I'm a huge backer and I love it! It has a full HD display that's so clear and bright that when I went back to my old laptop to transfer some old photos, I thought it was unplugged because it was so dimmed. The pixel resolution is 1920 x 1080! The coolest feature (that makes my seatmates do doubletakes) is its touch-screen, which allows it to be used like an iPad. Perfect for those times you don't feel like using your keypad or mouse. The keyboard auto-illuminates so I can type on a plane in a dark cabin without disturbing fellow passengers. It has a strong battery and is incredibly thin and light. There's also an SD card slot so I can quickly download my photos from my big Nikon (when I use it). Prices start at $999.99.
Nokia Lumia 1020: Thanks to the 41 megapixel camera on this smartphone I rarely tote my big Nikon around my neck like I used to. The Lumia 1020 doesn't take pics at night as good as the big camera, but it comes really close, and it's so much more convenient to carry. I'm a Windows 8 fan but the operating system doesn't come with a lot of travel apps like Uber so the phone is limited for the time being. But the camera and its amazing zoom rock!
Briggs & Riley Baseline CX Medium Expandable Upright: I'm not one to check bags, but a few times a year I have to when I need to bring dress up outfits or a pile of warm winter clothes. I have a great relationship with Briggs & Riley and they've sent me bags in the past to try (I fell in love with my black rolling briefcase). When I told them I was going to a party with the Duchess of Cambridge and on an African safari and about my need for a larger suitcase so my tuxedo wouldn't get wrinkled, they sent over the Baseline CX Medium Expandable Upright (U125) in black. It's awesome! I love the fact that my briefcase can go on top of it and lock in quickly and safely. One of the coolest parts about this bag is that it has an expansion-compression system that increases packing capacity by 25%, then compresses back to original size to keep contents secure. It also comes with an RFID blocking pocket that prevents unauthorized access to your passport and all your personal information. At $499, the bag isn't cheap, but you get what you pay for. It's extremely durable and if by chance it ever breaks, Briggs & Riley has a lifetime guarantee—that even covers damage caused by an airline—so they will fix it for free.
The Satechi Travel Router/Travel Adapter: This device juices gadgets in over 150 countries (with the four most common plug configurations) and helps you create wireless network while on the go. It also doubles as a router able to convert a direct internet connection into a private connection for added security and mobility. The AC power port and 2.1A USB port charges smartphones, tablets, laptops, cameras and more quickly and efficiently. There are four router functions with the device: router mode, repeater mode, access point mode and client mode (I have no idea what that means but maybe you do). I do know that the device is compact and its cube design fits easily into any briefcase, suitcase, backpack or handbag. It's available at: Satechi.net & Amazon.com for $44.99. If you don't need the router part it's only $21.99 on Amazon.
Pocket umbrella: I do carry-on only so rarely do I have room in my bag for anything else let alone an umbrella. But after getting drenched in a rain storm I now found a really small one that fits in one of my shoes. When I'm in cities with unpredictable weather like London I pop it in my back pocket. I found mine at TJ Maxx for $15 but you can get them on Amazon for $9.
Global Entry: The best thing you can get yourself or a traveler (offer to pay the $100 fee that's good for five years) is a Global Entry card. You will never have to wait in a long United States passport control or customs line again. You won't even have to fill out any handwritten forms. Just walk up to one of the kiosks, confirm your identity (photo and fingerprints) and answer the standard immigration questions and go! To apply, all you need to do is fill out a 15-minute online questionnaire, accept a background check and go for a 30-minute interview. It's good at 35 US airports, eight Canadian airports and one in Ireland (Shannon). Global Entry membership is open to U.S. citizens and citizens of Canada, Mexico, the Netherlands and South Korea.
PrivateWifi: I admit it, I'm a Wi-Fi junkie. Wi-Fi makes my job so much easier, since I can essentially work wherever there's an internet connection. But I also know that most Wi-Fi signals are unencrypted, which means there's a risk that someone can hack into my computer/phone and steal my files and other personal information. So whenever I'm working online in hotels, coffee shops, airports and in the air, I'm always careful not to go onto websites with valuable or sensitive personal information. But thanks to PrivateWiFi.com, I no longer need to worry about any of that. PrivateWiFi.com makes you invisible to the bad guys out there by putting you on a VPN (Virtual Private Network). What's amazing about this is not only that it protects your identity, sensitive information and personal stuff by encrypting everything you send and receive with bank-level security, but also that you can now watch U.S.-only online videos out of the country. On top of that you can now make Skype calls or log on to websites that are restricted in certain countries since you are now invisible. Next time you're traveling, try it for free with their three-day trial. Or download it in full right now—as a gift—for $9.95 a month or $84.95 a year.
Scottevest. You've heard me mention them countless times, but what can I say? Any jacket or other article of clothing that has multiple hidden pockets and can act as a third carry-on, protect your valuables and still be stylish will always be on the top of my list—no matter if they sponsor our newsletter or not (they do!). Their clothes are designed for both men and women and their state-of-the-art website make it easy to peruse and choose which products fit you best. Prices begin at $70.
Obviously, there's a ton more travel gadgets/accessories that I could've listed but just didn't have room for. Please let me know if you like this list and/or what you would recommend, and happy holidays!