Happy Super Bowl Sunday! I was watching the local news last night and they did a story on the 'Never Miss a Super Bowl' club, which I found so amazing. There are now just three men left who have attended all the Super Bowls. That got me reminiscing…
I've been fortunate to attend two big games, including one in Tampa where today's Super Bowl is being played and the other in Arizona, which was arguably the best Super Bowl game of all time. Both were very last-minute invites. I'm talking, just hours before so I had to scramble to the airport to make it on time. Since the stories are timely and interesting, I thought I would share them with you.
My first one was Super Bowl XXXV in 2001 when my brother called my home telephone line (remember those?) around 5am the day of and said,  "HURRY up and go to the airport, I have an extra ticket for you for today's Super Bowl!" I said, "WHAT? My beloved NY Giants … I get to see them?" I knew that with the three hour time-change, the only flight I could catch to make the game was the 6am, which was in 50 minutes.
You have never seen someone scramble like I did that morning. I mean, I jumped out of bed like someone had thrown ice water on me, called a taxi (remember those?), jumped in the shower for 30 seconds, threw my computer in my carry-on, and put some clothes on (all in that order). I got in the taxi and called United from the car. They were able to find me a ticket using 25,000 miles, so I didn't have to pay cash.
I ran to the gate and got on an empty flight bound for Denver. When we were arriving, the pilot got on the PA and said, "It's light snow with 2 miles of visibility". Does this look like light snow? I was thinking, great, I am not only going to miss the game, but I am going to miss an awesome party in L.A. (not to mention I'd have spent 25,000 miles for a joy ride).
Well, I made it to Tampa on time! My Brother and his buddy "Heavy D" picked me up at 4:15pm and we headed right for the stadium. That's when my brother, in typical fashion, played a nasty joke on me by saying, "We're not sure if we're going to be able to get that extra ticket for you." I said, "Don't even pull that …. " Then he makes a wrong turn on the highway. We found ourselves over the longest bridge in America. It's 12 miles long to St. Petersburg and there's no place to do a U-turn.
We ended up making it on time. It was an indescribable atmosphere. People were lined up along the streets with signs reading "I need tickets", and others were having tailgate parties with no intention of going in the stadium. One guy offered me $3,000 for my ticket, and I took a long look at my tickets …
The place was a mad house, I tried to buy a Super Bowl hat, but all the good stuff was gone. The line to get into the stadium took at least 20 minutes, but it was well worth the wait.
We had great seats, except we were in Raven territory.
Unfortunately, the game was pretty lame and my Giants let me down, but the experience was an unforgettable one. I am so glad I went. After the game, we went to a few bars and finally drove to Clearwater to our hotel. That was my first time on Florida's West Coast. The beach was nothing special except for the sand. The sand was amazing, maybe the nicest I'd ever felt, it was like flour. I wish I had time to roll around in it, but instead we went right to the airport and I flew standby. I was there for 30 minutes and got on the first flight out (how lucky can I get?). The only bad part was I had to go to Washington D.C. to connect, but I didn't care. I arrived in IAD on time, and ran to the gate for LAX, but they said it was a 757. I hate flying long flights on a 757, so I  chose to wait 90 minutes for a wide open 777. I had a whole row to myself and I knew the guy across from me.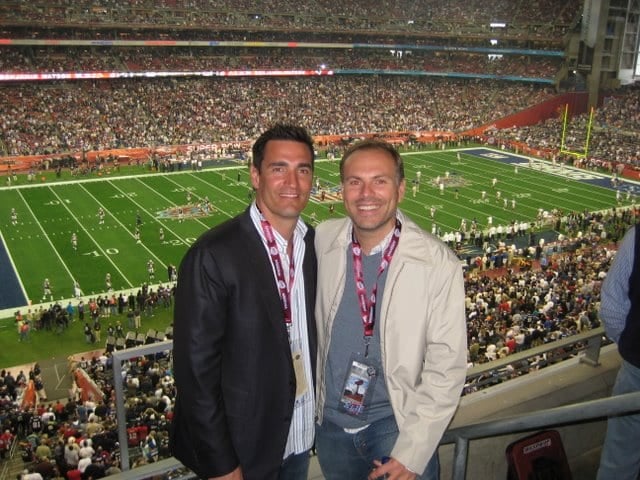 Super Bowl XLII
The second time I went was in 2008 for Super Bowl XLII. I had just returned home from a three-week round-the-world trip and was really looking forward to being home for a week to relax. But the night before the big game, my cousin AJ called and told me to get my GIANT-rooting butt out to Phoenix in the morning because he had an extra ticket for the Super Bowl.
After asking him if he was serious at least 20 times, I hung up and immediately logged on to my website and began my intense, relentless search for cheap airfares. Thanks to Southwest, my wish was granted ($263 R/T). Unfortunately, there were no available return flights until Monday evening. I still booked it.
Naturally, I woke up at 3am. Not only had I been crossing time zones like Kris Kringle, but seriously … who could sleep the night before their favorite team is in the Super Bowl? I have no idea how the players do it. I lay there, staring at the ceiling, listening to the pouring rain. When I realized I wasn't going to be able to sleep for a while, I fired up my laptop and started punching away. A few hours later and I was getting tired. I knew my body wasn't going to want to get up in an hour so I logged on to Southwest.com. It had been a while since I'd flown with them or even played around on their site. I clicked the "view or change your flight" link to see how much it would cost to change my departure to the 11am flight. It turned out that because I had purchased one of Southwest's business fares (the only fare still available), any ticket changes were free!
Kudos to Southwest, especially since their last-minute fares were half the price of their competitors' and their tickets weren't restricted like the other con artists. Not only did I change my 8:45am flight to 11am, but I noticed there was space available for the last flight out of Phoenix (10:10pm) that night. That meant I could forget about bringing a change of clothes, go straight to the game and come back and sleep in my own bed. Now that's the way to do it!
My alarm sounded at 9:20am, waking me from my jet-lag-induced sleep. I washed the drool from my chin in the shower, got dressed and drove straight to the airport. I pulled into the old Park One, which is where you got picked up for Ride Shares.
It was the closest lot to the airport and literally across the street from Terminal 1, which served Southwest (and USAir back then). Because it was raining, I spent the $6 extra (a day) for valet parking.
This was the first time in my adult life that I'd flown somewhere without bringing a bag. I mean, I didn't have anything. I'm talking nada, zip, zilch … I can't tell you how liberating it felt to arrive at the airport 40 minutes before my flight time with absolutely nothing weighing me down. I walked straight to security, then to the gate, in time to find my spot in line.
We took off just after 11am and flight time was a crisp and quick 50 minutes. I landed in overcast Phoenix at 1:30pm (an hour time change from Los Angeles) and there was a huge queue of taxis but no takers. Figures … the one time I was hoping for a line at the taxi stand, so I could have split cab fare to the University of Phoenix stadium. I was by myself with no luggage and it's a waste of resources and money. Can you believe that the 20- minute drive was a whopping $50? And that's using a meter. And that doesn't include the tip. That same ride in Thailand, where I'd just returned from, would have cost $3!
At least there was no traffic and I made it to the stadium more than two hours before game time (kick-off was at 4:30pm local time). My cousin AJ rolled up with his posse and handed me the golden ticket. I cracked a smile ear to ear and it got even wider, like Charlie Brown's, when I spotted the seat: Club/Loft. I knew what that meant – free food and drinks. Sweet!
Actually, finding AJ wasn't all that easy. The perimeter of the Super Bowl was blocked so to get from Gate 1 to Gate 3 was a hike … and I mean a hike. Sad to say, but I guess the tight security was to prevent anyone from pulling off a successful car bomb. There were no shuttles so I had to walk around the red tarp fence to try and find one of the few entrances. The stadium also did a nice job organizing the screening process. When I went to Super Bowl XXXV in Tampa, the lines were 20 minutes long and there was no order. Here, they had plenty of machines and guards frisking people so there was no wait. Maybe the TSA could've learned a lesson or two. But the thorough security almost screwed me completely, which I saw happening to many other people. I was going to bring my big SLR camera with me but fortunately I left it at home. As I learned when I got there, it would not have been allowed in. The rules were: no cameras bigger than six inches, no camera bags and no medium- to large-sized purses. There was nowhere to check the forbidden goods, so people had to either dump them or bring them to their car, hotel or home. What would I have done? I probably would have walked over to the Renaissance Glendale Hotel and kindly asked (and generously tipped) a bellman to store it.
Walking in, it looked like there were way more NY GIANTS fans present but once the game started the Patriot fans were definitely the loudest. That obviously didn't stop the heavy underdog GIANTS. Walking to the luxury boxes, I knew I was in for a treat when a limping John Elway practically bowled me over. I entered the suite to find my boys Luis Gonzalez (former baseball player), Jimmie Johnson (former NASCAR driver), Mike Hampton (former baseball pitcher), Kyle Boller (former QB) and Nick Lachey. All these guys are super cool as were the other 12 people in the box. The best part was that most of us were rooting for the GIANTS and we all went crazy (I lost my voice) in the final two minutes. It was a victory of David and Goliath proportions and to be there, right in the heart of the action was amazing. It was incredible from beginning (American Idol winner Jordin Sparks singing The Star Spangled Banner) to end. Even the half-time show with Tom Petty was awesome.
I was still undecided about whether to change my flight yet again and spend the night in Phoenix or just go home. I finally decided that I really needed to get back to LA to actually get some work done … like write this story, pay some bills and update the website. So when the game ended, I made a beeline to the taxi stand. The line was already 150 people deep and there weren't any taxis. I had no choice but to make my way to the front and ask if anyone was going to the airport. Everyone looked at me like I was crazy but I just stood there and waited. Finally, someone else rolled up with the same destination. The taxi dispatcher was kind enough to give us precedence but the calls for more taxis came up empty. We waited for 15 minutes (it felt like an hour) and there wasn't a vacant taxi in sight. I overheard the taxi coordinators whispering to each other that the 400 people in line were all screwed. I looked at my watch. It was 8:45pm and I was getting nervous that I might be in the same boat because Southwest's last flight out was at 10:10pm and I didn't know how long it would take to get to the airport. Eventually, a taxi pulled up and when the driver said it would cost $30 apiece, we said no problem. We just needed him to put the pedal to the metal. Surprisingly, traffic wasn't bad and it only took 30 minutes to get to the airport. I had time to spare to watch the highlights in the airport bar with all the other GIANTS fans.
I should've known when I landed and saw all the private jets that we wouldn't be taking off on time. We did push back from the gate at 10:10pm, but we sat on the runway for 50 minutes. The pilot indicated that he had no idea what time we'd be lifting off and that the control tower wasn't even responding to their calls. That's the first time I've heard that one. He also said that all the corporate jets were taking precedence and I later read that there were over one thousand private jets at the Sky Harbor Airport and the surrounding smaller general aviation airports. That's approximately 10 percent of all the private jets in the world! You know, if I'd missed my flight, I would have tried my darnedest to hitch a ride on one of those bad boys! LAX, anyone?