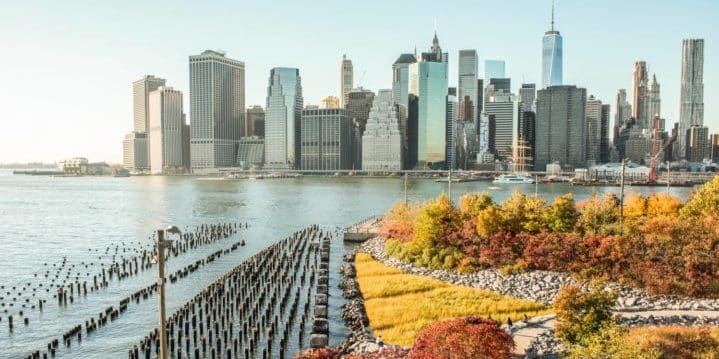 The busiest travel day of the year is upon us, but where are Americans going this Thanksgiving? Allianz Global Assistance just released a list of the top 10 hot spots this Thanksgiving holiday, and New York City and Cancun came out on top as the most popular domestic and international destinations, respectfully.
The report also ranked the following cities as popular domestic travel destinations for Thanksgiving after New York City: Los Angeles, Orlando, San Francisco, Boston, Atlanta, Chicago, Newark, Las Vegas, and Fort Lauderdale. International destinations that made the list after Cancun were: London, San Juan, Tokyo, Paris, Puerto Vallarta, San Jose Del Cabo, Hong Kong, Aruba, and Sydney.
The numbers were based on an analysis of the number of customers that used online booking to secure airfare and package paths from partners offering Allianz Global Assistance travel insurance to generate itineraries for travel around the Thanksgiving holiday (November 19-27, 2016). The company reviewed 1.3 million travel plans made by Americans to develop this list!
Here's the full rundown of domestic and international destinations listed out with number of booking intents received.
Thanksgiving Data
Rank
U.S. Destination
Booking Intents
Int'l Destination
Booking Intents
1
New York City
209,682
Cancun
41,144
2
Los Angeles
137,843
London
31,427
3
Orlando
122,065
San Juan
29,340
4
San Francisco
117,027
Tokyo
19,081
5
Boston
108,392
Paris
17,192
6
Atlanta
105,978
Puerto Vallarta
16,578
7
Chicago
104,630
San Jose Del Cabo
16,443
8
Newark
102,779
Hong Kong
13,948
9
Las Vegas
90,166
Aruba
13,749
10
Fort Lauderdale
84,325
Sydney
12,520
"While it's great for bonding, the high volume of travelers and uncertain weather conditions can make an unexpected trip delay or cancelation all the more likely and travel insurance all the more important," Daniel Durazo, director of communications for Allianz Global Assistance said in a statement. "Allianz's classic [insurance] policy provides great benefits where kids 17 years old or younger are covered at no extra cost when traveling with a parent or grandparent."
Disclaimer: Johnny Jet works as an ambassador for Allianz Global Assistance (AGA Service Company) and receives financial compensation.
---
For more information about Allianz Global, visit AllianzTravelInsurance.com.