I know that a lot of readers either live in Los Angeles or frequent Los Angeles International Airport (LAX). Just before the pandemic hit, the airport announced that they were offering a handy new service that would inform travelers via Twitter what the current situation was for traffic, parking availability and screening lines.
Once COVID took control, it wiped out any reason for logging on. But now that travel and traffic is back at LAX, Fly LAX Stats Twitter handle is a great resource for passengers and those picking up friends, family or clients.
Of course, you always want to use Waze, Google Maps or Apple Maps to see the current traffic conditions no matter where you're going, but especially when headed to an airport. However, having a quick glance at Fly LAX Stats before you head out is worth your while because it will show you which airport level to either drop off or pick up at. Note: Rideshares can only drop off on the upper level (Departures).
I also check out FlyLAXstats the week before a trip or scroll a week back to see what traffic conditions were like the same day and time a week before (unless there's a holiday).
Doing this will give you a good idea of what to expect and plan. For example, here's a tweet from this morning:
#LAXtraffic UPDATE
(As of 07:00 AM)
Upper Level : 15 min
Lower Level: 5 min
Time to Terminal 1:
– From Sepulveda/Westchester: 2 min
– From Century/405: 7 min
– Via 105 from 405: 10 min
#FlyLAX
Knowing which route and that the upper level is going to be busy, means you can drop your passenger off on the lower level (Arrivals) and have them just take an elevator or escalator up to Departures. This will save everyone time and aggravation.
This is usually the case in the mornings and the opposite for nighttime. For example, here's their tweet from 10pm last night.
#LAXtraffic UPDATE
(As of 10:00 PM)
Upper Level : 10 min
Lower Level: 22 min
Time to Terminal 1:
– From Sepulveda/Westchester: 2 min
– From Century/405: 5 min
– Via 105 from 405: 6 min
#FlyLAX
Knowing that the Lower Level is going to be more than twice the wait, you can do your pick-up on the Departures level. What I usually do is walk all the way to either the first or last terminal depending on the airline I'm flying. That way, the person coming to get me can do a shortcut to either pick me up or get out of the airport.
NOTE: If you're planning on taking a taxi or rideshare, you will need to go to LAXit, which used to be the old parking lot next to Terminal 1.
Now the other service FlyLAXstats offers is real-time parking lot availability, which definitely helps if you plan on parking short-term so you can see your loved one off or wait for them on arrival by baggage claim. Here's a screenshot of today's availability: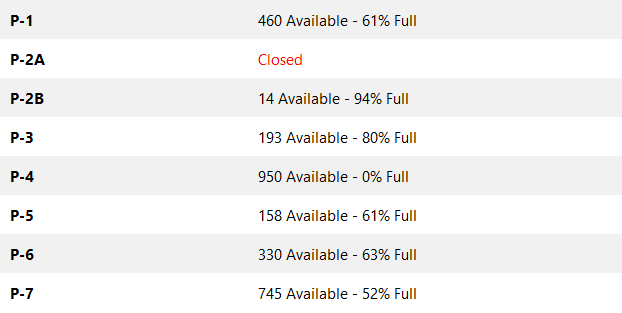 As you can see, Parking 2A is closed and 2B only has 14 spots left. So if you're going to pick someone up from Terminal 2 (Delta Air Lines), then you will want to leave earlier to find parking and make the longer walk.
Unfortunately, it looks like FlyLAXstats did away with their security screening times but you can find this information using this must-download travel app.
Knowing all of this can really make your trip to LAX so much more productive, efficient and enjoyable.
More LAX Tips