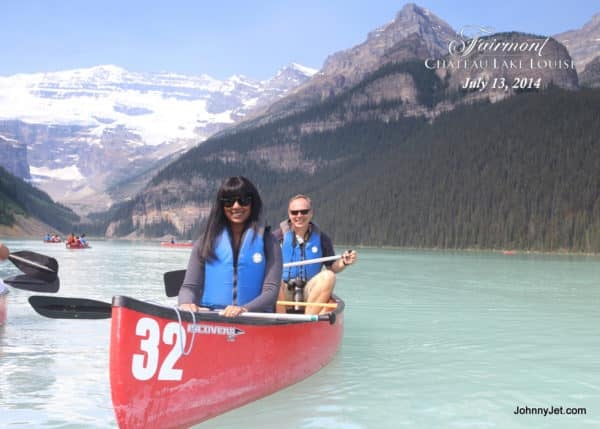 My wife Natalie and I recently visited beautiful Alberta, Canada to attend the Calgary Stampede. (Here are 10 tips for Stampede first-timers as well as 10 things to know about flying Air Canada rouge, the airline we flew to get there.) I've always wanted to go to the Calgary Stampede, but I was even more excited to visit Lake Louise in Banff National Park, which I'd heard from countless world travelers is one of the most beautiful places on earth.
The drive from Calgary to Banff is 90 minutes, and then it's another 45 minutes to Lake Louise. The whole drive is beautiful but the latter half is breathtaking.
Tip: Pay attention to your speed in the park as there are lot of cops waiting to ticket violators.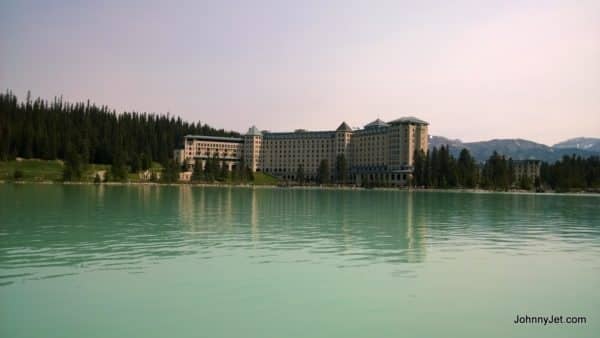 The Post Hotel
I have to admit that I was a little disappointed when I discovered that our trip organizers hadn't put us up at the Fairmont Lake Louise; I'd heard that was the best and most famous hotel there. We'd stayed at their sister property, The Fairmont Banff Springs Hotel, the night before and had a really pleasant experience.
But the moment we pulled up to The Post Hotel & Spa, I knew we were in for a treat. The Post Hotel is located within Banff National Park in Lake Louise Village, approximately 115 miles (184 kilometers) west of Calgary and 36 miles (56 kilometers) west of the town of Banff. The property opened in 1942 but was renamed The Post Hotel in 1957.
Good to know: The name was chosen for two reasons—first, to recall the many Post Hotels in the Alps, and second, because there was an additional building on the property that was leased to the Post Office.
In 1990, The Post Hotel became a member of Relais & Châteaux, which is one of the world's most prestigious hotel groups. We were there in the height of summer, and it was filled with mostly families and couples celebrating anniversaries or birthdays. But I met several of the dozen Aussies who work there, and more than half told me they prefer the wintertime since the skiing is so good there. I'm not really a fan of cold weather, but I can't imagine winter being more beautiful than the summer.
Behind The Post Hotel is a river, and dotted along its banks are five quaint red log cabins. It was postcard worthy—especially with the white Adirondack chairs in front. As tempting as they look, they're not for public use. The chairs have signs on them reminding all guests that they're reserved only for guests staying in the cabins.
Rooms 
In 1978, two Swiss brothers—André and George Schwarz—bought the hotel and turned it into one of the finest hotels in the world. Today the property includes 60 rooms, 29 suites, and five cabins. All were made with a blend of log, timber, stone, and pine so the style is often described as "rustic elegance." Each room is equipped with a goose down duvet, whirlpool tub, solid pine furnishings, wooden paneled and beamed ceilings, slate bathroom flooring, limestone bathroom vanity, robes and slippers, complimentary Wi-Fi, and a DVD player (complimentary DVDs are at the front desk). Room rates range from $275 to $475 per night.
Suites
We were in one of their 29 suites (prices range from $500 to $1,500 per night), which include all of the same amenities that the rooms have but also come with a wood-burning fireplace, separate shower and soaker whirlpool tub, coffee and tea maker, mini-fridge, and wet bar.
Good to know: The water pressure in the shower was fantastic and this was the first hotel that I've ever stayed in where the housekeepers remove the luxury soap wrappers. I loved the Aveda and L'Occitane bath amenities.

Balcony
The only thing I didn't like about our room is that we were on the second floor and we had a really tight balcony so there was no room to really sit. Even if we could have, the balconies have thick wooden beams at eye level that block the beautiful view. I'm not sure what they were thinking about when they built that. There's also no air-conditioning and it was unseasonably warm while we were there. However, all the windows and doors had screens, which was great so no mosquitoes kept us up. Preferred side: East-facing, overlooking trees, cabins, and the hotel's back lawns.
Dining
The Post Hotel is known for its food. They have three dining options, the most popular being the Post's Dining Room, which is led by European-trained Executive Chef Hans Sauter. Advance dinner reservations are recommended with two seatings available: 6:30 pm (and earlier), or 8:30 pm (and later) and there is a dress code of casual elegance. This means no athletic attire, T-shirts or shorts at dinner. They also have an award-winning wine cellar featuring over 25,000 bottles and 2,200 selections. We had dinner and breakfast here and both were delicious—and the service was great.
The other restaurants are Fondue Stübli, a 24-seat stübli (translation: small, cozy room), specializing in traditional Swiss-style fondues, and the Outpost Pub, an English style pub setting that offers a pub-fare menu and sports events on TV.
The Post Hotel also has a 3,200-square-foot Temple Mountain Spa (opened in 2005) but we didn't have time to experience it or swim in their indoor pool.
Lake Louise
Although the hotel is in Lake Louise Village, it's not on Lake Louise; it's actually a 10-minute drive to the famous lake. Lake Louise has become a symbol of the quintessentially Canadian mountain scene. For the unfamiliar, it's an alpine lake known for its sparkling blue waters and it's situated at the base of impressive glacier-clad peaks. The lake is about 1.5-miles (2.5 kilometers) long and 295-feet (90 meters) deep.

As its name suggests, The Fairmont Lake Louise is located right on Lake Louise. They offer boat rentals, which you'll want to get to before the crowds as we had to wait about 30 minutes to rent one—and they aren't cheap. They charge $45 CAD for 30 minutes and $55 CAD for one hour. Renters get their photo taken and can purchase the photo or have it emailed to them for $20—or do both for $30.
FYI: The water temperature was 13ºC (55ºF), which was unusually warm as it normally is 4ºC (39ºF) this time of year. For those who worry about falling in, they have a Zodiac at the ready and can reach anywhere on the lake within four minutes.

Moraine Lake
On the drive to Lake Louise, I recommend going to Moraine Lake which is eight miles (14 kilometers) away and has the most turquoise water I've ever seen.
Tip: Get there early before the tour buses and crowds.
Quick facts about Lake Louise Village
It's located within Banff National Park, which was established in 1885 as the first recognized National Park in Canada. The park is now recognized as a UNESCO World Heritage site.
Banff National Park has 4,127 miles (6,641 square kilometers) of protected wilderness area.
Lake Louise Village is Canada's highest community at 5,033 feet.
There are three ski resorts located in Banff National Park: Mount Norquay, Sunshine Village, and Lake Louise Ski Resort.
Lake Louise Ski Resort features: 124 miles (200 km) of trails spread over 7,748 acres, 139 named runs, and 4,200 skiable acres.