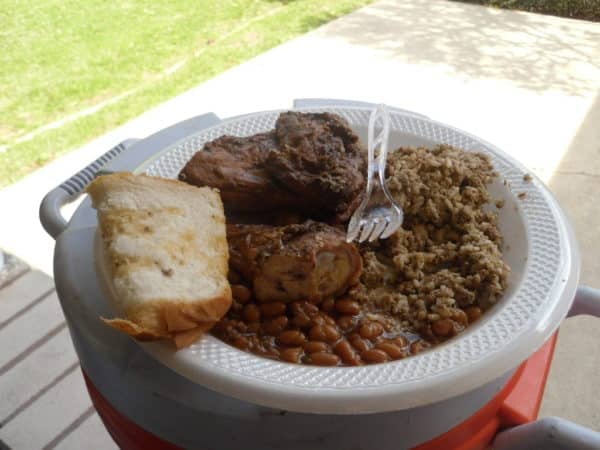 So often it's only the obvious that comes to mind when we think of destination events and in the case of Mardi Gras, it's New Orleans. New Orleans  is a fantastically wild and fun place any time of the year, but not the type of Mardi Gras destination most people would consider a great low-key stay or a  family oriented vacation. Head out of the bubble and book a trip to Lake Charles, Louisiana for Mardi Gras instead. It's less congested, family friendly and piece of Americana that shouldn't be missed. The area is known for Cowboy Cajun, but no matter what the label, the overriding fact is – it is Louisiana southern to the core, which means great hospitality, friendly people, amazing food with abundant history.
Easy Access
I flew in from Los Angeles on United and the flight was surprisingly short and easy.  Three hours to Houston and on a prop plane for under an hour to Lake Charles airport (which, by the way, looks just like a southern plantation).
FOOD!
Harlequin Steaks & Seafood
Undeniably, a reason that stands strongly on its own to visit Lake Charles is the food. A great start is Harlequin Steaks & Seafood which has been in business over 50 years and owned by the same family for three generations. The recipes have been handed down and the food is exactly what you would expect of tried and true top-notch Louisiana cuisine. The bread pudding is simply the best I've ever come across.  Harlequin Steaks & Seafood  — (337) 310-0077  501 West College St., Lake Charles, LA
Taste de la Louisiane
For a mere $6 you can enjoy all-you-can-eat  traditional Southern Louisiana cooking, made for the community by the community atLake Charles Civic Center.  It's school cafeteria style seating, but the room looks out onto the lake and if your timing is right, you may actually get to dine with local royalty.  Taste de la Louisiane:  Lake Charles Civic Center, 900 Lake Shore Dr Lake Charles · (337) 491-1256
Steamboat Bills
Dreaming of piles of Cajun-style crawfish, shrimp or crab? This is your place. Steamboat Bills offers daily specials and reasonable prices and is a local favorite and even comes with its own alligator in the swamp out back.  Leave your shy eating
side at home, bring your appetite – oh, and if you're new to crawfish eating, ask one of the staff or a neighbor how to properly get to the good part.  A must try are the boudin balls (breaded and fried Cajun sausage) and the potato salad that is silky-creamy good.  There's consistently a line out the door for good reason, so be prepared to wait.  Steamboat Bills – (337) 494-1070, 1004 Lakeshore Dr, Lake Charles, LA
B&O Kitchen & Grocery
Just a short hop from Lake Charles, you can enjoy a bit of what the Bedouin Trail has to offer at the family run B&O Kitchen & Grocery. Primarily famous for its boudin sausage, there's so much more on offer and it's all homemade delicious:  cracklins, beef jerky, smoked sausage, hog head cheese and they will process the deer you hunted as well.
Delicious Donuts – King Cakes!
Not all King Cakes are born equal. Paula Stevens started Delicious Donutsbecause she couldn't afford to adopt children, and four children later – she makes one of the finest Mardi Gras traditions around. What is a King Cake? Think of a super-sized bionic donut in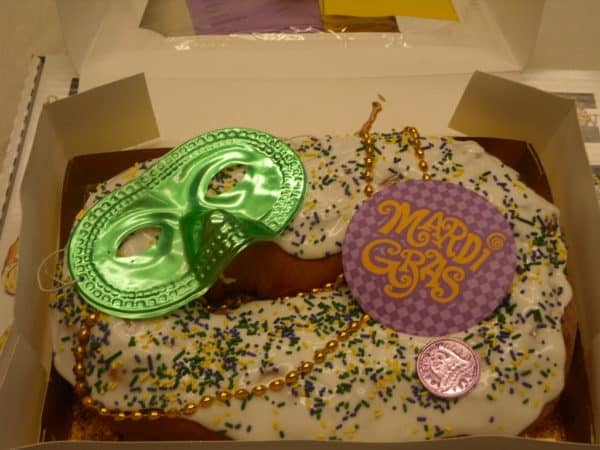 drag with a plastic baby hidden inside — and there's a long list of flavor options to suit anyone's preference.  These guilty pleasure edibles were originally created to celebrate the Epiphany (when the three wise men met baby Jesus), and are now an ingrained part of Mardi Gras festivities. If you find the baby in your slice of heaven, you not only get good luck, but are obligated to bring the King Cake to the next celebration. The cakes can be purchased for $19.50 at the store, or you can overnight one to just about anywhere UPS goes for $55.00. Delicious Donuts, 2283 Country Club Rd, Lake Charles, LA, (337) 479-2986
McFarlane's Celtic Pub
Did I expect to find great Celtic pub fare in Louisiana, nope – but I did.  If you need a little break from the abundance of gumbo, crawfish, etoufee, etc., McFarlanes Celtic Pub is a solid option. Located in an long-standing warehouse that's been meticulously refurbished, the pub has an old world atmosphere, extensive beer list and an authentic selection of Celtic food (there are a few of the local bites on the menu as well). Make sure to check out the original safe that's now used as storage – interesting piece of local history. McFarlanes Celtic Pub, (337) 433-5992, 417 Ann St, Lake Charles, LA
I've traveled to many different countries and loved every minute of going abroad – Lake Charles, Louisiana reminded me of the cultural discovery a traveler can have by packing up and crossing into other borders, but its right here in the U.S.  It is in many ways just as fascinating fun and eye-opening as a foreign destination. And, let's face it, for those of us from a cosmopolitan center in the U.S.  – there are many tucked away parts of our country  that are foreign and waiting to be discovered and explored.  Above all the warmth emanating from every person I met in this part of my country gave me a great familial feeling that will stay with me for a very long time.  So, Laissez les bons temps rouler, ya'll!
About the Author
Cynthia Cunniff's writing background spans marketing, PR, magazine editorial and travel blogging. She's a graduate of the creative writing program at CSU Long Beach and went on to UCLA to further her writing skills. Growing up as a military dependent, she lived in several foreign countries and several parts of the US. Post college she returned to international living and resided in London for close to a decade, where she took advantage of proximity to the rest of Europe and traveled extensively. She currently lives in the beautiful South Bay of Los Angeles, and Tweets about traveling in the U.S. and throughout the world @localpathworld.