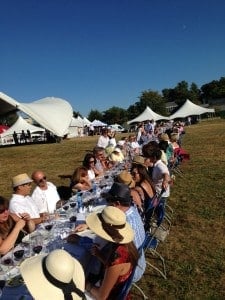 Have you ever thought about how cool it would be to set up a private dinner for you and a few friends on the waterfront in, I don't know, say Vancouver, British Columbia? How about a view of the ocean, mountains and the ultramodern Vancouver cityscape as a backdrop, and maybe five or six great chefs to satisfy your culinary desires?
Well, I can make those dreams come true! All you have to do is click this link, sign up for the Araxi Longtable Dining Series and then get yourself over to Vancouver for an experience you just might tell your grandchildren about.
The Araxi Longtable Dining Series
The Longtable Dinners, designed by Araxi's Executive Chef James Walt, offer more than your typical al fresco dining experience.
If you happen to attend a Longtable Dinner in Vancouver, you may well find yourself, as I did, enjoying stylish pre-dinner cocktails under a grand white canopy and sitting down to an awesome four-course dinner with nearly 300 fellow foodies.
Yes, that's what I said: nearly three hundred, or trois-zero-zero for those of you who parlez Francais. You cannot even imagine it until you actually see it for yourself. Longtable Dining with a REEEALLY long table—nearly 500 feet of table to be more precise. Did I mention this is something you might one day tell your grandchildren about?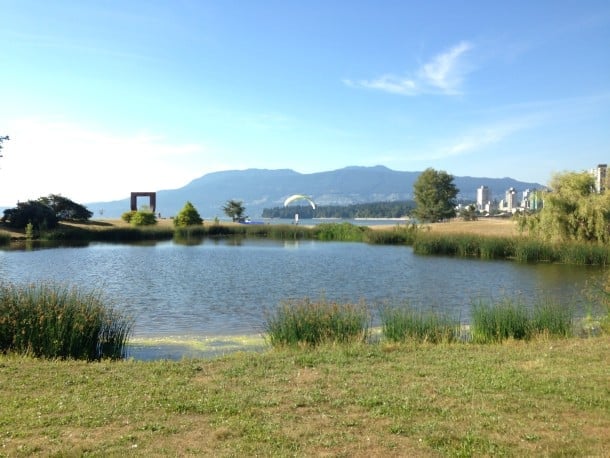 Vancouver's Longtable Dinner took place at Bard on the Beach in Vanier Park, the site of one of Canada's largest, non-profit Shakespeare festivals. Chef Walt invited several of his Vancouver-based colleagues—Andrew Richardson from CinCin, Frank Pabst from Blue Water Cafe, Quang Dang from West, and Thierry Busset from Thierry Chocolaterie Patisserie and Cafe—to participate and help design the evening's menu. The good people at Mission Hill Winery and Pemberton Distillery provided the accompanying libations.
Welcome reception
The welcoming reception featured Outlandish Seafood Guild Oysters, Smoked Cherry Tomatoes with farmhouse chevre, Charred Vancouver Island Octopus Salad and Confit Yarrow Meadows Duck Terrine. These delicious eats were paired with Mission Hill's 2012 Reserve Riesling and Pemberton's Schramm Gin cocktail. Try the Schramm on its own with a little ice and you'll quickly realize this is not your grandmother's gin. I lost count of the different nuances this spirit was packing. One read of the ingredients and you can see why. Definitely a keeper.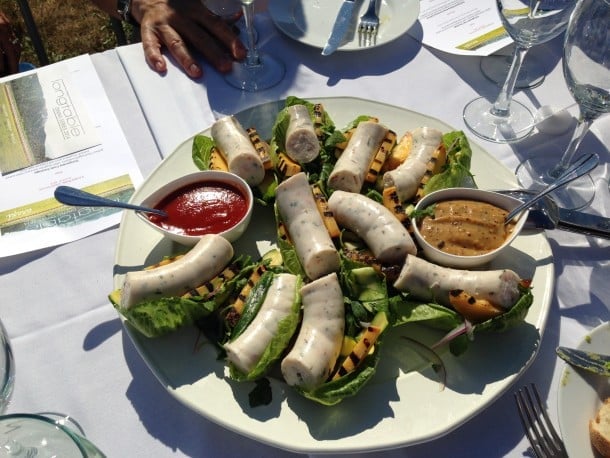 First course
The sit-down dinner was served family-style on account of the sheer number of people that had to be served within small windows of time as well as the necessity of ensuring that each platter met the high standards set down by Chef Walt. Our first course was Dungeness Crab Sausage with grilled Okanagan peach, wild arugula and zucchini salad, peach mustard, and red pepper ketchup. This plate was paired with Mission Hill's 2013 Reserve Sauvignon Blanc. The wild, not cultivated, arugula made a significant statement and gave the dish a refreshing zest.
Second course
The second course was a Salt Baked Stikine River Sockeye Salmon with gold tomatoes slow-cooked in olive oil with shallots and garlic together with Florence fennel, black olives and parsley. For those of you not familiar with the term "salt baked," it refers to a cooking style where the fish, typically with the skin intact, is laid down upon a thick bed of sea salt and placed into the oven. Some people will cover the fish with another thick layer of salt. When it is done right, as it was with our Stikine River Sockeye, the result is a subtle saltiness and a perfectly cooked fish. The full flavor of the sockeye and the hearty tomato-garlic side made Mission Hill's 2012 Reserve Pinot Noir the perfect wine pairing.
Main course
The main course was a beef combo of rosemary grilled fillet and slow-cooked beef cheeks ravioli with beets and carrots on the side. Tender was the word on the fillet. Real beef flavor for the ravioli…for those of you who often wonder whether the beef ravioli you ordered has any flavor at all. This dish demanded a fuller, deeper wine, a role that was filled brilliantly by Mission Hill's Terroir Collection Merlot, Osoyoos 2012.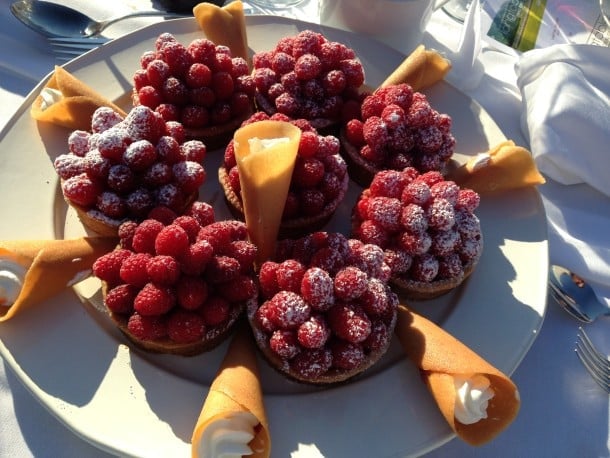 Dessert
We closed off the night with a BC Raspberry and Fresh Fruit Tart and a playful ensemble of treats including assorted macarons, homemade marshmallows and fruity jelly candies. Our sins were washed away with Mission Hill's 2013 Reserve Riesling Icewine and a quick after-dinner walk around Vanier Park.
Where to stay: Westin Grand Vancouver
My Longtable experience would not be complete without giving a well-deserved shout-out to the people at the Westin Grand Vancouver hotel who were good enough to put me up even though they had a full house during my stay. Aside from their accommodating spirit, there is much to say about the way the people at the Westin Grand run their business. For example, the hotel offers a $5 voucher or 500 Starpoints® awarded at check-out for each night you decline housekeeping—part of their effort to run a "green" operation. This nearly all-suite hotel is dog-friendly and there is no charge to bring Fido along on your next stay (provided Fido doesn't wreck the room).
The hotel also has an excellent 24-hr fitness/pool/spa area and can arrange a personal trainer to work with you during your stay. There is even a workout suite for those of you who don't like to hear me grunting as I do my stretches and a fitness menu for those who want to stick to a healthier diet.
The pool, meanwhile, is served by a saltwater extraction system that ensures you're swimming in water that is 99.9% bacteria-free. The Westin Grand, at last count, was one of only three hotels in Vancouver that offered this level of service.
I had always thought of the Westin as a rather bland business travel hotel. While business travelers are still a large part of their bread and butter it was pretty cool to hear Sarah Woodgate and Mitchell Fawcett, from Sales and Marketing, map out how the Westin Grand is looking to the future.
In an effort to draw in more people from the surrounding neighborhood, which is chock-a-block full of condos and office towers, the hotel has introduced PopUpPatio on the rooftop pool terrace every Thursday and Friday during the summer. Guests can sample an array of eats from the outside BBQ and a full menu of cocktails, wines and beer as they unwind after work on this Miami-themed terrace and, not coincidently, start to see the Westin as more than a business travel destination.
The Westin Grand is also an official accommodation partner of the Vancouver Queer Film Festival and has a year-round pride package through which $10 is donated to the Vancouver Pride Society. During the pride event the hotel is the host of the Rapture Heatwave official pride pool party. I guess that pretty much does away with any thought that this is a boring old businessman's hotel.
Vancouver offers a lot to those who visit and continues to surprise me with each trip I make. Events like the Araxi Longtable Dinner can be an excellent excuse to drop in, stay a few days and sample all the city has to offer.