Merhaba from Turkey! Last week, my story about arriving in Istanbul and staying at the city's most famous hotel was getting so long, that I decided to save the best for last – the city tour. If you want to see Istanbul through the eyes of a professional and private tour guide (who won't bleed your bank account), then come along with us to learn about this fascinating city.
JOHNNYJET.COM UPDATES
A few things I thought I'd share with you: I just signed on to speak at the Blogger Symposium in New York City on October 15 so if you are in the Big Apple, come on by; it's free! And if you tweet about it, use @MJAMediaSymp. Lastly, JohnnyJet.com made PC Today magazine last week and the week before, I was interviewed on FOX News – those are just a couple of JohnnyJet.com's latest news mentions.
ORTAKOY
I know what you were thinking when you finished reading my story last week – when are you going to get out and explore? Don't worry! I did a lot of sightseeing in the 48 hours I was there and I'll tell you all about it. My first excursion was to the pedestrian district of Ortakoy. To get there, I just took a right out of the hotel and walked 10 to 15 minutes down the narrow sidewalk running parallel to the usually traffic-filled streets. Ortakoy is a charming seaside village full of restaurants, boutiques (some chains), banks, and even a major hotel (Radisson SAS). Unfortunately, I missed the weekend's colorful street market, which I hear is full of a fine selection of handmade Turkish crafts but this destination off-the-beaten-American-tourist-path was picturesque.
ORTAKOY MOSQUE
The focal point of Ortakoy is the Ortakoy Mosque, which is right next to the ferry stop. The mosque was built in 1854 for Sultan Abdul Mecit and like all mosques, the call to prayer goes off five times a day. When it does, it's so loud you can hear it from your hotel balcony anywhere in the city. I don't know about you but I love hearing the solemn sound. I find it soothing and I'm not even Muslim.
HOUSE CAFÉ
The first time I went to Ortakoy it was to get some cash out of the ATM and buy some bottled water (it's much cheaper than in the U.S.). The second time was at night with Natalie to eat at The House Café, which is in an unforgettable setting and has a wonderful vibe and view. We sat outside on the large terrace alongside young hip Turks and no Western tourists. The restaurant has a magical view of the Bosphorus Bridge and the Asia skyline. Although the House Café's menu has a strong emphasis on seafood I went with the Margarita pizza since my tour guide (who you are about to meet) said and I quote: "It's better than anything you will find in Italy." "Yeah right," I replied. Since I'm half Italian, those are fightin' words! But to my pleasant surprise, he was almost right. The pizza at the House Café was outstanding and not overpriced, either. The House Café, Salhanesi Sokagi No: 1 Ortaköy Istanbul, Tel: 0212 227 2699-39.
DID YOU KNOW? On July 19, 2009 the Turkish smoking ban went into effect, outlawing smoking in all enclosed public places, including bars, cafes and restaurants as well as in taxis, trains and stadiums. Yee haw!
NEW FACES TRAVEL
The Caravan Palace arranged a private guide for Natalie and me, to give us a personalized tour of Istanbul. They used New Faces Travel, which is a reputable tour operator that's been in business for over 15 years and is recommended by a lot of travel authorities including Andrew Harper. New Faces conducts tours not only in all corners of Turkey but also in Turkey's neighboring countries and they specialize in incentive travel, study tours, biblical tours, custom made tours, blue cruises and shore excursions for cruise passengers.
OUR TOUR GUIDE
We used New Faces Travel twice: once in Istanbul and once in Kusadasi (I'll take you there next week) and both of our guides were exceptional. After hearing their recommendations, we told them both exactly what we wanted to see and do in an eight-hour time frame and they both got it done. Our guide in Istanbul was Askin Devrim Aydin. He's a Turkish American who splits his time between both countries and has toured many high profile Americans around, including Hillary Clinton and Madeline Albright. I've had a ton of tour guides during my travels and Askin rates right at the top and Natalie concurred. What's nice about New Faces' travel guides is that they don't charge per person but per tour and it's much more reasonable than you would expect. And let me tell you: There's nothing like having a local historian and a driver show you around in a comfortable, air-conditioned van. It takes away all your worries.
BUY A GUIDEBOOK
Turkey's history is long, varied and fascinating. From its ancient roots to its modern-day place as a growing tourist destination, Turkey is an intriguing part of the world to visit. Of course, I'm not going to be able to go into full detail about this country's ancient history, so my best advice is to either hire a tour guide and/or get a guidebook. I used Frommer's Istanbul.
WHAT TO SEE
Natalie and I wanted to see the major sights like the Blue Mosque, Hagia Sophia, Topkapi Palace, the Grand Bazaar, the Spice Market and we definitely wanted to take a ferry to Asia. We did all that and more.
HIPPODROME
Our first stop was Sultan Ahmet Square, which is also known as the Hippodrome of Constantinople. During the Byzantine Empire, this was a Roman Circus and the social center of the city. Today, there are three main structures standing – the Hippodrome of Constantinople and the Serpent Column. The two obelisks are made of rare pink granite and they were erected around 1490 BC by the Egyptian Pharaoh Thutmose III to commemorate the victories of his forces in Mesopotamia. The Thutmosis' Obelisk is the tallest of the three as it stands 25.60 meters (84 feet) high. The Serpent Column, which used to be known as the Tripod of Plataea, was brought over by Constantine The Great in 324 from Delphi to celebrate the victory of the Greeks over the Persians during the Persian Wars. The serpent heads are no longer attached but you can find one of them at the nearby Istanbul Archaeology Museums.
UNESCO WORLD HERITAGE SITES
All the main historic sights are in the old city and are within walking distance of each other. In fact, the area has been billed as the Historic Areas of Istanbul and it's so impressive that the whole place became a UNESCO World Heritage Site in 1985.
BLUE MOSQUE
Our second stop was at the Blue Mosque, which is grand in both its architecture and its size. The mosque was built between 1609 and 1616 and is the city's most sacred place of worship. The real name is the Sultan Ahmed Mosque but its English nickname was brought about from a tourist who commented on the mosque's more than 21,000 handmade cobalt blue ceramic tiles that decorate the interior's 141-foot (43-meter) high domes. It can hold up to 10,000 people and it's closed for a couple hours during Friday prayer. There is no entrance fee but visitors (especially woman) must have their shoulders and knees covered; they supply wraps at no charge. Also as a sign of respect shoes must be removed before entering.
HAGIA SOFIA
Right next door – maybe a 300-yard walk – is the Hagia Sofia; the Greek name translates to Sacred Wisdom. This beautiful basilica was built around 537, then turned into a mosque in 1453, then turned into a museum in 1935. It has been built three times. The first structure was made of wood, the second sandstone and marble and the third brick. Askin said it symbolizes the fall of Constantinople and Christianity, the end of the Roman era and the beginning of the Ottoman Empire.
THE BUILDING
The main entrance of the church makes people entering face east towards Mecca. The structure is said to epitomize Byzantine architecture. Inside it's dark and beautiful with Islamic calligraphic roundels, marble floors and imposing archways. Some of the marble colors are extremely rare, found in nearby mines. Visitors can tour both levels of the museum. To get to the upper gallery, there's a ramp, not stairs because it was easier (smoother) for the slaves to carry the ruler and to cart construction materials.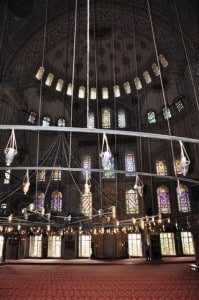 CHRISTIAN MOSAICS
There are many Christian mosaics. The largest and most beautiful one is on one of the domes inside. It's of the Virgin Mary and child. But just before exiting, you'll be sure to find a crowd admiring the 10th century mosaic of the Virgin Mary with the infant Jesus in her lap. On both sides of her is Emperor Constantine. On one side he is offering a small model of the city and on the other he is offering the model of the Hagia Sophia. I'll let you figure out what it signifies.
OBAMA IN TURKEY
By the way, President Obama toured Hagia Sofia back in April on his first overseas trip. I'm sure (or rather, hope) he didn't have to pay the 20 TL entrance fee. Actually, we didn't either since New Faces takes care of all the entrance fees in advance, which in turn makes your tour that much sweeter and smoother since you don't have to wait in any long lines. For more about Hagia Sophia, see HagiaSophia.com.
TURKISH & GREEK RELATIONS
When we were exiting Hagia Sophia, I noticed a large tour group of Greeks. I thought that was weird because my understanding was that the Greeks and Turks didn't get along. When I asked Askin about it, he said that's no longer true. The big breakthrough happened when Istanbul was hit by a major earthquake (7.6 on the Richter Scale) in 1999. The Greeks were the first to provide aid to their neighbor. A few weeks later, Athens was hit by an earthquake (registering at 6.0) and … that's right … the Turks were the first to arrive on the scene and help. Perhaps there is a chance for world peace.
TOPKAPI PALACE
A short walk from Hagia Sophia is the Topkapi Palace, which is full of examples of Ottoman architecture. Just to refresh your memory, The Ottomans reigned in Turkey for 600 years. For almost 400 of those years (1465 to 1853), the Ottoman Sultans lived in The Topkapi Palace. Sultan Mehmed II ordered construction to begin in 1459 but it took years to build. There are hundreds of rooms and chambers and it has four main courtyards. But towards the end of the 17th century, the palace gradually lost its importance as the Sultans preferred to spend more time in their newer palaces along the Bosphorus (including The Ciragan Palace, where Natalie and I stayed). In 1924, three years after the Ottoman Empire fell, the Palace was transformed into a museum of the imperial era.
VISITING TOPKAPI PALACE
Just outside near the ticket booth (entrance fee: 20 TL) is the spot where the soldiers would cut the heads off of anyone who disobeyed the law, so the place has an eerie feeling about it, especially near the former fountain where the soldiers would wash the blood off their swords. The entrance goes through the first and largest courtyard of Topkapi Palace. Today, the palace contains large collections of weapons, shields, armor, porcelain, robes, Islamic calligraphic manuscripts, murals and jewelry. Some of the highlights include emeralds and the prophet Mohammed's cloak and sword, which some say are the most holy relics of the Muslim world. The views from up there are amazing and they even have an outdoor café.
TAXI TIP
By this time, we were famished. On our walk to lunch, Askin told us of a very clever and sneaky taxi driver trick. First of all, he told us never to take a tourist taxi. Instead, have someone from a hotel or restaurant call one for you. The taxis that are just parked outside the tourist sites are waiting for unsuspecting foreigners. If a local tries to get in, the drivers would tell them they are waiting for a client but in fact they are waiting for any tourist to rip off.
BEWARE: TAXI DRIVER TRICK
Here's the trick: Say you're trying to pay your fare with a 50 TL note. The driver will sneakily drop it on the floor and switch it to a 5 TL note, which looks very similar. He then argues with the passenger that they've only give him a 5, when in fact they handed him a 50. Most of the time, passengers are in a hurry, aren't paying attention or just assume it was their own error because they're unfamiliar with the currency. Or, let's say you try to pay with a 20 TL note. The driver will deftly rip a corner off the note and then tell you he can't accept a torn bill. This forces passengers to open up their wallets again and chances are, they might pull out a 50 TL note, so he can try his original trick on them. If this happens to you, call the police (polis) by dialing 0090155 from your US cell phone or 155 from a Turkish phone. The police are likely to side with you since they know this old trick and the driver stands to lose his license.
CRIME IN ISTANBUL
Speaking of crime: Askin told me that Istanbul is very safe and that he feels safer here by far, than he does in any other big city in the US. The percentage of serious crime is very small and the only thing tourists really have to worry about are pickpockets. They do their best business on crowded busses, ferries and trams and even the locals have to watch out. The one place you don't have to worry about pickpockets is in the Grand Bazaar because if a shop vendor catches them, they will be severely beaten since it's bad for business for the market to have the stigma of being full of pickpockets.
LUNCH
Askin asked us what kind of food we wanted and of course we said something traditional and not too touristy. He made a phone call and had an outdoor table reserved for us at Onur et Lokantasi. The owner was very friendly and we asked Askin to do the ordering. The incredible meal began with a fresh green salad (9 TL), followed by a traditional Turkish meze of grilled beef, chicken and lamb (15 TL), grilled fish, rice with mushrooms (7 TL), tomatoes and French fries (5 TL). It was topped off with a traditional Turkish tea (2 TL) and coffee (4 TL) and we split a couple of desserts. One was fried cheese drizzled with honey and pistachios (6 TL) and a rice pudding (5 TL). Onur et Lokantasi, Nuru Osmaniye Cd. Alibaba, Turbe Sk, No: 21/7 Cagaloglu, Istanbul, Tel: 0212-527-12-29.
TURKISH CARPETS
Right next door to the restaurant is Punto of Istanbul (Tel: 0212-511-08-53), a fine Turkish carpet shop that's owned by a Christian Syrian; the shop has been in his family for five generations. As you can imagine, you can find rugs everywhere in Istanbul but this one is one of the most exclusive shops since they carry only fine furnishings. Obviously, Turkish handmade carpets are one of the most popular souvenirs to bring home and the moment customers walk in they feel welcome when offered a variety of drinks including Turkish tea. The best part is that there's no heavy pressure to buy.
SEVAN BICACKI
A couple doors up the road is a jewelry shop by Sevan Bicacki. He's a local jewelry designer who is rapidly gaining international attention for his exquisite pieces. He currently has stores in Istanbul and Dubai, with plans for expansion into the United States. Visit sevanbicakci.com for more information.
BARGAINING
In Turkey you have to bargain for rugs and souvenirs – it's not just cultural but it's a game enjoyed by both sides! I was told that if a customer accepts the first price quoted, the vendor feels bad that they were such a sucker so sometimes will come back and offer 20% off, meaning you probably could have gotten it for 50% or 70% less.
GRAND BAZAAR
If you want to shop and experience local culture, The Grand Bazaar is the place to do it. It's one of the oldest covered malls in the world. It was built in 1461 by Sultan Mehmed the Conqueror. I imagined it to be like a Moroccan souk but it wasn't anything like that except that you could easily get lost in the maze of alleyways. Unlike Marrakesh or Fes, it's very clean and wide, with high ceilings and not a ton of sales pressure. Supposedly the Grand Bazaar has over 5,000 shops but I'm not sure if that's accurate but there certainly are thousands along with a bunch of restaurants. The goods here range from Turkish carpets, magnets, tea sets, glazed tiles and pottery, clothing, meerschaum pipes, lighters, Turkish Delights and all sorts of other things. I even saw locals or store keepers playing competitive games of backgammon. FYI: It's not open on Sundays and summer hours are 8:30am to 8:30pm.
SPICE MARKET
The other famous bazaar is the Spice Market. It's not within walking distance of the Grand Bazaar so you will need transportation. The Spice Market opened in 1664 and has 88 stores. Here too is clean and has a wonderful display of oriental spices. The most popular and of course, expensive is saffron. But you can buy a lot more than spices here, ranging from knick-knacks to food. Actually, Askin bought us what he claimed to be the best baklava in the world. I'm no baklava expert so I can't back that claim up but it sure was good.
FERRY TO ASIA
I failed to tell you last week that Turkey has 296,503 square miles of land and a population of over 65 million. 96.88% of the land lies in Asia while the 3.12% is in Europe. Istanbul straddles both continents. In fact, it's the only city in the world to do so. There was no way I was leaving without stepping foot on the Asian side so our last excursion of the day was to take the ferry to Asia. There are a number of different ports to go to. Askin wanted us to see a different town than the one we ended up visiting but we just missed that ferry and didn't want to wait 20 to 30 minutes for the next. So instead we jumped on another ferry departing within three minutes; it costs 1.50 TL each way.
ISTANBUL: THE ASIAN SIDE
On the ride Askin told us that six million people cross over the river each day and we didn't see any tourists on our ferry. On board it wasn't terribly crowded and no one seemed to care for the best seats, which were outdoors with panoramic views. The ride across the Bosphorus was quick – maybe 10 minutes, but they served tea, soft drinks and light snacks for a modest fee. No matter which ferry you take across the Bosphorus, the ride offers an inexpensive way to see the city skyline and provides an opportunity for some great people watching! BTW: The Asia side felt a bit different from the Europe side; there was not as much hustle and bustle. We spent just 10 minutes walking around the port and the highlight was a huge clock that read: Every moment of life is important. Every instance, it strikes silently. Ten minutes later we were back in Europe, making it the quickest trip I've ever taken, and probably will ever take, to Asia.
OVERALL
Overall, I loved Istanbul and I can't wait to go back. Without a doubt, our New Faces tour guide was a star as we never had to wait to enter any of the sites and we had VIP treatment everywhere. He knew so many people and it really made our one full day of sightseeing truly special.
NEXT WEEK
Next week an Aegean cruise on Seabourn's newest ship, Odyssey.
Note: This trip was sponsored in part by The Ciragan Palace Kempinski Istanbul.
Web Resources
Save on Travel to Europe with Luxury Link