Mexico is awash in destinations offering everything from party-central activity to laid-back family enjoyment—plus everything in between. That's why I jumped at the chance to explore the Grand Residences Riviera Cancun, a new luxury property south of Cancun, in the Riviera Cancun area, that offers a bit of everything for vacationers needing a break from it all. Flying into Cancun is a cinch, and shuttles regularly ply the route between the airport and various hotels. The drive to the new Grand Residences property took only half-an-hour, and exiting the van was the first indication that luxury awaited at this beachfront oasis.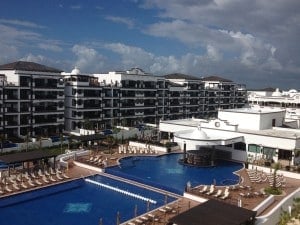 The pool stretched from the lobby, where a smaller lap pool looked ideal for adults, to the edge of the sea. And no matter where you go, there are dozens of cushioned lounge chairs and staff circling with chilled towels and water. A unique feature of the property is that you never notice staff lugging large carts around. No maintenance or housekeeping carts wheeled through the pool area. Even catering events seem to just magically happen, and the hotel does a good deal of wedding functions. The reason this is possible? A network of underground tunnels beneath the resort designed to remove any type of extra employee activity above the scenes. The calmness and reduced "back and forth" of staff is evident by the pool and in public areas, and with only 103 suites, this means that the pool and beach areas remain oases of total relaxation.
Reception was a sit-down affair, and seconds after I left my feet, a chilled towel and cold drink appeared. That's always such a nice welcome, especially in hot weather destinations. This new property is a member of The Leading Hotels of the World collection, whose service standards are set quite high. Many hotels face an uphill battle trying to meet them. But, here, it was clear that the management team invests a great deal in the training and education of its staff. They offer English language classes and find ways to support staff, even when they're not working on site.
The rooms
The accommodations encircle the massive swimming pool, which steps down into the edge of the sea. Clever pathways between each pool seem as if they're floating on the water. My suite, all accommodations here comprise large one to three-bedroom suites that are more like condominiums with hotel rooms, overlooked a section of the pool and beach from a massive balcony. Once I opened the door, it became clear that this hotel has set its sights on offering the most spacious hotel digs in the entire Cancun area. The Penthouse Suite even has its own private terrace large enough for a cookout or social function and its own huge whirlpool tub.
Beyond the living room was a large dining room with long table large enough to host a Thanksgiving lunch!
The adjacent (full) kitchen had stainless steel appliances, a coffeemaker, a minibar, and cupboards filled with all of the cooking, cleaning and dining appliances one could need.
The bedroom was separated by another door, which is great for those that want additional privacy or families with members that prefer to sleep in each morning. With its own air conditioning system and ceiling fan, the bedroom made it easy to adjust the temperature to individual preferences. A large king bed was topped with overstuffed pillows and a thick duvet, which was useful even in the Mexican heat. A work desk was great for setting out my laptop and handling work emails after a dip in the pool. Facing the bed, a large flat-screen cable TV has dozens of English language channels. If you packed a lot, you'll find the closet space to be more than ample for someone that's essentially moving in at the resort. Turn-down service arrives nightly delivering locally crafted Mayan gifts.
The bathroom was awash in marble with two vanities, a deep soaking whirlpool tub, an enormous shower, and full stashes of Bulgari White Tea scented toiletries. In addition to the bathroom tub, there was a separate whirlpool tub on the balcony. But no one comes to this resort to spend all their time in the suite. I immediately headed for the pool terrace to tuck into some delicious Mexican food.
Like everything else here, it seems that even food by the pool is upscale. Witness the beautiful presentation of guacamole above. The tri-colored chips were a clever reflection of the Mexican flag.
The pool
There's nothing better than lounging under a fabric umbrella staring out at the sea. What's more is that this resort often hires local musicians to play by the pool, including guitar and jazz tunes.
The gurgling fountains by the pool and sounds of splashing water are as relaxing as the live music at other times in the day.
During my visit, the swim-up bar was not busy, but I can imagine during holiday periods that guests spend a great deal of time there.
The food
This is not an all-inclusive resort, but guests here know that when they reserve. In fact, many prefer it that way because it ensures that the food is of better quality. With kitchens in all units, it also gives longer-stay guests the option to prepare their own meals. This's easy to do given the resort has its own grocery store—and this not just your average sundries shop. It has everything from fresh fruit and vegetables to cereal, pasta and desserts.
Those that prefer to leave the cooking to the resort's master culinary team are in for a treat. Breakfast begins in the poolside El Faro Grill where three meals are serve each day. The breakfast menu included a vast array of juices and smoothies, delicious Central American coffee and plenty of options for eggs. My scrambled eggs came with the same Mexican flag trio of chips and were quite tasty.
The fitness
If your idea of a vacation is like mine, you would follow breakfast with a spa treatment or relaxing by the pool. But, fitness-minded guests (and there are many here) have access to a large, air-conditioned workout facility with the latest weightlifting and cardio equipment. I did take a peek, but it was really because I wanted to fill up my water bottle rather than break a sweat.
Another unique feature is the full tennis court located on top of an adjacent building. A local tournament was taking place during my visit, and there were quite a few talented local players toughing it out against one another. Guests have the option to use it as well, and rackets are available at reception.
Of course, there's always the option to jog or take a walk on the beach. I did the latter, but forgot to use sunscreen underestimating the sun's rays. Ouch!
The spa and more
Spa treatments range from Thai and bamboo massage to deep-tissue and Shiatsu. Facials, body wraps and beauty treatments are also featured on the lengthy menu.
If that's not enough to wind you down, the hotel has plenty of bars for craft cocktails or drinks including the signature flavored tequila drinks that alternate regularly. Both the lobby and pool bars serve them, but I ventured into the hotel's afternoon tea service instead. It's elegantly set up in the lobby lounge daily with authentic scones, delicious teas from around the world and plenty of air conditioning for those extra hot days.
The takeaway
If you are into real pampering, room service delivers at all hours. On my final day, I took advantage of their swift service before heading to the airport. Nothing like a fresh strawberry smoothie and Mexican cheese on my breezy balcony while doing last-minute emails.
The Grand Residences Riviera Cancun is family-friendly, but also perfect for romantic vacations designed for relaxation. It's far from the hubbub of Cancun, and close enough to a small fishing village (for those that want to shop locally or dine in popular beachfront cafes). The resort represents the standards of The Leading Hotels of the World without the stuffiness that usually comes with high-end properties in their portfolio. Welcome to paradise!