I was expecting spacious staterooms, great service, fabulous entertainment, and gourmet meals. I got all that, but there's no doubt that Star Wars steals the show on the Disney Dream. Here, in honor of the opening of Star Wars: The Force Awakens, is a look at the latest onboard experience available in the Disney galaxy (which includes a private Bahamian island).
Kids: joining the rebellion and taking over the ship!
Disney's Oceaneer Club, open to kids ages 3 to 12, is the place young Padawans want to be when sailing the newly enhanced Disney Dream. Imagine taking over the Millennium Falcon, joining the Rebel Alliance, activating the ship through hyperspace, and triggering lightspeed jumps to different locations around the galaxy. Star Wars-themed crafts, games and activities are offered throughout the day. The popular Jedi Training experience found in Disney theme parks is also available on the ship. Younglings can learn to master the Force, work on their lightsaber skills and defy the dark side. On large screens young Jedis can watch episodes of Star Wars Rebels and at gaming stations, they can participate in more adventures.
When you add to this an entire space dedicated to the Disney Infinity gaming system, parents will have a hard time getting their kids to participate in any other onboard or off-board activity.
While I no longer qualify for the Oceaneer Club, I had a chance to experience the action, and so can you! During each sailing, several open houses are held when parents can visit and experience this galaxy far, far away. And take my word: Many parents, like their kids, are reluctant to leave when their time is up.
When I visited, the ship was in port in Nassau. Next to me, Charlie (age 9) from Fairfield, Connecticut, was patiently waiting for the Oceaneer Club to open. He had skipped breakfast, hoping to play for a while before joining his family on their outing to Atlantis Paradise Island. Unfortunately, Charlie had to abandon ship before the Oceaneer Club opened but not before sharing with me that he spends about 80% of his time firmly in control of the Millennium Falcon. From the determined look on his face, I knew instantly that somebody was going to try to skip dinner in an attempt to join the Rebellion once more.
During the open house for the media, I had the opportunity to ask Disney Imagineer Danny Handke, the creative design lead for Oceaneer Club, why the space is such a success: "Our team has lots of diehard Star Wars fans," he offered, "and we were able to join forces with LucasFilm, so we gave it our all."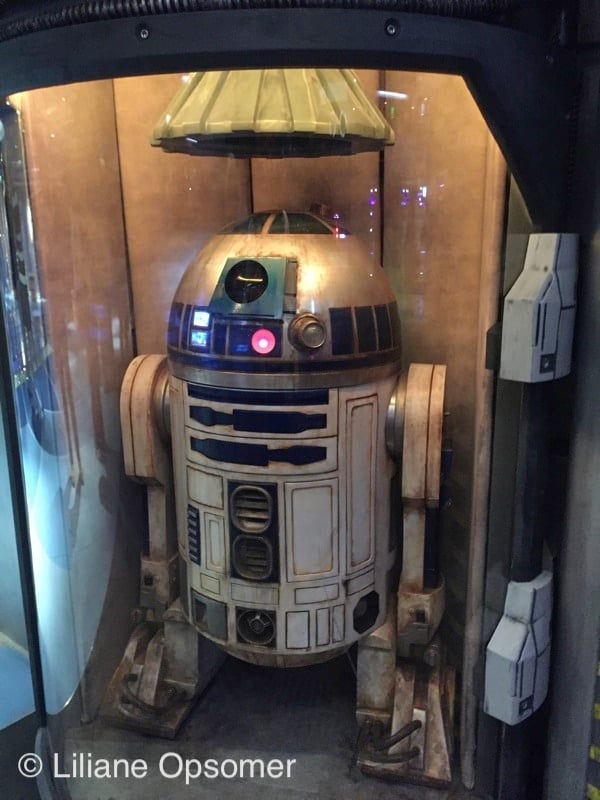 This, combined with 13 years of experience, allowed Handke and his team to execute an incredible concept. The entire area is meticulously planned, featuring more than 1,000 LED lights plus hundreds of buttons, switches and special effects to make the heart of any Star Wars fan go into hyperdrive. And it's this attention to detail that makes it all possible. Except for pushing every button on the console of the Millennium Falcon, my favorite interaction was talking to R2-D2. You can also find the exact spot where Han Solo kissed Princess Leia for the first time, and you can use the Force to make boxes move. While Darth Vader may breathe down your neck at times, the Rebel Alliance will always win.
There's simply so much to do that I was not thrilled myself when it was time to leave the Star Wars universe to make way for young recruits. May the Force be with them and their parents!
More than just Star Wars…
Right next to the Star Wars universe, kids can experience high-tech interactive games based on the popular Disney Infinity video games. Customized, on-screen adventures bring to life characters and stories from across The Walt Disney Company. The Disney Infinity room is only available on the Disney Dream, but what's especially fun for avid gamers is that they can unlock exclusive Disney Cruise Line content and enjoy it when playing Disney Infinity back at home.
What else is new on the Disney Dream?
Want to be a princess but Leia Organa is not what you had in mind? No problem. The Disney Dream is fully equipped to treat young princesses with a pixie-dusted makeover at the Bibbidi Bobbidi Boutique. The boutique welcomes young princesses and swashbuckling pirates ages 3 to 12, but it's aspiring young royalty who visit the Deck 5 mid-ship location most frequently.
Adults aren't forgotten, either
New on Deck 13 is Satellite Falls, where adult guests can soak up the sun in loungers or relax in the shade under a circular splash pool with benches and a falling rain curtain. I liked Satellite Falls a lot; unfortunately, it was often not operational because the rain curtain is turned off when it's windy and the ship is at sea.
So the best time to enjoy Satellite Falls is when the ship is docked at ports of call. I still loved the adults-only Quiet Cove Pool best, with plenty of chaise lounges for sunbathing, jetted hot tubs overlooking the ocean and a freshwater pool. Quiet Cove is located on Deck 11 right next to the entrance to the Senses Spa.
Another novelty is the Senses Juice Bar, where adults can enjoy vegetable and fruit juices and smoothies made to order. The bar also offers a nice, quiet seating area with great views of the ocean.
Sweet fun for the entire family
Cruisers of all ages will enjoy Vanellope's Sweets and Treats located on Deck 11 near Cabanas. Where once the game arcade lured kids to linger now stands the Candy King from Wreck-It Ralph. The sweet shop offers an assortment of candy and handmade gelato served in freshly baked waffle cones. If you like the Kitchen Sink dessert at Beaches and Cream Soda Shop at the Disney Beach Club Resort, you'll love the three-scoop, five-topping Vanellope Von Schweetz's Race Kart Sundae served in Vanellope's very own race car. But if you really want to go big, order the eight-scoop, eight-topping Family Challenge Sundae, presented in a trophy cup. If ice cream is not your thing, then Vanellope's Sweets also has wonderful macaroons, éclairs, cookies, and cupcakes.
---
Ready to take off to a land far, far away? The Disney Dream sails three-night and four-night Bahamian itineraries from Port Canaveral, visiting Nassau and Castaway Cay, from January through December 2016. And if you're thinking about a Disney Cruise, be sure to check out "The Unofficial Guide to Disney Cruise Line 2016," available January 5, 2016!
For more information and a full list of 2016 itineraries, visit disneycruise.disney.go.com.