This post contains references to products from one or more of our advertisers. We may receive compensation when you click on links to those products. For an explanation of our Advertising Disclosure, visit this page.
Plenty of people like to use a carry-on for their travel essentials instead of checking a bag. You never know when a baggage delay will happen. Of course, you also want carry-on luggage that maximizes your packing space and is easy to stow. Below are some of your best carry-on luggage for travel options that can help you safely squeeze everything you need. Looking for other luggage options here's what is the most recommended luggage.
The Best Carry On Luggage For Travel
Samsonite Expandable Hardside Luggage Spinner
ROAM Jaunt XL Luggage
AmazonBasics Underseat Luggage
Wrangler 20-Inch Smart Spinner with USB Charging Port
Travelpro Platinum Elite
Tumi International Carry-On
Vera Bradley Weekender Travel Bag
Ulgoo Carry-On Duffel Tote Bag
Matein Travel Backpack
Samsonite Expandable Hardside Luggage Spinner
The Samsonite Expandable Hardside Luggage Spinner has four multi-directional spinner wheels and a retractable handle that makes this carry-on easy to maneuver. Its scratch-resistant diamond texture polycarbonate shell can protect fragile items. There's also a side-mounted TSA security lock that can deter potential theft.
Exterior dimensions measure 22 inches by 15 inches by 9.5 inches and weigh 6.81 pounds. The interior measures 19 inches by 14.5 inches by 9.5 inches. This piece also includes some expansion capacity for bulky items that don't nicely fit into one of the two packing compartments.
ROAM Jaunt XL Luggage
The ROAM Jaunt XL Luggage offers two different carry-on sizes and two checked bags. The Jaunt XL is the larger carry-on model with exterior dimensions of 22 inches by 15.75 inches by 9 inches and reasonably weighs 7.1 pounds.
There is a polycarbonate exterior shell, four multi-directional wheels, and a telescoping handle with four height settings. The exterior zipper is water-repellant with a TSA-approved lock. You will find a laundry pocket and two laundry pockets on the inside with an interior compression system.
Each case is custom-built in San Diego, and a leather patch on the backside can have a custom monogram. ROAM lets you choose the color for the front and back shell along with the trim color. You can truly have a personalized carry-on suitcase made from quality material.
If you need a small personal item, you can add a ROAM Kit. This travel kit costs $120 and measures 5.5 by 7.5 by 3.75 inches. This case has a polycarbonate exterior and can carry your toiletries and other travel essentials.
AmazonBasics Underseat Luggage
For short trips or when you fly basic economy without overhead bin access, consider the AmazonBasics Underseat Luggage carry-on. This piece is on the small side of carry-on luggage with exterior dimensions of 13.3 inches by 9.4 inches by 14.1 inches.
In addition to its smaller size, the exterior is soft-sided and only weighs 4.7 pounds.
You can fit small tech gadgets as large as 12 or 13 inches into the main compartment. There's a small front zipper pocket that you can store your boarding pass and essential travel documents. As this carry-on is smaller, it only has two wheels on the bottom yet has a retractable handle.
This can be one of the best carry-on luggage for travel in 2020 options because it is so easy to travel with.
Wrangler 20-Inch Smart Spinner with USB Charging Port
The Wrangler 20-inch Smart Spinner has several convenience features that can be handy during a layover. On the backside of the polycarbonate shell are a 3-in-1 cupholder, USB port, and phone holder. While you can only use one feature at a time, you have a built-in "third hand."
Additionally, the carry-on expands to give you more interior space, and a compression strap can secure your loose items.
Exterior dimensions for this carry-on are 20 inches by 14.5 inches by 11 inches. However, you will need to provide your own battery bank to use the USB charging port. If you don't already own a power bank, an Anker PowerCore 13000 Portable Charger can recharge most smartphones up to three times.
Travelpro Platinum Elite
The Travelpro Platinum Elite comes in three different sizes for carry-on—19″, 20″ and 21″. The 21-inch carry-on can comply with most domestic airlines with exterior measurements of 23.5 by 14.5 by 9 inches and weighs 7.8 pounds. You can enjoy the spacious interior case measurements are 21 by 14 by 9 inches.
This carry-on luggage can be easy to handle as four multi-directional wheels allow you to push this piece by your side. If you like an organized interior, the Travelpro Platinum Elite comes with more accessories than most. You will find a drop-in suiter to protect your important garments from wrinkles.
Other interior accessories include a removable TSA-friendly quart-sized toiletries bag, an interior tie-down system, and a dedicated power bank pocket. You will need to provide your portable power bank.
You can fit many of the best travel products in this sturdy bag.
The soft side exterior is water and stain-resistant. There are also heavy-duty zippers that are more durable than cheap carry-on luggage so that you can get years of use from the Travelpro collection.
While we hope nothing bad will happen to your bag, Travelpro offers a lifetime limited warranty. This protection benefit covers the cost of repairs for damage from airlines and other common carriers after registering your bag. This warranty and your credit card baggage protection benefits can give you peace of mind.
Tumi International Carry-On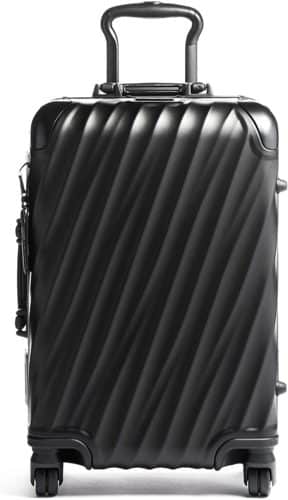 The Tumi International Carry-On can be one of the best high-end carry-on luggage brands that you can buy. This product is larger than most carry-on bags with exterior dimensions of 22 by 14 by 9 inches and an empty weight of 11.34 pounds. Most carry-on bags weigh up to 8 pounds.
The extra weight comes from a 19-degree aluminum exterior. Other exterior features include four dual-spinning wheels, a three-stage telescopic handle, and two TSA-integrated combination locks.
On the inside, you will see two mesh zip pockets along with a hanger bracket.
Tumi is known for its excellence, and you really can't go wrong with this investment. Additionally, you might want to check out some of the best TUMI backpack options for additional options.
Vera Bradley Weekender Travel Bag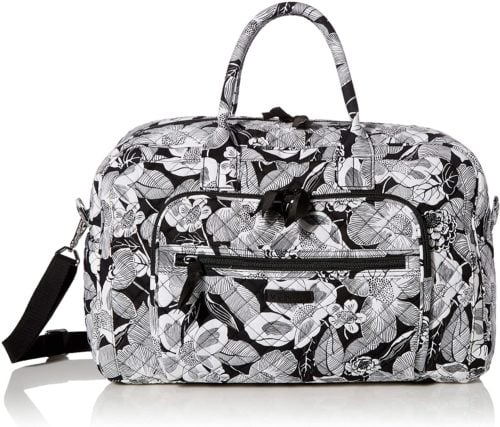 Not all carry-on luggage comes with wheels. The Vera Bradley Signature Cotton Weekender Bag can carry on your shoulder. There is a 53-inch removable and adjustable strap if you don't want to use the 4-inch handle drop.
This travel bag is made from quilted cotton and measures 10 inches high by 16 inches long by 7 inches wide. You will find one slip pocket and two zip pockets on the outside. Additionally, there are over 30 patterns to help you find a design that fits your travel style.
This best carry-on luggage for travel in 2020 option is great if you don't like dragging a suitcase around.
Ulgoo Carry-On Duffel Tote Bag
The Ulgoo Carry-On Duffel Tote Bag can be perfect for blitz trips and as a secondary carry-on that fits a 20-inch carry-on with wheels. The exterior bag dimensions are 16 by 12 by 8 inches. You can carry the bag by its two leather handles or using a removable shoulder strap.
Don't forget to pack one of the best noise-canceling headphones for traveling options (many of which come with a hard protective case to keep them safe in a duffel bag).
Matein Travel Backpack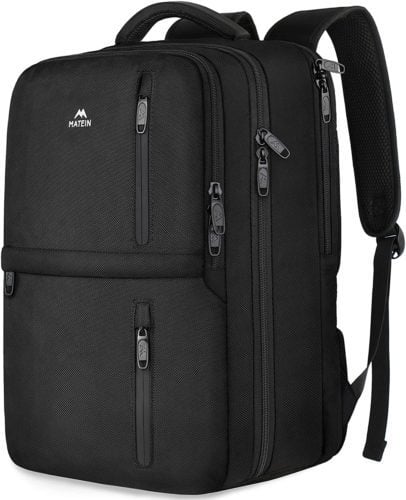 If you prefer a carry-on backpack, the Matein Travel Back can be an accessory-rich option. This backpack is flight-friendly and large enough to fit a 15.6-inch laptop. Also, there is a compartment to fit one pair of shoes (or some of the best travel slippers) and another to organize your small items.
By providing your own power bank, you can charge your devices with the built-in USB port. There are several zipper pockets and vent holes that can protect your items. Additionally, one of the unique pockets is an anti-theft pocket on the backside of the pack. Finally, you will see an outside pocket for a water bottle.
Summary of Best Carry-On Luggage
In conclusion, you can see how many of the best carry-on luggage for travel 2020 options slide below the seat or fit in the overhead bin. Check your preferred airline's carry-on dimensions first and TSA's latest guidelines to see what you can pack in a carry-on. Then, find the best option for your travel habits.
Related Articles: