Last night, I was on CBS Los Angeles with Jeff Vaughn and Pat Harvey talking about holiday travel. Below are the questions from the interview and my expanded answers, which will be helpful for anyone thinking about taking to the skies in the next couple of months.
HAVE YOU HEARD OF A LOT OF PEOPLE CANCELING THEIR TRAVEL PLANS?
I actually haven't. I think those who have little kids or health problems didn't make plans to begin with. Those who don't have either have no problem traveling as long as they're fully vaccinated. The New York Times wrote earlier this week that COVID-19 is in retreat and it's exactly what I needed. Here's my story about their story.
However, there was a story yesterday in the Los Angeles Times titled, "The Delta variant-fueled wave of the coronavirus seems to have left its mark on would-be U.S. travelers." According to a recent survey, "More than 23% of respondents said they had canceled an upcoming trip due to the COVID-19 pandemic and the threat of the Delta variant, and almost 27% postponed travel for the same reason. The share who reported having any travel plans for October and November has also dropped, though there have been some gains for December."
There are definitely going to be gains in December according to United Airlines as they just announced they're "expecting December to be its busiest holiday travel month in two years. The airline has scheduled over 3,500 flights daily domestic departures in December. United will offer nearly 70 daily flights to ski destinations, including a new route from California to Aspen." (Yahoo)
As seen on @CBSLA at 5: @JohnnyJet says a #Thanksgiving trip to #NYC from #LA is only $158, but go the week before and it's only $70! #cbsla #travel pic.twitter.com/nsgidpvrcP

— Jeff Vaughn (@JeffVaughn) October 9, 2021
ARE THERE DEALS FOR PEOPLE WHO DO DECIDE TO TRAVEL? HOW CAN THEY GET THE BEST HOLIDAY DEALS?
There are still deals at least in terms of airfares. I think you might have missed the boat on hotels and house rentals. But as always, if you're able to be flexible with dates, then you can definitely take advantage of off-peak deals. For airfares, you just need to leave early and return later than everyone else. But if you really want to save money, go the week before or the week after and you can save more than double on some routes. Here are some quick searches for nonstop flight that I just found:
Los Angeles to NYC
The Wednesday before Thanksgiving, airfares are $186 each way (see screenshot below). The week before, it's just $70! Keep in mind, by traveling during off-peak times, there's a greater chance of having flights less crowded.

Los Angeles to Miami
The Wednesday before is $137 one-way while the week before is $89. 

Los Angeles to Maui
I did a double-take when I looked up fares to Hawaii. On the Wednesday before Thanksgiving, it's just $99! The week before is $80!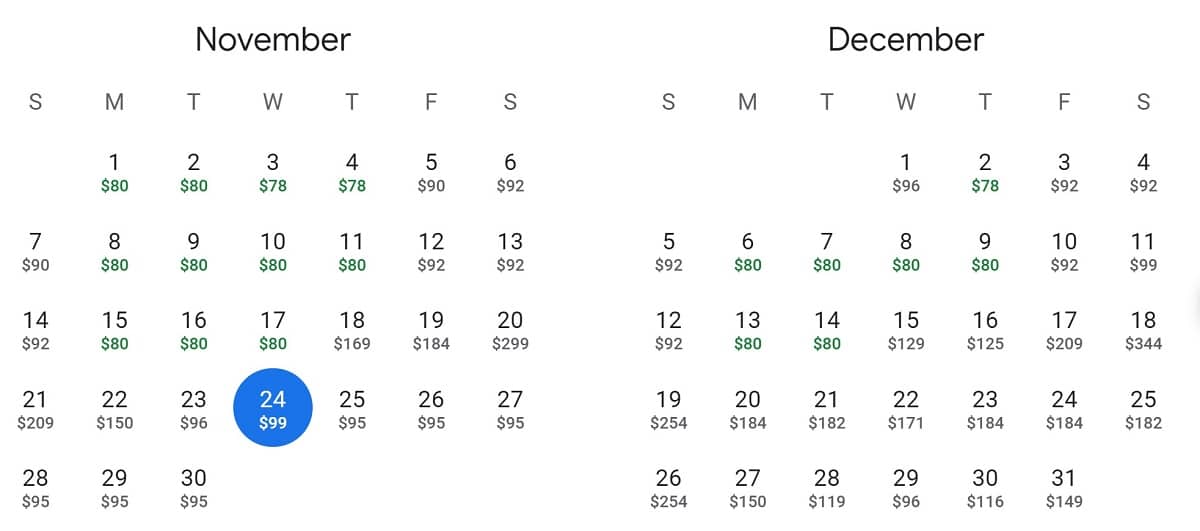 Back in August, I wrote 10 Good Reasons To Postpone Your Hawaii Trip. But I just got word that they're now welcoming tourists as long as they're fully vaccinated.
Since every adult on the plane will most likely be vaccinated, I feel pretty good about going and it's pretty difficult to pass up $80 fares, don't you think?
If you're planning to travel over the holidays, my advice is that you better book your flights now because prices could very well skyrocket and seats will be limited. But if, at your destination, you need a car or a place to stay, you better price them out first or at least within 24 hours of purchasing your airfares since that's how long you have to get a full refund.
Here's how to find the cheapest airfare deals.
–10 Ways to Find Cheap Thanksgiving Flights
–10 Ways to Find Cheap Christmas Flights
The last question I was asked was …
WOULD YOU RECOMMEND INTERNATIONAL TRAVEL RIGHT NOW?
It's a personal decision but I do know a lot of people feel safe flying to destinations with low COVID cases and that require proof of vaccination and a negative COVID-19 test since the chances of you sitting next to someone with COVID will be slim. Personally, I'm not flying internationally because I have two little unvaccinated kids at home and it's just too much of a risk to take them. I'm not traveling alone outside of the country in case I test positive. That's because everyone entering or reentering the USA, regardless of citizenship or vaccination status, must show proof of a negative test three days before.
I hope this helps you decide whether to stay home or to get away (hopefully to see loved ones) but either way, the most important thing is that you all stay healthy and happy.