The Farnborough International Airshow is, unusually, a trade show for aviation professionals for its first five days followed by a public weekend of air displays. It's the biggest and most respected air show in the world, where rivals Boeing and Airbus often clash over who can announce more aircraft orders before the week is up!
As a British broadcaster and aviation journalist, I find it's important for me to be impartial, but I increasingly find that us Europeans tend to side with Toulouse-based Airbus and relish the argument with Americans, who obviously side with the Seattle-based Boeing. In reality, planes are planes, and despite Airbus selling more of them recently, competition is healthy and there's plenty of room for both in the market place.
New aircraft, the "Superjumbo" stars again and more
This year, Farnborough had a couple of new aircraft to display. The Canada-based Bombardier team is very proud of its new 110-seat C Series single-aisle regional jet—named C100—on display in Swiss livery. The program is over two years behind schedule and at least $2 billion over budget, but Bombardier says the aircraft's size and fuel efficiency will enable it to operate on routes that were previously unprofitable for airlines. In time, Bombardier hopes its proposed C200 and C300 become as popular as the Boeing 737 has been for Boeing. It will certainly be a nicer way to travel. The C Series is a brand new aircraft, built from scratch with larger windows and improved cabin comfort.
Speaking of the 737, the Boeing team was keen to show off its remodeled narrow-body. Aside from its 787 Dreamliner, which got off to a shaky start, Boeing has pegged its future on upgraded versions of its legacy aircraft with the larger 777X, the 747-8 and this newish 737-9 MAX. While undoubtedly improved, these are still ancient airframes that don't get me as excited as the new designs—such as the Airbus A350—do.
On day one of the Farnborough Airshow, Sir Richard Branson was in attendance, along with outgoing British Prime Minister David Cameron. Branson took center stage to announce an order of 12 new Airbus A350-1000 aircraft for his airline. When Virgin Atlantic started back in 1984, it was with a single classic "Jumbo Jet" flying between London and New York. In the 1990s, Virgin's marketing sales pitch was "four engines for long haul." But as oil prices increased and engine reliability improved, airlines realized that more engines meant more fuel. Soon, Virgin Atlantic's entire fleet of around 40 aircraft will be all twin-engined only. While it remains a smaller carrier, Virgin is still the coolest way to cross the pond and its Premium Economy class is a fabulously affordable way to travel in comfort and style.
In 2009, the Boeing 787 Dreamliner was the hot ticket, but in the past two years it has been matched and possibly surpassed by Airbus' offering. These plastic composite planes are lighter, faster and smarter than the previous generation of aircraft. The A350 is not just a head-turner with its signature black windscreen and curled wingtips, but it will also save airlines 25% in fuel on medium- and long-haul flights.
You may have already traveled on the 787 Dreamliner—which is so roomy that airlines such as United have stuffed them full of seats, making them less comfortable than some older planes. The new A350XWB (extra wide body) hopes to solve this problem with a wider cabin. For me, width is as important as seat pitch and legroom. I'm also a fan of deactivating the recline feature on economy aircraft seats. There's nothing worse than someone reclining quickly while your red wine is balancing on the tray table! Some low-cost carriers in the UK have already begun this transition to fixed seats.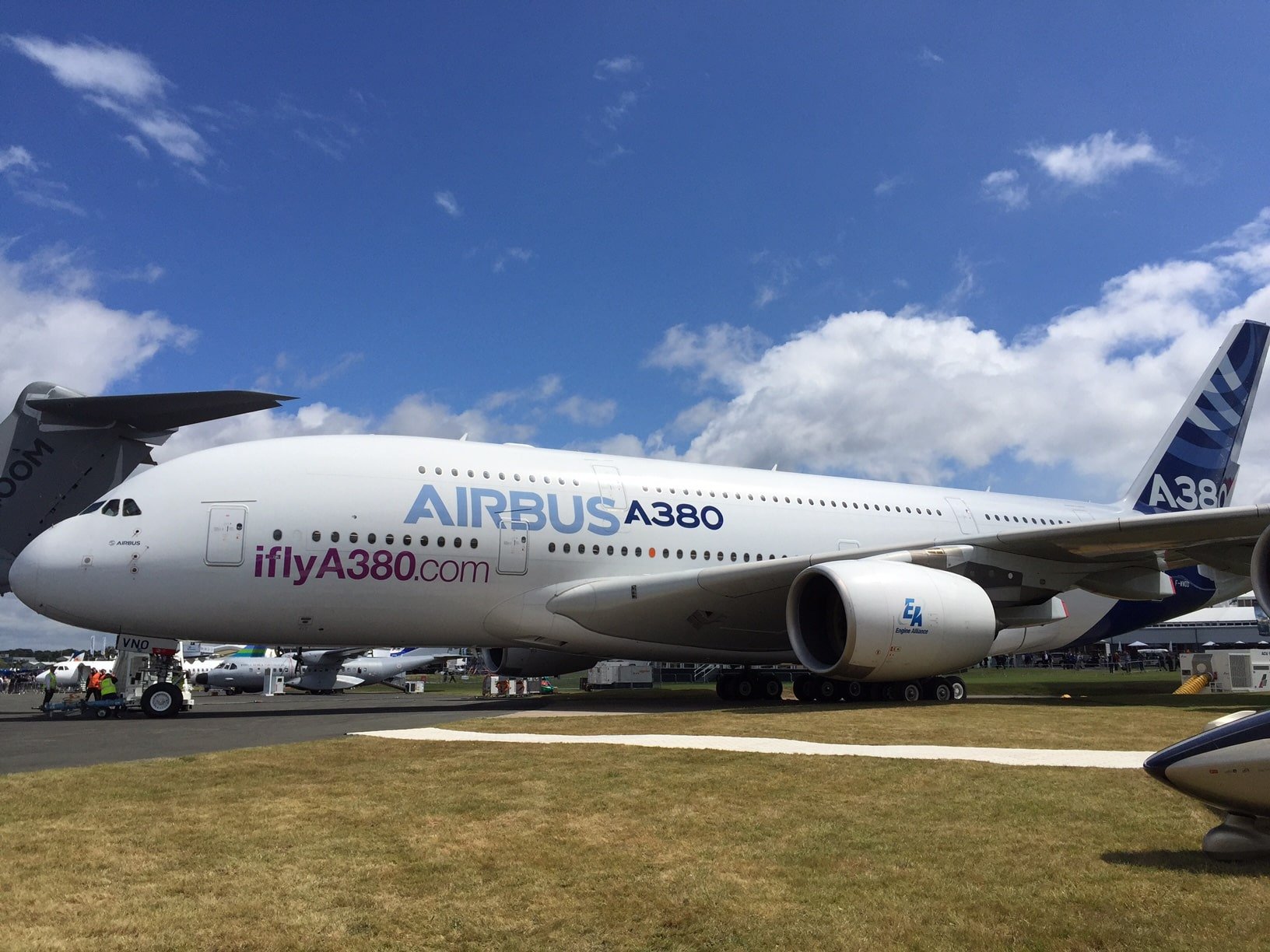 With the uncertainty created by Britain voting to leave the European Union, and the crashing Pound and financial markets taking a hit, it's not an ideal time to sell multi-billion dollar airplanes, especially in Europe. Undoubtedly, though, the weeks ahead hold a steady stream of orders for both Boeing, Airbus, Brazilian manufacturer Embraer, and even the new Chinese kid on the block, the ARJ21 (more on the AR291 here). Unfortunately, it's now unlikely that Airbus will announce a stretched version of its mighty A380 "Superjumbo," though there is the chance that it might offer the aircraft with newer, more fuel-efficient engines. Despite being almost a decade old, the A380 always steals the show during the air display at Farnborough. Its sheer size makes for awesome viewing, especially when it's performing aerobatic maneuvers, something that would be ill-advised when carrying paying passengers!
One announcement welcomed by me especially was Airbus' new public website iflyA380.com, which enables passengers to book flights on routes that only operate with the "Superjumbo" across twelve airlines. This is an unusual move for an aircraft manufacturer, but it demonstrates that the double-decker A380 is a superstar itself for some passengers, like the Boeing "Jumbo Jet" was back in the 60s when it revolutionized air travel for the masses.
The weather wasn't kind to Farnborough on day one, with a typical British summer rainstorm canceling the display and closing the show early. However, you can watch the display and the storm on YouTube—and embedded at the top of this story!
For more on the Superjumbo, you can watch me narrate the Airbus "Superjumbo" story below: