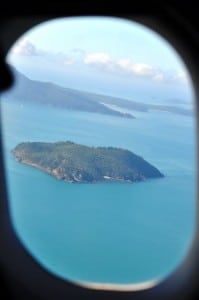 Great news! JohnnyJet.com just made the number 5 spot as one of the world's 150 top travel blogs! When I started this website exactly 10 years ago, as a labor of love, I had no idea that it would change my life entirely. It has allowed me to see so many places (over 60 countries) and meet so many incredible people, more than I ever thought possible. As Outside Magazine proclaimed, this really is a dream job. Thank you for the continued support because without you logging on, I would be still an admissions counselor, not that that's a bad thing. OK, now back to our regularly scheduled programming. This week, join Janice Fuhrman as she tours New York City on a budget. Me? Well, I'm coming to you from Sydney, Australia, one of the best cities in the world!
NEWSWORTHY
One of the best stories to come out this week for frequent fliers is about United Airlines removing their obnoxious last minute mileage plus fees. Just last month, I was going to book a last minute ticket using my miles but decided against it since there was a $75 fee. My boy CrankyFlier did a great job writing about it in detail so here's more on that story. More good news: US Airways is set to get Wi-Fi on their planes and Delta has just begun Rollover Medallion Qualification Miles. Things are starting to look up, even for many of the airlines, as some, including jetBlue, have just posted a quarterly profit. An interesting read is my friend Kelly Carter's interview with Buzz Aldrin on his favorite travel places. And finally, a quote, which I spotted this week in Smartbrief that's too good not to share: "A desk is a dangerous place from which to view the world." John le Carré, English author.
HAMILTON ISLAND (HTI) TO SYDNEY (SYD)
We left off last week from Hamilton Island, which is in the state of Queensland. From there, I traveled to Sydney on Qantas' low-fare carrier jetStar. The one-way ticket cost me $203 AUD ($168 USD), which I purchased about 10 days before. I showed up just before the 35-minute mandatory cutoff to check-in so there was no line. It took 30 seconds for the agent to print my boarding card and check my bag (I prepaid the $10 fee in advance). There was also no line at security (no liquids, take laptop and metals out, keep shoes on.) Racing to the plane, I was going to get my dad a Hamilton Island shot glass from the gift shop but when the beautiful clerk informed me of its $15 price tag, I decided to pass. Fifteen dollars for a shot glass?! She agreed it was ridiculous.
JETSTAR
JetStar boarded the A320 from both the front and rear doors so it was quick. There were a lot of Americans on board, at least seven around me and I could all hear them all talking about how much they love Hamilton Island and Australia. The seats on jetStar are as tight as can be so I was stoked that there was an open seat between me and the cool G.O. from a nearby Club Med. Flight time for the 947-mile flight was two hours and 10 minutes. The friendly flight attendants, all wearing bright orange jackets, sell everything from water ($3) to entertainment systems ($10). They accept cash or credit.
SYDNEY WEATHER
I arrived at Sydney's domestic airport at 5:10pm. It's winter so the sun was just going down. Sydney is like Los Angeles in terms of weather – it doesn't get that cold (it was 16 degrees Celsius when I landed). The winter weather actually reminded me of San Francisco in the summer; warm in the sun, cool in the shade and chilly at night.
SYDNEY AIRPORT TO CITY CENTER
My bag came out quickly and there was no line for a taxi. The driver was a young Indian from Punjab and I jumped in the backseat and then said, "Oh, I forgot this is Australia!" Usually, if you're by yourself, you sit in the passenger seat at the front but he said it's okay, since he was on the phone. He talked quietly 90% of the way on his headset. The last few minutes I learned he was a nice kid. The ride without traffic takes about 20 minutes but I was there at rush hour so it took longer and cost a tad bit more ($43 AUD), which I paid by credit card.
SYDNEY
I've written about Sydney numerous times and I'm lucky to have visited this amazing place about seven or eight times. It's one of my favorite cities in the world and just the name alone gives me goose bumps. One of the big excuses I get from my friends, as to why they've never been, is that they don't have two to three weeks off to visit Australia. That's a bunch of baloney in today's world of jet-set travel. Yes, of course, it would be better to spend an extended period here but if you've got limited vacation time, it's better to go for a short while than not at all. Australia is definitely doable in a week. My buddy and mentor Peter Greenberg once went to Sydney for 36 hours. And I read that Nicole Kidman's husband went for six hours. Now that's just crazy. But the point is, seven days is not.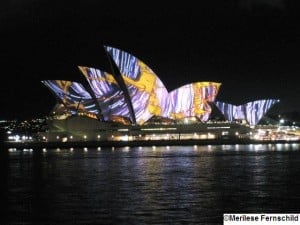 SOME BACKGROUND INFO ON AUSTRALIA
Here are some quick facts about Australia.

You know it's one of the earth's seven continents, right? I hope so. But do you know that it's the only continent to fly one flag? Or that Australia is the largest island in the world?

Australia is divided into six states (New South Wales, Queensland, Victoria, South Australia, Western Australia and Tasmania) and two territories (Northern Territory and ACT – Australian Capital Territory).

In terms of landmass, Australia is about the same size as the continental United States. However, it has nowhere near the same number of people. Australia's population is only 21 million, while the United States' is 307 million. The population of the New York metropolitan area alone is almost 19 million. Crazy, huh?

Most Australians live along the coast, as the conditions in the interior are too harsh. Australia's major cities are as multiethnic as any in the U.S. There are 282 major languages spoken in Australia.

Of the world's ten most deadly snakes, Australia has all ten. Gulp!

The literal translation of the word "kangaroo" means "I don't understand you." It's believed that Captain Cook was trying to ask an Aboriginal what the strange, hop-happy creature was.

Australia has an estimated 40,000,000 kangaroos — more than when the country was first settled.

The first day of summer is December 1 and winter is June 1.


FOUR SEASONS SYDNEY
I was in Australia for work and was put up at the Four Seasons Sydney, which is becoming like a home away from home. It's amazing — their doorman Thomas remembers not only me but my sister Georgette and inquires about her by her last name (she was with me on my first stay in 2005 and this was my third). The hotel is ideally located. It's within walking distance to everything but a beach. It sits a block inland from the magnificent Sydney Harbour, providing easy access to Circular Quay, where the ferries and train depart. The Historic Rocks is 100 feet away, the shopping arcades are four blocks away and the world famous Sydney Opera House is just a 10-minute walk; you never, not once, lose sight of it.
THE VIEW
The Four Seasons Sydney has 531 rooms, making it the largest Four Seasons hotel in the world. There are 34 floors and my junior suite was on the 16th floor with one of the most incredible views in the world. The building is getting a tad bit tired but I could never, ever get sick of its service or looking out at the Sydney Harbour. So much so that, while I usually have to sleep in complete darkness, with a view like that I went to bed with the curtains wide open so I could just lie there staring out at it. This is what it looked like during the day, evening and night. Is that incredible or what?
THE ROOMS
It's no wonder the hotel just ranked number four on Travel And Leisure's list of the top 25 hotels in Australia, New Zealand and the South Pacific. The rooms are spotless. All come with a bed that's so comfortable, the Four Seasons actually sells the entire bedding collection; just ask at the front desk for details. The marble bathrooms are spacious with a separate shower and tub and both are stocked with swanky L'Occitane toiletries. High-speed Internet is available but it's expensive at $28 AUD for 24 hours. I wish they offered it for free as they do shoe shines. I just left my comfortable beat up shoes hanging on the outside door before I went to sleep. In the morning when I awoke, the transformed shoes were hanging in the same place except they looked like new. In fact, they were packaged so nicely I didn't want to unwrap them.
EXECUTIVE CLUB
Depending on your eating and drinking habits, it might be worth the extra money to upgrade to the Executive Club for $85 a person or $135 a couple a day. It includes concierge service, internet, a breakfast buffet on the 32nd floor with made-to-order omelets, muffins, pastries, freshly squeezed orange juice, sausage, ham, French toast, potatoes and fruit. In the evening, they provide hors d'oeuvres and an open self-service bar. Pressing is also included so for once, all my clothes looked crisp. The hotel has a pool but I didn't swim since it was a bit too chilly for me and who has time for the gym?
FOUR SEASONS SPA
I did, however, make it to the Four Seasons Spa, which is on the third floor, tucked away in a corner. I had the one-hour jetlag soothing treatment ($145), which is designed to help you recover from travel fatigue and return you to balance. They use essential oils, which are individually selected. My masseuse was from Japan (the Chinese side, as she liked to call it) and was excellent. She whispered in my ear a few minutes into it to see if the pressure was okay. At one point, I winced because my sinuses were hurting and she asked if everything was okay. The only thing the spa needs improvement upon is the waiting room. It's in the hallway of the treatment rooms, which is tight and the rooms aren't soundproofed. But the products (Elemis) and bedding are first rate so I wasn't surprised that the small changing room had three customers, including locals, in it. Room rates begin at $275 AUD ($256 USD) Four Seasons Sydney, 199 George Street; Sydney, NSW 2000, Australia, Tel: 61 (2) 9238-0000.
WOLFIES
My only beef with the hotel is that the shower doesn't have great water pressure when you want it hot. At lukewarm, it flows. Also, the elevator is really slow when there are a lot of people using it but that was okay because there happened to be a huge U.S.-based pharmaceutical convention going on in the hotel, an indication that the economy is improving. What's crazy is that one of my friends who used to live in Manhattan Beach was attending it so I ended up having dinner with her and her dad at nearby Wolfies. Wolfies is a favorite for tourists and corporate diners alike. It was two and a half blocks down from our hotel, near the Hyatt. They serve all kinds of food and they greeted us with a round of champagne. I asked the waitress what the occasion was, thinking it might have been an expensive, all-you-can-eat buffet. Turns out, because the hotel concierge made our reservation, they offer it as an incentive. The service and food were just okay. They forgot to put our order in so our food took a long time to come out. When I said something, they brought over the $8.50 bread for free and then bought us the dessert sampler with caramelized bread and butter pudding with poached pears, champagne jelly and yoghurt smoothie and white chocolate and passionfruit pavlova.
BTW: I had the crisp fried spicy chicken burger, charred sweet corn and chimichurri dressing ($22.50).


INTERNATIONAL FOOD COURT
One of my favorite places to go in Sydney for lunch and people-watching is the Sydney Central Plaza. It's between George and Pitt Streets, about five blocks from the hotel. Their International Food Court downstairs is insane and packed with locals. There's so much to choose from but I went to Northern India Flavour since it looked good and had a long wait. It was just like India with no orderly line — just fend for yourself to get to the front and order. The longest line was KFC, which I wouldn't go to if you paid me but they did offer different types of food than what you find in the States. There was also a Subway with a $7-footlong sandwich. A cool shop I perused was the Sugar Fix shop, selling retro and current candies from the USA, U.K., New Zealand, South Africa and Australia. For the U.S. they had a lot of Reese's peanut butter cups and Hershey's. But to get my sugar fix, I went to the nearby Darrell Lee chocolate, which has been in business since 1927. Minimum credit card purchase is $10.
BOTTLED WATER TIP: Rather than paying the hotel's expensive mini bar fees, go across the street to a fruit stand near Circular Quay and buy a big bottle of water (1.5 ml) for $2.


NEUTRAL BAY
A great place for lunch minus the tourists is Neutral Bay. My friend Kate from Wandermelon.com took me there via ferry. The ferry takes about 20 minutes, leaves every 30 minutes or so and costs $10 for a return ticket. The ride takes you right by Prime Minister Kevin Rudd's pad. When you arrive, walk to the beginning of the dock and you will see a cute little café called Thelma & Louise's (1/1 Hayes Street, Neutral Bay Wharf, Tel. 02 9953 7754). We had an Aussie specialty – a homemade meat pie ($24). Choices were either Moroccan lamb or chicken, mushroom and leek. It came with delicious mashed potatoes and a salad. Before getting back on the ferry, be sure to go around the corner to the former home of May Gibbs, author of the Australian classic baby book Snugglepot and Cuddlepie ($14.95 for soft cover or $33.95 for the hardcover).
FERRY TIP: If you plan on taking the ferry frequently, buy a group ticket good for 10 rides; it can be used by one person or multiple but it's cheaper.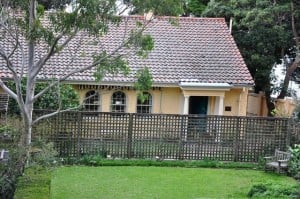 CUSTOMS HOUSE
For a café a little closer to the hotel, try Café Sydney, only open for dinner. It's located in the Customs House building, next to Circular Quay. It has a brilliant 3D map below the see-through floor. The café is up on the fifth floor with fantastic views.
OTHER SYDNEY HIGHLIGHTS
The most popular attraction is the Sydney Bridge Climb. If I weren't afraid of heights I would do this in a second. I always take in the views from Mrs. Macquarie's Chair and go for a walk through the Royal Botanical Gardens. It's one of the few parks that actually encourages visitors to walk on the grass. The highlight is watching the thousands of bats. I'm talking big ol' flying fruit fox bats that are very visible, hanging from the trees during the day and flying around at dusk. Taking the ferry to Manly Beach and walking the Corso is wonderful, too. And of course, no visit to Sydney for me would be complete without seeing Bondi Beach. A taxi from the Four Seasons takes 20 minutes and costs $25. Go for a coastal walk to see the spectacular coastline and finish at Icebergs Swim Club and Bar. Icebergs Swim Club and Bar, 1 Notts Ave., Bondi NSW 2026; Tel: 02-9130-3120.
FEATHERDALE
The Taronga Zoo is nice, easy to get to, and has amazing views, but it doesn't compare to Featherdale Wildlife Park. Featherdale is a 45-minute drive (36 km) from Sydney and makes for a great halfway stop if you're headed to the Blue Mountains. You can also take a 25-minute train to Blacktown, then the No.725 bus from the station for 10 minutes to the park. At Featherdale, visitors not only get to see the animals but they can pet and feed many of them outside of their cages. How many times do you get to hang out with a wallaby or kangaroo, take a photo with a koala or see baby dingoes? Of course, there's plenty you don't want to get too close to, like a 14-foot croc or one of their many snakes. But here, Tasmanian Devils aren't cartoon characters and wombats aren't make believe. Pretty much all of Australia's animals are here including over 230 varieties of birds. Featherdale is open seven days a week from 9am to 5pm, every day except Christmas. Admission fees: Adults: $22 and children (3 -15 yrs): $12. Featherdale Wildlife Park, 217-229 Kildare Road, Doonside NSW 2767, Tel. (612) 9622 1644.
TIP: Lots of tour buses arrive in the morning but they leave around 10:30am so time it right.

SYDNEY PASS
If you plan on seeing a lot of the tourist attractions, look into getting a Sydney Pass. You can get three-, five- and seven-day passes and they need to be used over any eight calendar day period. Prices begin at $115 for adults, $57 for children and it's $285 for a family pass. They not only include entrance fees to many attractions like the Taronga Zoo but also provide unlimited travel on the Sydney and Bondi Explorer buses and AirportLink train transfers.