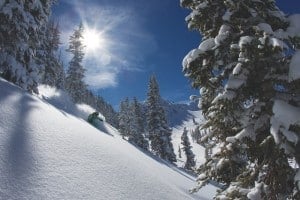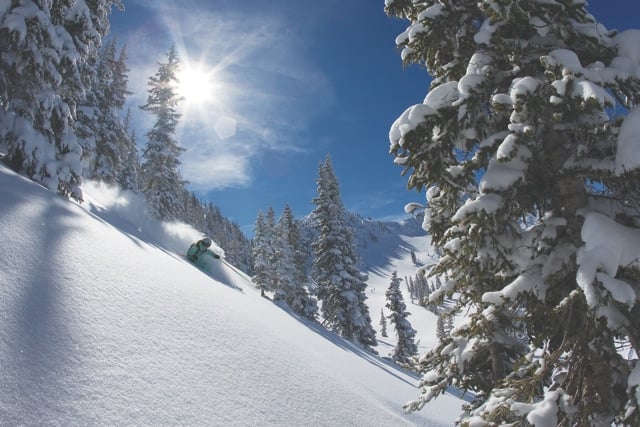 By Bruce Northam:
Utahans calibrate snow in feet, not inches. With 10 ski resorts within an hour of Salt Lake City, you'll bang into one even if you get lost. Utah's steep and deep myth has merit, but every resort can also accommodate skiing and boarding beginners. Here are three outstanding options to ride the heart of their Rocky Mountains — blanketed by the Greatest Snow on Earth.
SUNDANCE
Sundance is Robert Redford's resort valley utopia and unofficial Wild West museum. The famous actor who won't cave into a Hollywood-requisite facelift hasn't let his 'ski resort' suffer one either. The Sundance arts campus and ski paradise inhabits a spectacular rock valley nook sprinkled with 92 woody cottages and 10 mountain rental homes. It has the feel of a National Park, with attractions. The 440 skiable acres feels like 2000, especially at night.
Redford, or Bob as his friends call him, initially bought two acres here in 1961 for $500 — he now owns 6000 Wasatch Mountain Range acres, with only 500 of those acres developed. He continues to evolve the noble task of simultaneously promoting nature, sports, and the arts.
The Tree Room restaurant and surrounding buildings double as American history archives: classic movie-shoot photos, Native American blankets, and Kachina dolls amaze at every turn of the neck. The waiters in The Tree Room wear B-52s style cowboy shirts, which seem more suited to a San Francisco themed nightclub, but everything else rings Faithful Mountain West. The freestanding Owl Bar, once the original Butch Cassidy and Sundance Kid hangout in Thermopolis, Wyoming, was been transported here and remains an archetypal merriment den.
And perhaps most significant, Sundance pays recurring homage to the great American hearth — this place belongs in the Fireplace Hall of Fame.
OGDEN/POWDER MOUNTAIN

Ogden is a historic railway town that's no stranger to sinful entertainment — in the 1940s 126 trains rolled through daily, including troop trains taking breaks at the local bars and brothels. Epitomizing a stopover town, this was the terminus (and link-up site) of the Central Pacific and Union Pacific lines. Uncharacteristic for a state that's 60% Mormon, Al Capone noted that "Ogden was too wild for his taste". Today, Ogden's legendary 25th Street is ripe with bars, shops, and internationally-savvy restaurants…and (shhh) a few prohibition-era tunnels still exist.
Ogden is 30 minutes from POWDER MOUNTAIN, which boasts the most skiable terrain in the U.S. (7000 acres) — even more amazing that its 135 runs are all accessed from only seven lifts. It snows enough here to bury a mansion, creating a perfect combination of groomed runs, untracked powder, and backcountry touring.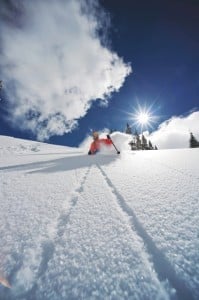 SOLITUDE MOUNTAIN is mind-bogglingly close to welcoming Salt Lake City's international airport — 25 minutes from baggage claim to a white peak paradise. Sol is the root word here…the sun certainly does shine. There are nifty night options as well. The Yurt Experience, hosted by winter leisure guru Packy, is a deluxe five-course dinner inside a humongous Mongolian-style tent. Part of this cozy culinary adventure is snowshoeing or cross country skiing to and from the yurt in the dark. Back on campus, there's also an option for refined fireside dining.
Redefining the alpine retreat, these slopes invite every skill level to a crowd-free experience. For those avoiding ACL surgery, there's an endless array of gorgeous-wide groomed runs yielding options to ride the mountain…versus those hunting the leg-burning chop of moguls. SkiSolitude.com.
Skiing is Utah's other religion…and their worship paid off. For everything Skiing in Utah visit SkiUtah.com.
Salt Lake City's Hotel Monaco, the swankest place in town, drips with history. The 225-room beacon is the place to indulge guilty pleasures — and ponder life when the 14-story landmark was a classic drive-thru bank.
WEB RESOURCES:
Bruce Northam has chronicled tales in 104 countries. His wandering show, American Detour, is on AmericanDetour.com.