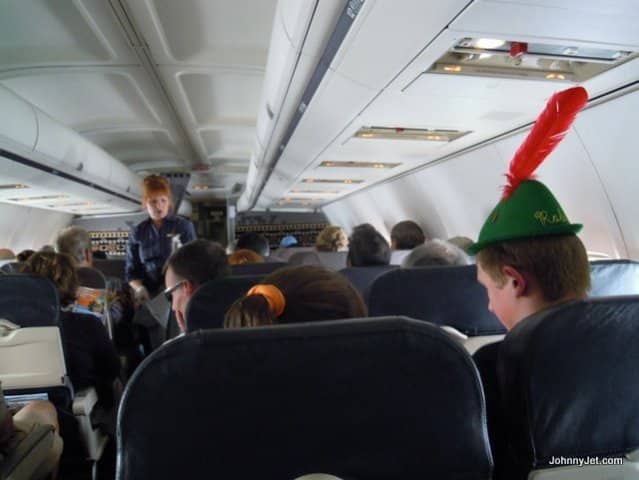 It was my second time flying Alaska Airlines up to Seattle in 10 days, so I quickly became pretty familiar with their product and learned some tricks. Here are my notes/observations:
-If you have elite status with American Airlines (AA) but not Alaska (like me), be sure to have your AA gold card out so you can bypass the long security line and board the plane early (second zone).
-I found the staff at Alaska Airlines–gate agents and crew–to be very friendly on both flights.
-Alaska's planes don't have entertainment systems, so bring a good book or your laptop to pass the time.
-Flight time was 2 hours and 10 minutes on both flights.
On my second flight there were about 100 Seattle-area high school band members coming back from performing at Disneyland. Most of them had McDonald's cups full of soda in their hands, so I was really nervous when they boarded, but they all behaved well–except for one across the aisle from me who kept throwing quarters in a cup. He stopped after I gave him the death stare.
-Flight attendant Heather might be one of the prettiest flight attendants I've ever seen work a flight.
-Alaska collects cups from the first beverage service, then five minutes later they bring the cart out and serve more. I'm not sure why they don't just offer refills using the same cups. It would not only cut costs for the company and decrease the flight attendants' work, but it would be much better for the environment.
-Alaska offered GoGo wireless Internet on each flight for $9.95. I paid for it once, but my other flight was on a weekend so I just used its free functions like flight status and destination guides.
Seattle's Light Rail
Instead of taking an expensive taxi from the airport to downtown Seattle, I took the Light Rail. It leaves right from the airport (follow the signs), but it's a long walk–several hundred yards. A one-way ticket from the airport to its very last stop (Westlake Station) cost me $2.50. The ride took 35 minutes and trains were leaving every 10 minutes. For more info see SoundTransit.org.
W Hotel Seattle
American Airlines put us all up at the W Hotel Seattle (website). I think it's the go to place for airlines having delivery flights, as I was there in December with Air New Zealand and one of my other travel-writer friends stayed there last week with Cathay Pacific. I liked the hotel much better this time, and I think it was by reading GoGo Internet's free Seattle guide (powered by Frommers.com) on the flight up that I learned the trick of asking for a corner room. Makes all the difference.
Hotel Monaco Sidewalk Cleaning
The worst part about my stay was hearing the cleaners from Hotel Monaco (website) across the street. Get this: They decided to have their sidewalks steam cleaned, then power washed, from 1:30 a.m. to 4:30 a.m. When the noise woke me up and I discovered what it was, I called theMonaco directly to find out if it was indeed what my eyes were seeing or if I was having a nightmare. The front-desk clerk confirmed they were doing "Flu cleaning." Since they wouldn't stop I called the W's front desk, and the receptionist apologized but said they do it too sometimes. That's crazy, don't you think? TIP: Bring earplugs if you are a light sleeper like me.
Pike Place Market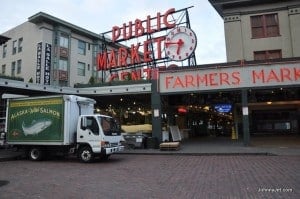 When I woke up early and saw it was a gorgeous day, I decided to take a walk to Pike Place Market (website). It doesn't open until 9 a.m., and even though I've been there before to see the famous fish toss (see video), I still walked the four blocks to see them set up. In case you don't know,Pike Place is one of the premier farmers markets in theUnited States. It's been around for over 100 years, and although they have the usual fresh flowers, fruits, and vegetables here, the specialty is seafood.
First Starbucks Ever
Since the first Starbucks ever built (in 1971) is directly across the street from Pike Place Market, I decided to pop in for a breakfast sandwich and… a coffee. Duh! The staff were all very friendly, and I was surprised how many local customers they had–I figured it would be all tourists.
Wild Ginger
One of the restaurants American Airlines and Boeing took us to was Wild Ginger (1401 Third Ave., Seattle, WA 98101). It's about three blocks from the W Hotel, and they serve great Asian dishes like Bangkok boar ribs ($5 each) and Wild Ginger fragrant duck ($15).

Boeing's Renton Factory
When I visited Boeing for the first time in December, we went up to their Everett factory (website), which was about a 40-minute drive from Seattle. That factory was huge! And it wasn't until this trip that I learned Boeing has multiple plants. Their Renton factory (history) is only about a 15-minute drive south of Seattle, and it's where they make the 737 and military planes.
Briefing and Movie of Renton Factory
When we first arrived we got the 411 of what goes on in Renton. They showed us an interesting video illustrating how Boeing's assembly line changed drastically for the better after 1999. That's when Boeing became so much more efficient, and now they produce 31.5 737 planes a month!
Boeing's 737

Since we were there to pick up American Airlines' new 737, Boeing toured us around the factory. These were some of my highlights and observations from the tour.
– The 737 is the best-selling commercial jet of all time, with more than 6,500 aircraft manufactured since the airplane began flying in the late 1960s.
– Worldwide, a 737 takes off or lands every 4.6 seconds!
– The 737 blended winglets are 8 feet long.
– The winglets pay for themselves every 2.5 years.
– The engine is the single most expensive item on the airplane–about 1/5 the total cost.
Cali Lewis
One of the members of our media group was Cali Lewis. She has a popular Internet show, and you might remember her as one of the Tourism Queensland finalists for the best-job-in-the-world contest. Here's her video of the tour.
Boeing's Customer Experience Center
Later our press group traveled 10 minutes or so from the Renton 737 factory to Boeing's Customer Experience Center (website to learn all about the 737 performance improvement package and to have lunch in a boardroom. It was interesting, and those notes can be found on this link.
737 Sky Interior Mock-up
The best part about being at the Customer Experience Center was they had mock-ups of all their plane interiors. The 737's mock-up didn't look nearly as impressive as the real thing. Maybe it was because they had only a portion of the full aircraft and blah orange seats.
Next-Generation 737
Here's what happens to the Next-Generation 737 when it rolls out of final assembly:
-The plane is towed to Renton Field for five days.
-Fueling; pre-flight tests performed, including engine runs; some avionics installed.
-Airplane makes its first flight from Renton Field to Seattle Delivery Center.
-Plane is painted at Seattle Delivery Center or at Renton: airplane painting takes three days. A fifth of the airplanes are painted at Renton (they only have one paint hangar in operation there. A second paint hangar will be activated later this month).
-Test flights follow, when Boeing and airline-customer pilots fly the plane; this takes about seven days.
787 Dreamliner Tour
The highlight of going to Boeing's Customer Experience Center, without a doubt, was seeing what the inside of the new 787 Dreamliner is going to look like. All I can say is wow, and if the real thing is even better than this I might not ever fly another aircraft again. To give you a better feel for it, I made this one-minute video. BTW: When we were taxiing the following day on American's new 737, we saw the787 (and 747-800) take off. So sweet!
747-800 Interior Tour
I also made a video of the interior of the 747-800 mock-up. That interior was amazing as well, and I can't wait to fly it. Lufthansa is the launch customer for commercial airlines, but the first eight 747-800s are going to private customers–I'm guessing they're wealthy Arab families, but Boeing wouldn't confirm.
EMBEDED VIDEO: http://www.youtube.com/watch?v=MdiFPHzFiKM&feature=player_embedded
American Airline's 737-800 With Sky Interior
The big day arrived, and we all met in the W Hotel's lobby to board one of Boeing's chartered buses to Boeing Field Delivery Center (aka King County International Airport). When we pulled up to the driveway, a security officer came on board to check everyone's badges–so be sure to wear yours. Once we were inside, those who had carry-on bags had to put them through the X-ray machine, and then we went into one of their conference rooms for breakfast and a welcome from the captain.
Boeing Field Security
After breakfast we all went through metal detectors that were way more sensitive than those at regular airports. I beeped, and I never beep (my belt was the culprit). What was nice is we didn't have to take shoes off or take out laptops or toiletries (I never take out my toiletries anyway).
Boeing Field Security
After breakfast we all went through metal detectors that were way more sensitive than those at regular airports. I beeped, and I never beep (my belt was the culprit). What was nice is we didn't have to take shoes off or take out laptops or toiletries (I never take out my toiletries anyway).
American Airline's 737-800
When we walked outside I was almost blinded by American Airlines' shiny new 737-800 that was stylishly parked . The aluminum fuselage was so polished I could take mirror-image photos.
Ribbon Cutting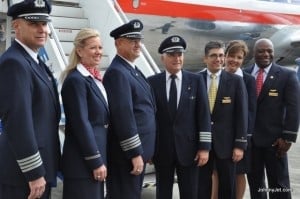 After we took tons of pictures of the plane and the neighboring ones (which I later learned was a big no-no), American had a very quick ribbon-cutting ceremony. Our pilot was Jim Kaiser, American's 737 fleet captain. He was a cool guy, and at dinner I learned that on his days off he runs a ranch in Texas.
Flight Attendants
The flight attendants for the 3-hour-and-25-minute delivery flight down to Dallas were handpicked and obviously superb.
Boarding the 737-800
I was the first passenger to board American's 737-800 (SeatGuru website with Boeing Sky Interior, EVER! It appropriately smelled brand new. The flight attendants said to sit anywhere I liked, but I didn't want to be pretentious and grab a first-class seat so I grabbed an exit row. I later learned first class was indeed reserved for all the media, so after takeoff I moseyed up there. It didn't really matter, as our plane only had 21 people onboard, including the pilots! How crazy is that?! The plane can hold 148, so it felt like we were on a private jet.
First Class Treatment
Although this was a domestic flight, American treated it like international first class for all passengers. They handed out amenity kits with Burt's Bees goodies, blankets/pillows, hot towels, and personal entertainment systems.
Mount Ranier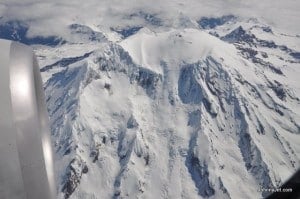 Shortly after takeoff we had an amazing view of Mount Rainier–we were so close that if there had been any hikers on the mountain, I would've seen them. On the opposite side of the plane (right) we had views of Mount Saint Helens.
Champagne Toast
As you will see in my video at the end, the flight attendants provided a champagne toast, even though they couldn't drink it since they were working.
Meal Service
The flight attendants they came around with hot nuts, drinks, and lunch. The menu was from American's domestic first class, but they served it on their international first-class plateware. I passed on the chilled Mediterranean prawns but took the hot turkey berry sandwich. It was so good! It had stuffing, cranberry, brie, and garlic herb spread. It was basically Thanksgiving dinner between bread. As if that wasn't enough, then they served coffee, cheese plates, ice cream sundaes, and of course fresh-baked chocolate-chip cookies. I'm sure glad they didn't tell us how many calories were in that meal, because it was probably enough for a week.
737-800 Boeing Sky Interior
Of course the star of the show was the plane's new Boeing Sky Interior. Here are its features and other tidbits from the flight.
-The plane's tail number was N867NN.
-This is American Airlines' 153rd 737.
-For takeoff and landing, everyone clapped.
-The planes have larger window openings.
-The new walls are made of Kevlar so it's a lot tougher to scuff and easier to clean.
-There are new luggage bins that are easy to open and close. They can hold 48 more bags.
-The passenger-service units have been redesigned. It will be almost impossible for passengers to accidentally push the flight-attendant call button, since it's been moved away from the light buttons.
-Boeing doesn't make seats.
-If you want to follow Boeing or American Airlines on Twitter, here are their handles: @BoeingAirplanes and @AmericanAir –American Airlines' official press release on the 737-800.
-The plane has LED lighting, which lasts 10 times longer than regular lights.
–Flight attendants can vary the colors and intensity of the lighting. My colleague David Parker Brown wrote a detailed story about the flight, including the lighting features:
Boarding and de-boarding: blue top, white side lights
Takeoff and landing: blue on top, blue on the side
Cruise: wall lights are off, top is blue
Night/sleep: dark blue on the ceiling, wall lights are off
Meal: Amber on top and side
Sunrise/sunset during takeoff/landing: Deep orange tones
DFW Flight Delays
After we landed in Dallas I looked at the sky, then brought up the weather forecast on my computer, and I knew it was going to be a long night. My gut feeling was just to forget about flying that night and go get a hotel. But like a fool I decided to give it a shot and try to catch the 6:25 p.m. flight to New York's La Guardia Airport (LGA). To give you an idea of how the night went, take a look at a screenshot of my inbox with all AA's delayed-flight notifications, which began coming in every 15 to 30 minutes. After about three of them I went to an agent and asked for them to change my flight since I didn't feel like playing the waiting game (this was after I had secured a room at the Grand Hyatt DFW). It turned out to be a smart move–a few hours later AA canceled the flight along with many others.
Airport Guilty Pleasures
The one positive thing about hanging out in the airport was grabbing one of Auntie Anne's jalapeño-and-cheese pretzel dogs. That's my airport guilty pleasure! What's yours? Lowlight: Besides the delays, my lowlight from hanging out in DFW was drinking from the airport's water fountain. Oh my God–it was by far the worst water I've ever tasted, and I highly doubt it's even potable. It tasted like I was drinking out of a swimming pool after a busy holiday weekend.
Golf Ball-Sized Hail
From DFW I took the free shuttle (you need to call and order it) to get to the hotel. Just after I checked in, everyone ran toward the door to see the golf ball-sized hail that was falling from the sky. I'd heard about hail this big, but this was the first time I'd ever seen it.
Tornado Evacuation at Grand Hyatt DFW
I then went up to my room and was just about to jump in the shower when I noticed on Twitter that they had evacuated DFW airport due to a tornado warning. I thought that was weird since I was at DFW and I hadn't heard an alarm. A few seconds later an alarm sounded in my room, so I jumped up and threw on my clothes.
There was no explanation of what the alarm was for, but I knew, so I grabbed my valuables–including my laptop–and ran for the stairwell. The worst part of the whole experience was a British woman who was taking her sweet time walking down the stairs while on her cell phone, talking to her friends like it was a picnic. Her husband was at her side and I was on his heels–and within seconds others were on mine. If we had had more than a few steps more to go I would've blasted both of them, but I bit my tongue.
When I reached the lobby, an announcement was made that a tornado was imminent and that we should go to the ground floor to the ballroom. I walked down one more flight of stairs and followed folks who were going in the wrong conference room–one that was currently conducting business.
I was the first to make it the right ballroom (7 & 8), but certainly not the last. It filled up quickly, and most people were very relaxed talking on their cell (T-Mobile didn't work) or making friends while drinking. What was nice is that the hotel staff passed out bottle water (it costs $4 in the room) and handed out chairs. What wasn't smart is that some people sat underneath the chandeliers. After about 30 minutes we were given the all-clear to return our rooms.
My Video of Grand Hyatt DFW Airport Tornado Evacuation
Here's my one-minute video of my Grand Hyatt DFW Airport Tornado Evacuation on May 24, 2011