A week ago, I received an email to be a guest on a podcast called FreshandFit out of Miami. The shocking part is they were offering $3,000 and said they would pay in advance. I was skeptical and was going to delete the email but when I mentioned it to my wife, she did a quick search and thought it seemed legit. The email said the podcast was sponsored by Lululemon, thus explaining the budget to pay guests. I figured, 'What the heck. Who couldn't use an extra three grand?' RELATED: Bank of America Issues Warning About These Common Scams and the Red Flags to Look Out For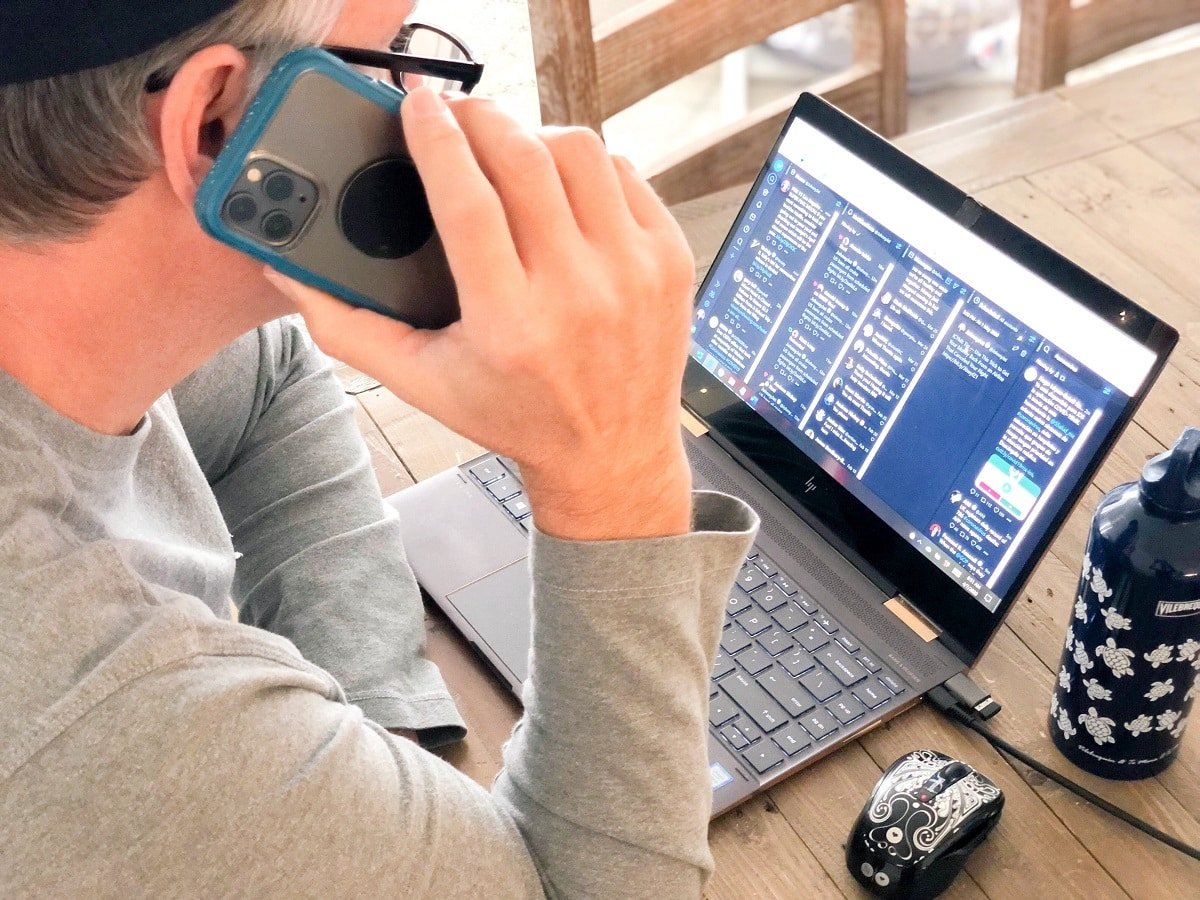 Below is the email I received:
Hello Johnny,

Thank you for your interest in our podcast, and it's a pleasure to have you on board.
As a journalist and internet personality, we believe you'll make a fantastic addition to our show. Our podcast is designed to be a casual and engaging interview-style discussion, where we delve into a wide range of topics, driven by the natural flow of conversation.
Freshandfit aspires to be a leading platform for discussions on fitness, fashion, culture, music, health, entertainment, lifestyle, and life experiences. We're already making strides on YouTube, and your unique perspective will undoubtedly enrich our content.
Rest assured, there is no scripted dialogue; we encourage free-flowing conversations on subjects you're passionate about. We have a strict policy against using vulgar language, and you can expect a respectful and engaging environment.
Payment & Other Details: To express our gratitude for your participation, we're delighted to offer you a compensation of $3,000 USD for each podcast session. We want to make the payment process as convenient as possible for you, so please let us know your preferred method of transaction. We offer multiple options, including PayPal, Zelle, Venmo, Western Union, and bank transfer. Payments will be made in advance within 24-48 hours of your scheduled session, adhering to industry standards.
Our podcast series is set to kick off on the 7th of November and will continue every week on Tuesdays, Thursdays, and Saturdays. You can choose from the time slots of 7:00 PM to 8:00 PM EST or 9:00 PM to 10:00 PM EST. Kindly inform us of your preferred day and time slot, and we'll reserve that spot for your participation. Initially, we plan to invite you for one episode.
Our podcast series is proudly sponsored by Lululemon Athletica Inc., a renowned multinational athletic brand, which adds credibility and prestige to our show.
To facilitate the recording process, we've arranged video podcast calls via Facebook. You and other guests will join the call from your respective locations through your Facebook pages. Our team of experts will provide guidance during a brief meeting to assist with the setup of your recording equipment and address any technical requirements you may have.
Should you have any further questions or concerns, please don't hesitate to reach out to us. We're here to ensure a smooth and enjoyable experience for all our guests.
Once again, thank you for considering our invitation. We're enthusiastic about the prospect of having you as a guest on our show and look forward to hearing from you soon.
Best Regards
Management Team
FreshAndFit, MIAMI, FL
—————————————-
I wrote back a couple days later that I'm interested and man, do they run a smooth operation. They replied with the following:
Hello Johnny,
Great to hear that everything looks good to you! We've locked in November 11th at 7-8 PM EST as your slot. We'll proceed with payment via Venmo, and you can expect to receive it 48 hours before your podcast participation.
Regarding the technical setup, if you're experienced with online events conducted through Facebook, that's fantastic. However, if you're not, don't worry. We can arrange a Zoom meeting where I'll guide you through the technical aspects and logistics, ensuring you have a clear understanding of the process. I'm available for the Zoom meeting from Monday to Saturday between 9 am and 7 pm EST. Please let me know a suitable time for you, and we'll coordinate accordingly.
Thank you for your cooperation, and we're looking forward to having you as a guest on our podcast!"
———–
I wrote back that it's been a while since I've done a Facebook Event so let's set up a refresher. 'David' wrote back, "Alright let me know when you are available to hop on a zoom call? I am available from 9am to 5pm PST. Let me know what works for you? Thanks"
David, who had a thick South African accent, didn't do the video portion of the call. He started walking me through how to set up Live Events and when I couldn't find what he was telling me to click, he said, share your screen and I can walk you through. It was a red flag but I wasn't going to let him control my screen, just see it. I can't remember everything he did but I do remember he was a whiz with his cursor, showing me where to click. Then he had me create a new handle using my Facebook ID and called it Johnny Jet Los Angeles. It was all so fast and seemed legit. But a red flag was that he kept saying I was going to be on the podcast 'tomorrow' when it was really the following day.
The night before the podcast, my wife did a deep dive on the podcast and said, "I don't think you can do it. These guys are reportedly known for their misogynistic content and were demonetized by YouTube for repeated violations of YouTube policies." I was about to cancel and say forget about the money (which was never paid) but I decided I wouldn't cancel at the last minute. I would simply do the show, stay true to myself and maybe even change some of their opinions.
I was supposed to go on at 4pm PT (7pm ET) and when I didn't get an email about joining the live chat, I started to get even more suspicious. My wife then did some further research and sent me an email with the subject line: Uh-oh. Turns out, it was a total scam and Geek Mamas wrote a post titled: Scam Alert: Join Our Online Podcast FreshandFit Miami.
Geek Mamas wrote in July, "The next steps involve setting up a zoom call, where they will walk you through making the "necessary changes to join the podcast" which are the steps that will allow them to steal your page. Before you know it, they will have booted you out as admin and taken it over completely. I hope you Googled and found this post before you fell for it! This is the first I've seen from FreshandFit, and they don't seem to have had their own page stolen, which leads me to believe these scammers are starting to just use any name they can find."
Sadly, I didn't see this until it was too late. I then did a search for scam and podcast guest and came across this woman's TikTok who had the same experience I did but just a different podcast name:
Here's Sabrina's transcript: "There is a scam happening right now on Facebook and Instagram targeting people with blue checkmark pages. And I think I was one of the first victims of this scam. So I'm sharing exactly what's going on so that it doesn't happen to you. And maybe this will end up in front of the right person who can help me get my account back.
So, a few weeks ago, I was contacted by someone who claimed they were Tony Terry's manager and asking me if I wanted to be a part of this Facebook Live event, podcast type of event. It's like, okay, fine. I've done plenty of podcasts before.
I was a little sketched out, so I decided to message Tony. Right. Okay. So I message him on his blue checkmark verified page. Right? You can read the message. Hey, Tony, been getting messages. I'm gonna claim it to be you, blah, blah, blah. I'm just making sure this is legit. There are a lot of scammers out there. Yeah. Thank you. Yeah, of course we're doing podcast. We're so excited to have you on. And I was like, okay, this is done. Like, this is obviously not a scam. Why would this guy scam me, right? That doesn't make sense.
So I asked him some quick follow-up questions about the podcast. He was like, you know, work with my manager. He'll answer everything for you. He'll help you get set up. This is gonna be great. So, the manager says, he's like, I can't even remember the details of this part because it just happened so fast, even though my red flags were flagging.
Long story short, he said I needed to change a setting in my on my Facebook page to be able to access the live event. I didn't give anyone any passwords. I didn't give them any access to anything. I just clicked on something, then I had to click a link to verify. I know. I'm an idiot. Now in the retelling of the story. Um. And I lost access to my Facebook page.
So this page is no longer under my control. They deleted all the content that I posted on there for the last 3 years. But it gets even worse because I found out I started getting weird messages like where can I buy the gummies you were advertising? I'm like, what is it? What are people talking about? It turns out they're using my face, my name, to advertise erectile dysfunction gummies. So ads like this are appearing all over Instagram and Facebook. So just to be clear, I do still have access of my Instagram, so anything you see me post is me. Anything that says 'sponsored' is not me. They're able to use my name, my face, my likeness to post things like this. I contacted Meta, and they're not doing anything about it.
I don't understand how this is allowed. They're so strict with their security controls and their ads. Even I was punished in the past for violating ad policy, even though I didn't even do anything. It was my business partner at the time. And yet this is allowed to go on, and now they are targeting everybody. I mean, now if you Google this, you'll see so many people talking about it. So I'm giving you a warning. That's what's happening. I do not have control over my Facebook page. And hopefully I will someday. I don't know. But, yeah, if you know anybody who could actually help me with this, that would be great. Leave it in the comments. Share this around."
I feel like such a fool for falling for this. I mean, I completely disregarded one of the most important rules … if it sounds too good to be true, it usually is. And it was. Who pays $3,000 to a podcast guest? What a tool I am.
As of this publication, I still have access to my Facebook page but I can't change the password so I think they now control it but they haven't posted anything or revoked my access. I'm still not sure what their end game is but I think their name of the company is "Reels Monetization" though I'm not completely sure.
All I know is that I'm embarrassed, I feel violated and I just want to warn others so it doesn't happen to them.
KEEP READING:
–Is Your Hotel Scamming You?
–Don't Fall For It: Scammers Are Pretending to be Customs and Border Protection Agents
–Cybersecurity and Fraud Expert Shares Tips on How Not to Get Scammed When Traveling
–How To Avoid Vacation Rental Scams
–Don't Fall For These QR Code Scams
Want more travel news, tips and deals? Sign up to Johnny Jet's free newsletter and check out these popular posts: The Travel Gadget Flight Attendants Never Leave Home Without and 12 Ways to Save Money on Baggage Fees. Follow Johnny Jet on MSN, Facebook, Instagram, Pinterest, and YouTube for all of my travel posts.