This post contains references to products from one or more of our advertisers. We may receive compensation when you click on links to those products. For an explanation of our Advertising Disclosure, visit this page.
Many people are turning to alternative travel styles this year to avoid staying in hotels and traveling through airports. The go-to travel preference for many is renting an RV or self-contained travel trailer using a booking site like RVshare. Should you rent an RV or travel trailer? This RVshare review helps you decide if RV travel is your best option for taking a trip this year.
How RVshare Works
You might describe RVshare as an "Airbnb for RVs." The RVshare platform has a similar user experience as you compare your rental options and can read guest reviews of the host. 
RVshare began in 2013 and lets aspiring campers rent tow-behind campers and drivable motorhomes. Many people want to enjoy high-end camping but cannot afford to buy a travel trailer or motorhome. Or, they may not have the proper vehicle or skill to haul a camper.
You can find drivable and towable RV rentals across the country. Start searching for options by entering your destination, travel dates, and the number of travelers.
Each owner offers different amenities. Some may include them for free, but others may charge extra like cooking equipment, generator usage, and kitchen utensils. Local delivery service to your final destinations might be available, too, but is likely to cost extra. 
Renting lets you enjoy the benefits of camping across the United States. In 2020, RVshare makes it easy to find self-contained units with a private kitchen and bathroom. Some options also include space for pets. 
If you're trying to rent an RV, you may have a hard time finding availability from a local dealer. With RVshare, you can compare tow-behind and drivable motorhome options.
Minimum Age to Use RVshare
You must be at least 25 years old and have a valid driver's license to rent an RV with RVshare. Some owners may require a higher minimum age, such as 29 years old.
RV Rental Types
It's possible to rent these types of RVs with RVshare:
Drivable RVs:

Class A, B, and C motorhomes 

Towable RVs:

5th wheel, travel trailer, popup campers, and toy haulers
Each RV type offers different amenities and sleeping capacities. More importantly, some may require special equipment if you don't have the owner deliver it at your final destination, such as your campground. 
No special license is necessary for the drivable RVs. However, you may choose to rent a Class B or Class C if you don't have experience driving buses or oversized vehicles.
You may need to compare several listings to see what amenities come with and what owner rules there are. Some rentals are stationary, and you cannot tow the unit to surrounding parks or campgrounds. Rentals may or may not be pet friendly too.
Cancellation Policy
RVshare offers three cancellation policy tiers. The owner can decide which cancellation tier is best. Below is a brief overview of how each tier works.
Flexible: Receive a full refund minus the RVshare service if you cancel at least 30 days before rental begins. Get 50% back if you cancel within 30 days of starting your rental.
Standard: Full refund minus service fees if canceled at least 30 days before, 50% refund between 30 and 14 days before rental starts, and no refund if you cancel within 14 days before the rental start date.
Strict: Full refund minus service fees if you cancel at least 30 days before and no refund if you cancel within 30 days.
If renting for at least seven nights, RVshare lets you get a full refund if you cancel within 24 hours of booking, regardless of the owner's cancelation policy.
RV Rental Insurance
Each RVshare rental includes standard RV rental insurance. This insurance covers qualifying collision, comprehensive, and liability insurance up to $200,000. You also get free roadside assistance and towing.
This coverage is available in all 50 US states and Canada.
Related: Does Credit Card Car Insurance Cover RV Rentals? 
Booking an RV with RVshare
Let's get a glance at what the RVshare rental process looks like in this RVshare review. You can enter your starting location, dates you expect to travel, and for how many people you'd like the RV to accommodate. It's free and easy to search.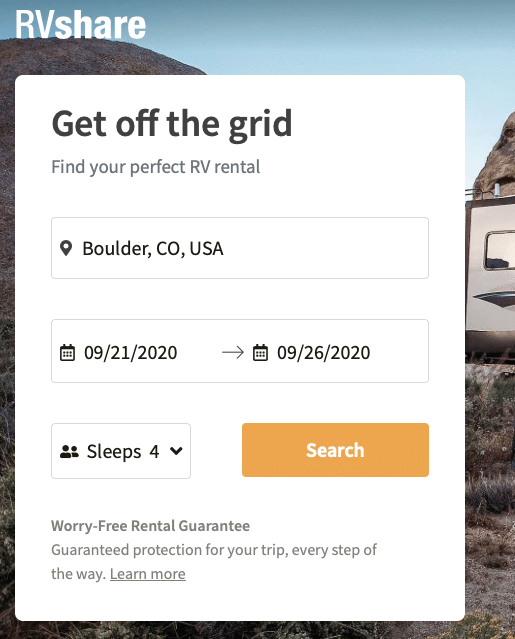 Enter Your Trip Details
As you can see above, the first step is entering your trip details. These basic details include your destination, party size, and travel dates. As mentioned above, it's free to browse the listing, and there is no commitment to book an RV. Below is an example of the RV's available based on the search criteria entered.
Use Search Filters
RVshare displays all available drivable and towable RV types by default. Instead of scrolling through thousands of listings by thumbnail and map location, you can employ a variety of search filters.
These filters make searching for an RV easy:
Price: Minimum and maximum price per night
Drivable RVs: Narrow your results to Class A, B or C motorhomes
Towable RVs: Only show results for 5th wheel, travel trailer, pop up and toy trailers
Instant Book: Some owners let you book instantly without asking for permission first
Keyword: Find specific makes, models, and features (i.e., Rockwood or 2019)
Cancellation Type: Flexible, standard or strict cancellation policies
More Filters: Advanced filters including delivery options, allows pets or smoking, amenities or RV length
The filters can narrow down your search results quickly, so you don't waste time looking at impractical RVs. These filters make it easy to find owners that allow pets or smoking.
If you're going to a place with height or length restrictions, the filters can help you avoid a nasty travel surprise.
Review Amenities, Optional Upgrades, and Rules
Each listing includes the available amenities. You will also see optional upgrades such as delivery to your camping destination, dumping your black water, and generator service. Knowing what amenities are available can help you plan. If you need extra equipment, you may look at renting it or buying it. This could help you save money in the long run.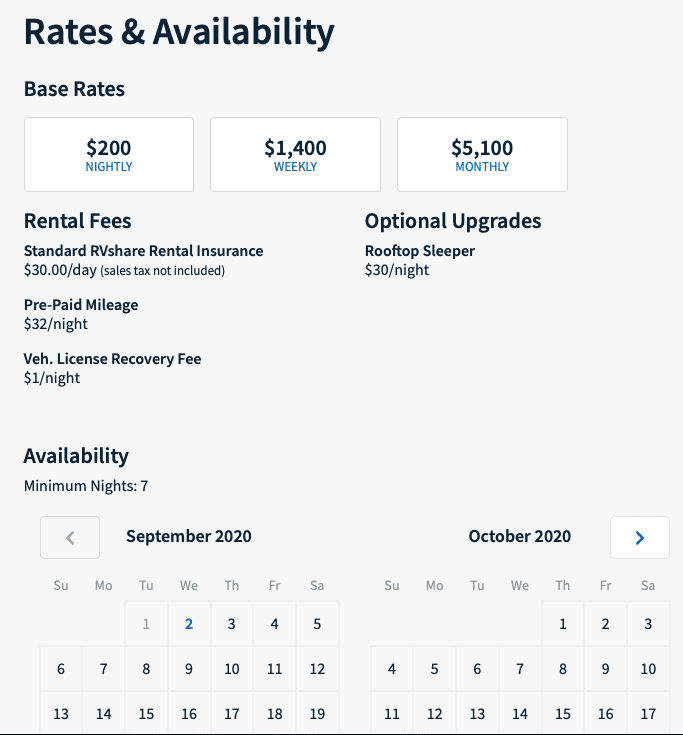 Review Daily Use Rates
You can see the breakdown of your daily fees. Some of the potential costs include:
Daily base rate the owner charges (you might get a discount for weekly or monthly rentals)
RVshare rental insurance (necessary for all RVshare rentals)
Prepaid mileage: Most rental have daily mileage limits
Generator service: Owners may some daily generator use for free, but you pay for extra hours
Take this time to check the owner's cancellation policy in case you need to change your travel plans.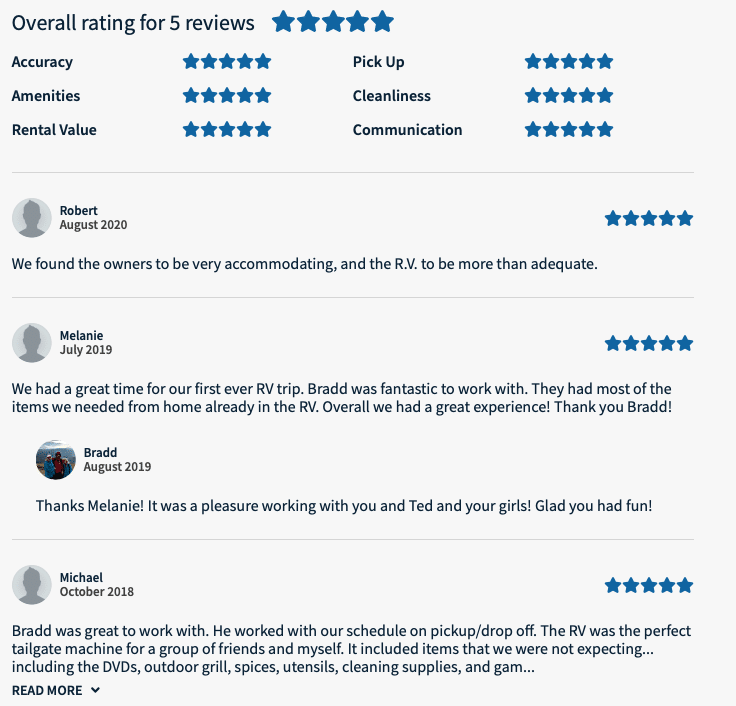 Review Owner Ratings
Some, but not every RV owner has ratings like an Airbnb or VRBO host receives. As there are many new RVs on RVshare, you might be the first person to leave a review if you decide to rent with them.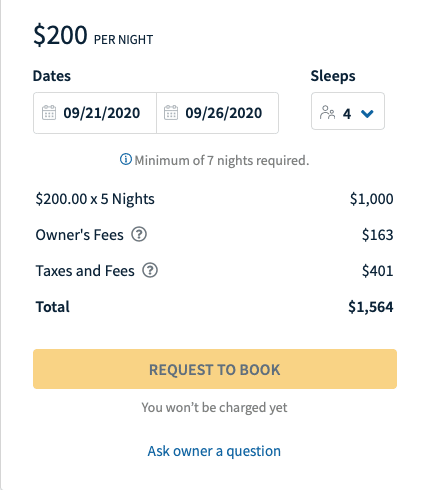 Request to Book
If you agree to the fees and rules, it's time to request to book your reservation. You can ask the owner any questions, such as "do you deliver to this campground?" or "does the kitchen come with plates, cups, and pots?"
Owners with the Instant Book option don't manually request that you book.
To still earn travel rewards for your travel purchases, pay for your reservation with a travel credit card. This can be your best option for purchase protection on eligible items and services while still earning rewards points or miles.
Related: Best Credit Cards for Road Trips
Is RVshare Legit?
Renting a stranger's RV or camper may sound intimidating at first. Despite any initial hesitation you might have, RVshare is a legit option for peer-to-peer RV rentals.
Although there are bad experiences periodically, this is no different than Airbnb rentals or staying with a well-known hotel loyalty brand. RVshare has a 4.4 out of 5 Trustpilot score, but individual owners may have other scores. Thankfully, you can quickly compare rental options and contact the owner before booking to help get a "first impression" and avoid a bad trip.
To put current RV demand into perspective, RVshare has helped travelers book two million nights since starting in 2013. It took six years (2013 to July 2019) to help travelers book their first one million nights and one year for the second million nights. 
The sudden interest in RV rentals and RVshare spurs directly from the current health situation and social distancing guidelines. RVshare has been assisting first responders by offering temporary housing solutions.  
RVshare Review: Positives and Negatives
This RVshare review wouldn't be complete without breaking down the positives and negatives. RVshare is an exciting travel option, but it's not for every person. Here are the pros and cons.
Pros
Quickly compare towable RVs and drivable RVs
Available in all 50 US states
Many owners offer delivery
Standard RV insurance comes with each rental
Pet-friendly and smoking-friendly rentals are available
Most destinations have multiple options. The advanced filters and flexible booking policies can help you find a great RV and a trustworthy owner.
Cons
New campers might be overwhelmed with the options
Campground fees cost extra
Not all owners offer delivery
Cancellation policies require a minimum 30-day cancellation to get a full refund
Most drivable rentals don't have unlimited mileage or generator use
If you're camping for the first time, you might ask a camping friend to help you pick an RV or ask them to come with you to minimize the learning curve once you start "roughing it" in the great outdoors. The owner might give you a quick walkthrough, but you might want to have some YouTube videos handy if you need extra help.
Summary
Hopefully, this RVshare review has shown you what options are available and what you might need to consider. RVshare can make it easy to find RVs and campers where you're traveling to that will help you to avoid hotels. Your RV can be simple or luxurious. You can also compare amenities, fees, and owner ratings to find the perfect unit and be a happy camper.
FAQs
Does RVshare have pet-friendly RV rentals?
Yes, many RVshare rentals are pet-friendly. Each RV owner decides whether or not pets are welcome. You will need to review their rules and potential pet cleaning fees before booking. You can quickly find pet-friendly RV rentals by using the "Pet Friendly" filter in the search process.
Does RVshare have rental insurance?
Yes, RVshare includes standard rental insurance for each rental.
Renters can enjoy these standard benefits for motorhomes:
Up to $200,000 in comprehensive and collision coverage based on the value of the RV
State statutory limits for liability coverage
24/7 roadside assistance
Free towing and tire service
Towable travel trailer rentals have these coverage amounts:
Up to $200,000 in comprehensive and collision coverage based on the value of the RV
24/7 roadside assistance
Free towing and tire service
The rental insurance cost depends on the value of the RV. You will see the price when you book. It's possible to upgrade to Enhanced and Premier plans that have a lower deductible, higher coverage limits but costs more per day.
Standard insurance starts at $10 per day for towable RVs and $20 per day for drivable RVs. The standard deduction is $1,500 for either RV type.
Is renting an RV cheaper than a hotel?
Renting an RV can be cheaper if you the nightly rate and the campground costs are less than what you usually pay for a hotel. RV rentals can be less expensive if you have a large family or typically stay at upscale properties.
RV rentals can be cheaper as you can rent one RV for $100 to $150 per night (plus campground fees) versus $100 to $200 per room. Finding an owner that delivers your towable RV can make it cheaper, too, as you don't need a vehicle with towing capacity or get worse gas mileage because you're towing.
However, RV rentals might be pricier if you get a Class A motorhome (i.e., the biggest RV), or you plan on driving many miles or using the generator a lot. These add-on costs can be surprisingly high. But if you're renting an RV instead of flying, these RV costs can be similar to buying a plane ticket.
In regards to budget travel, staying in a hotel can still be cheaper or the same cost as renting a towable RV or drivable RV.
Related articles: