First thing's first. The Rock and Roll Hall of Fame in Cleveland? (I was curious too.) But after a few days in the city, I understood why Cleveland beat out several cities for the historic bid.
From the local, legendary disc jockey Alan Freed, the first to broadcast rhythm and blues and coin it "rock n' roll" to the first-ever rock and roll concert, "Moondog Coronation Ball," Cleveland is home to many of the rock genre's pioneers and milestones.
The I.M. Pei-designed structure of the Rock and Roll Hall of Fame sits on the shores of Lake Erie (also next to the popular Cleveland Browns Stadium) in downtown. With seven floors of exhibition space, it's the largest single collection of rock artifacts in the world so the sheer volume of memorabilia can be overwhelming. That being said, my advice is to allot at least 4 to 5 hours to roam the countless interactive displays, watch the cinema presentations, and soak in the ubiquitous music history.
An exhibition highlight was the Hall Of Fame Inductees Gallery. This year's induction ceremony in April included legends Guns N' Roses, Red Hot Chili Peppers, and The Beastie Boys. The multimedia show projects on three giant screens and consists of film footage, music, interviews, animation, and photography all woven into a well-produced documentary of the lives and careers of the inductees.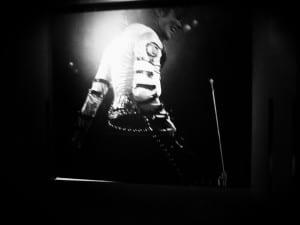 The verdict is in. With its 15,000 sq. ft facility and more exhibits than one can realistically process in a single visit, there's no question the Rock Hall lives up to the hype. But what makes it so special are the rarely-seen, personal collections the museum is privy to, from the working manuscripts of classics by The Grateful Dead to The Beatles' Paul McCartney's handwritten arrangement for "Birthday".  It's these smaller nuances that truly make the Rock And Roll Hall Of Fame a must-see destination in Cleveland. View museum admission prices.
Attention music junkies: Take your time as there's a lot to see.
Finish off the evening with dinner in downtown at The Greenhouse Tavern or at one of the many fun music related dining options, such as House of Blues Cleveland, Nighttown, Wilbert's, or Happy Dog.
Also, check out some of the city's performing venues and spaces (Quicken Loans Arena, House of Blues Cleveland), recording studios (Ante Up Audio, Lava Room Records, Bad Racket), vinyl record stores (Music Saves), and their flourishing and hip, local music scene (25 Bands To Watch).