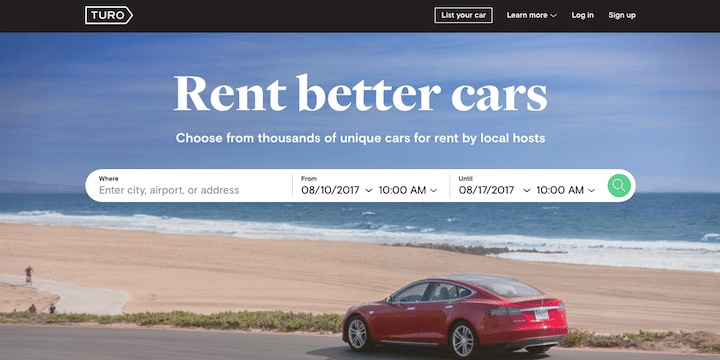 I'm a professional comedian and corporate speaker who is on the road about 100 days a year. For a few years now, I've been using peer-to-peer car sharing services like Turo and Getaround to rent cars when I'm on the road. These are sites where people rent their own cars out to strangers, sort of like an Airbnb for automobiles. One can rent all kinds of cars, from a Honda Accord to a Jeep Wrangler to a Ferrari or a Bentley. According to its website, Turo is in over 4,700 cities and 300 airports across the US, Canada and the UK.
Until recently, I'd only used these services as a renter. Being a Tesla owner, I like to rent Teslas when I can, but they are $500 a day or more from Hertz and other rental car companies. Using these car-sharing services, I've rented Teslas for as little as $79 a day in Florida and California.
Late last year, Tesla CEO Elon Musk retweeted a tweet about Tesla owners making an average of $923 renting out their cars just seven days a month.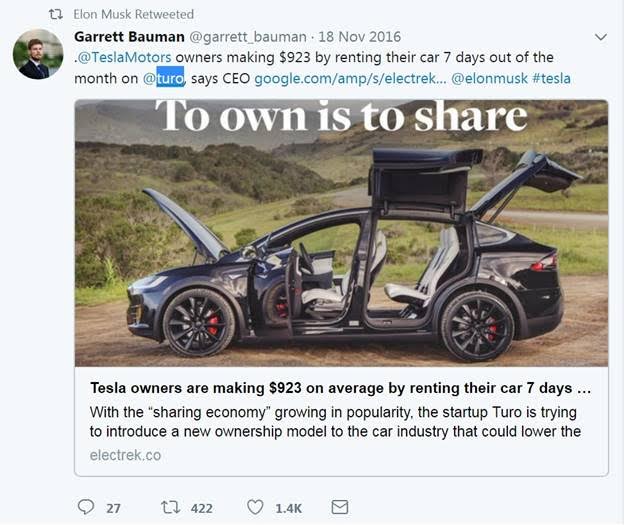 That really got me thinking. Since I live in New York City, I don't need my car that much, so why not rent it out? I have to say, it's been an absolutely wonderful experience. It also helps to pay for the car itself. The website I use is Turo, which until recently was known as Relay Rides.
I rent out my car for $150 a day. The amount of money I get to keep is dependent on the insurance level I desire. The fee that Turo takes depends upon the insurance level. For example, if I keep 80% of the money, then I get insurance at only a certain level. I have chosen the maximum level of insurance, and thusly I get to keep 70% of the rental fee, or $105 a day.
What's cool is that you can specify any price you like, and you can also choose how you'd like to deliver the car to your renter. You can make whatever arrangements you desire to drop off and pick up the car, and you can charge extra for, say, dropping it at the airport. You can allow unlimited miles per day on the car, or you can specify a maximum of say, 100 miles per day, and a charge per mile if the customer goes over 100 miles. It's completely flexible and up to you.
Some folks are puzzled when you tell them that you're renting out your own car, and they can be quite skeptical. For example, a friend was recently headed to an overseas trip, and was parking his car for two weeks at the airport for $12 a day. I told him that instead of paying to park his car, he could actually make money renting it out, and for a second I could tell he thought I was crazy. I explained how it works, and now I've gotten him totally fired up, and he might actually use the service to rent out his car.
For a while I thought about maybe driving my car for Uber or Lyft. Renting my car out is far better. I don't have to do any work, the car makes me money when I sleep, and nobody's going to throw up in the back of my car. :-)