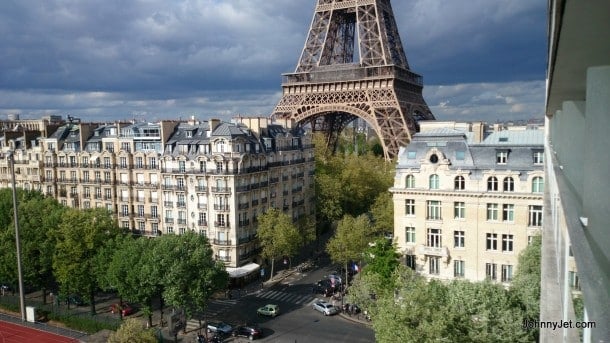 Bonjour! If you are following me on Facebook, Instagram and/or Twitter then you know that my wife (@NatalieDiScala) and I were recently in the world's most visited country … France! We were invited by Pullman Hotels to check out their new, fabulously redesigned Pullman Paris hotels.
If you aren't familiar with Pullman, that might be because they don't have any hotels in the United States … yet. Pullman is an upscale brand and part of the Accor Hotels Group, which is one of the world's largest hotel chains in the world. They now have 89 hotels in 24 countries – and three of those are in Paris, France!
Natalie and I got to spend a night at the brand spanking new Pullman Eiffel Tower, which as you can see from the photo above, has a surreal view of the Eiffel Tower. It will definitely go down in my books as one of the top 10 balcony views I've ever had in my life. In fact, it might even be number one.
This building was originally built in 1963 and was a Hilton Hotel until Pullman took it over in 2009. They have just about completed renovations (clocking in at a cost of tens of millions of dollars), which they started 15 months ago.
Here's what you need to know about the hotel, besides the fact that it has an incredible view: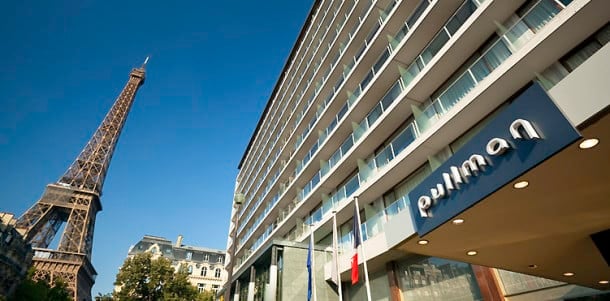 1. Location
The Pullman Eiffel Tower is just two blocks away from the Eiffel Tower. For visitors to Paris, the location can't get much better.
2. Soundproof windows
It's nice to know that  you won't be disturbed from the taxis honking on the streets below or from the partiers strolling by the Eiffel Tower late at night because the windows are soundproof.
3. Friendly staff
Before we even knew we were going to stay at this hotel, I popped in to take a quick look around and the bellman, pictured above, was so nice that I then made a call to change our reservation from the Pullman airport hotel to this one. And he wasn't the only nice person we came across. Another star was the American waitress from Pittsburgh working the breakfast shift.
4. Free WiFi
Like all Pullman hotels, WiFi is free. I wish all major chain hotels would jump on this bandwagon. I know the market will soon force them to (or at least offer basic WiFi), but it's annoying when you have to pay.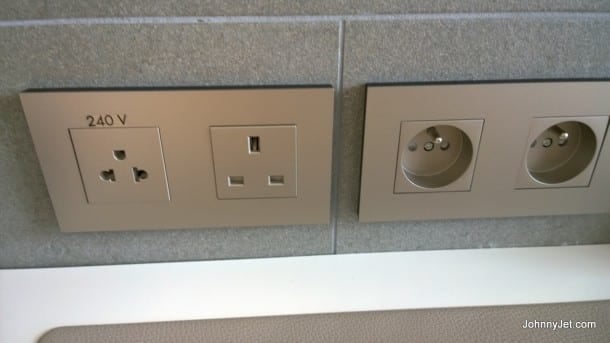 5. Plugs
Another thing I love about the hotel is that you don't need to bring an adaptor since it has outlets for US/Europe/UK and USB plugs!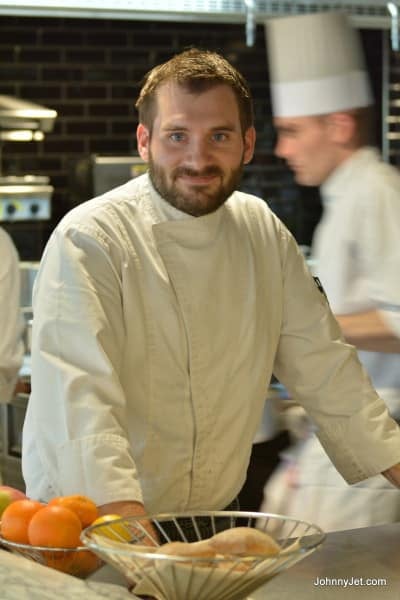 6. Restaurants
The hotel has two restaurants. The breakfast restaurant is nothing special but the main restaurant, which was a day away from opening when we were there, is beautifully designed and can seat 230 guests. The chef hails from California and you can tell that this place will be a hit with guests, tourists and locals alike.
7. Meeting rooms
If I was organizing a conference in Paris, I would seriously consider hosting it in this hotel because its new renovation combined with the views from the meeting rooms will wow all attendees. FYI: There are 22 meeting rooms on property.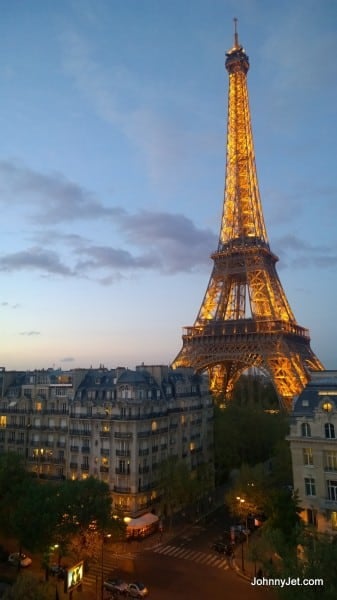 8. More views
The view of the Eiffel Tower alone is worth staying here but it's not the only view that will mesmerize you. There are also incredible views of French architecture nearby and next door to the hotel is a school with a jogging track and tennis and basketball courts that look like they are available to the public after school hours.
I was definitely impressed and now I'm a huge fan of the Pullman Eiffel Tower and can't wait to go back when the hotel officially opens later this month. The only thing I could find wrong with the hotel is that the robes were not soft and fluffy. Rates begin at 200 euros ($276).