I hitched into and out of Portland, Oregon, in the early 90s and seamlessly segued—at little or no cost—from a Robin Trower rock concert into the bosom of a random house party and then onto a couch for the night. Decades later, in an evolved but similarly arbitrary mode, I'm checking into a swank boutique hotel where a list of proven blues bands and trendy restaurants await. Afoot without luggage, I roll up my sleeves while noticing that no vehicle, cyclist or pedestrian is challenging me in the crosswalks. The bike lanes in this pedestrians-rule city are as wide as car lanes. The architectural landscape visits everything from cast-iron façades to skyscrapers like "Big Pink" and glazed terracotta buildings, such as The Nines Hotel, and free public access open-air pianos.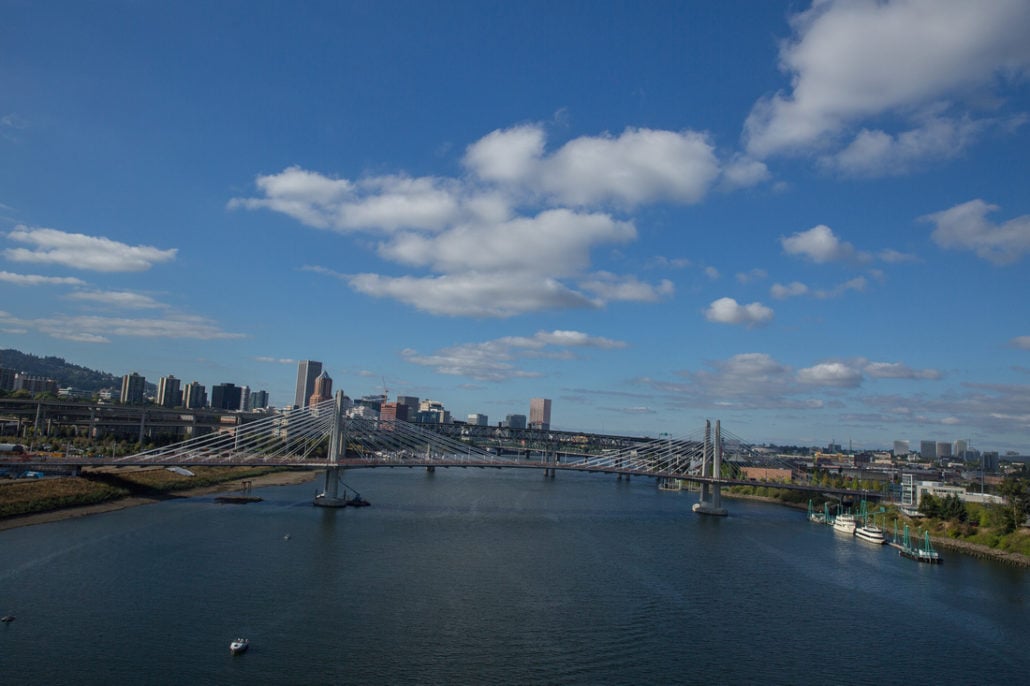 Frequently, side streets morph into food truck colonies, where an international menu is served up on nearby picnic tables. A surprising number of Portland's successful restaurants got their start as popular food trucks. Groovy. Nobody seems to take issue with the open-toed sandals that are subject to jeers in NYC, either.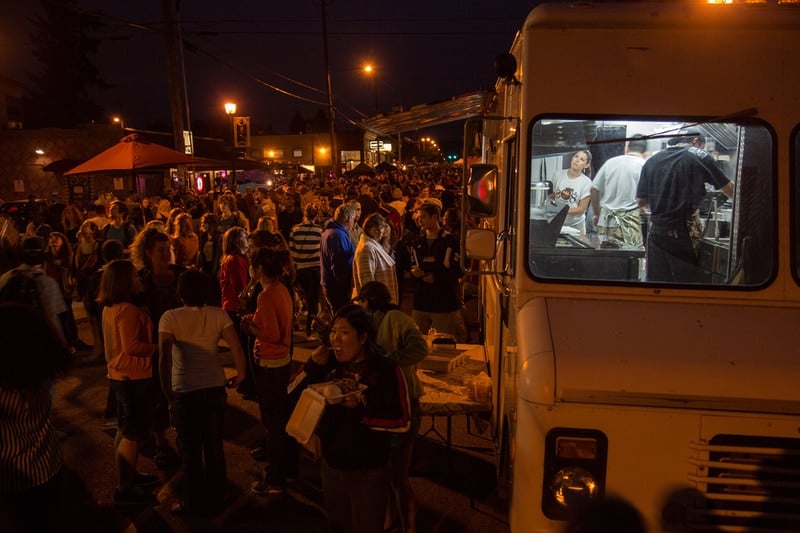 A ten-minute walk from the city's calm version of a downtown leads me to Portland's annual July Fourth weekend Safeway Waterfront Blues Festival—a four-day marathon. The festival features six music venues: four riverside stages, one blues cruise, and a hotel ballroom to entertain an ageless crowd who are happy to comply with the $10 a day suggested donation to the Oregon Food Bank. The two largest outdoor on-the-grass venues are on hillsides that slope towards the city's signature Willamette River. Once the sun sets, a full moonrise sets the stage that is only momentarily eclipsed by the looming Hawthorne Bridge. Meanwhile, Greg Allman plays and everyone is sold, including me.
Tip: The 2016 Safeway Waterfront Blues Festival runs July 1-4, 2016. The festival is owned and produced by the Oregon Food Bank, a 501c3, and it's their biggest fundraiser of the year, where donated canned goods are also encouraged. In 2015, $870,000 was raised for Oregonians facing hunger, the equivalent of 2.6 million meals. Grab tickets here.
Earlier, Anita Margarita & The Rattlesnakes, an Oregonian hillbilly jazz quintet, took charge. Devon Allman, who performed before his dad played on the main stage across the huge sloping field, was a captivating talent singing and picking his rendition of "spooky blues." Sister Sparrow, a tiny cutie fronting a seven-piece powerhouse called the Dirty Birds, put a modern spin on classic soul and rocked the rafters. Another example of this festival pulling in talent from far and wide was fifteen-year-old Mississippi blues-guitar firestorm Christone "Kingfish" Ingram. His rootsy repertoire, highlighted by late 1960s guitar fuzz, ultimately transported the delighted crowd into his rousing rendition of "Purple Rain."
But this recurring festival isn't just about the blues. Local Dixieland Jacob Miller and The Bridge City Crooners certainly made a statement and got the crowd dancing. Likewise, this event doubled as a gigantic, soothing well of tunes with plenty of heavy New Orleans Creole flavoring. An Australian didgeridoo phenom also graced the stage. And what festival can complain when the final act was Buddy Guy
I'm always on a mission to dissect what makes traveling such an amazing undertaking and keep bumping into a singular gist. At the core of travel is asking strangers questions. Randomly doing this, or not, very much dictates your experience. Information-sharing strangers can become temporary acquaintances, or better. This epiphany also reveals how many cope in New York and other mega-cities. You can turn any day into an adventure by striking up conversations with would-be strangers on any street or wherever else you might encounter anonymity. Portland awaits with open arms.
Portland, certainly a world-class city, is not a mega-city, and the locals don't seem like strangers. After accosting the third dude wearing a Grateful Dead T-shirt—which I didn't find alarming knowing that part of Portland's hippie roots (howdy, Bill Walton) is its cornerstone of Deadhead refugees who relocated here in the 80s and 90s (many later becoming lawyers)—I am unexpectedly lured into Portland's Grateful Dead vibe for two live simulcast shows, one at the legendary Crystal Ballroom (where the Dead played in 1968; originally built in 1914 as Cotillion Hall). The other location was the two-tier Mission Theater. Portland has no shortage of epic entertainment venues.
Once flyover—or more accurately drive-through—country for bands playing Seattle and San Francisco, Portland has become celebrated by indie rockers who found a welcoming audience in the Northwest's post-grunge era. Many bands that played here while they were small and scrappy love returning to the city that loved them first. Today, you can find a great show by a young up-and-coming band playing nearly every night of the week. Though the styles vary widely, expect to see original songs and talented musicians who actually play instruments. Jazz-lovers should swing by Jimmy Mak's—on the map for nearly two decades.
Powell's legendary and independent City of Books (est. 1971) is more than a vibrant independent bookstore. The largest indy bookstore in the world—with more than one million books on four floors—takes up an entire city block. The rare-book room upstairs is filled with historical gems, many signed by the authors. The local support for this treasure speaks volumes about Portland's insistence on keeping it real.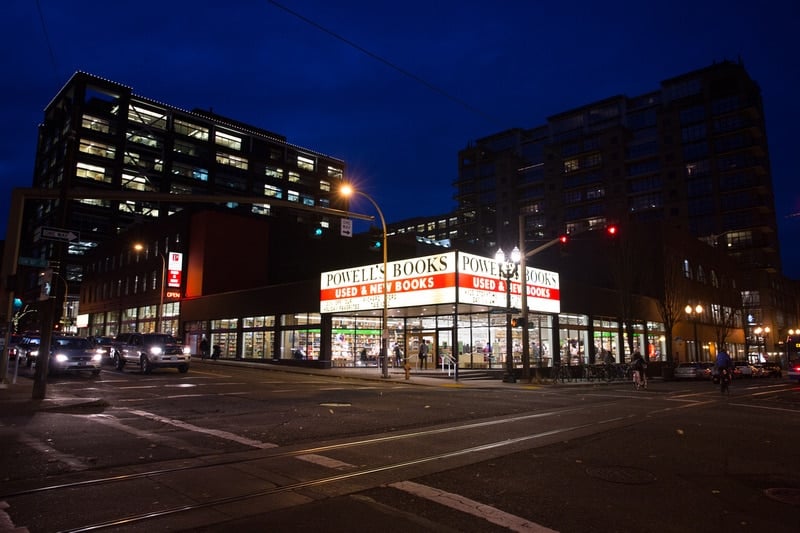 Portland's brewing legacy also makes it a sought-after destination. Dozens of cozy bars feature down-home fireplaces, wood-burning stoves, shuffle boards, and of course, locally brewed craft beer. Deschutes Brewing in the Pearl District is one of the largest small beer-makers in the country. It's known for its Mirror Pond Ale and Black Butte Porter. Try out the brewer's reserve list if you're interested in what's trending in craft beer, new styles and reinvented old world favorites. I could go on.
Nearby Teardrop Lounge offers handmade cocktails of the highest caliber. Check out the numerous tinctures and bitters all made in house by the talented team. They even make their own tonic water to mix with a wide array of spirits. If you can't make up your mind, let the well-dressed mixologist surprise you with something special, unique and often off-menu. If you're still thirsty or brave, cross Burnside Street towards the Ace Hotel where Clyde Common and Pepe Le Moko (named after a French film) offer an amazing list of cocktails including some old classics done right. We're talking Grasshoppers on silver platters here and the barrel-aged cocktails like Negronis steeped in wood for a few months. And you don't need a sport jacket to weave with this scene.
I only ventured across the river once to take in the easy-going vibe in a billowy tree-lined neighborhood called Irvington. I didn't have time to explore the 100 neighborhoods—many featuring weed dispensaries—on that side of the river, as I was already captivated by a downtown that breathes optimism. I hope Portland won't go the way of Austin, TX, and love itself to death via overdevelopment. At first glance, even the seemingly quirky homeless sector doesn't appear to be overly disenfranchised, but its numbers have swelled to a point where the mayor recently declared a state of emergency to tackle the lack of housing.
Feeling the passing of decades, I waxed sentimental on the way to the airport. This time, I didn't hitch through Portland, but it re-hitched my spirit.
Where to stay: Hotel Vintage
The Hotel Vintage was my stylish staging ground. The simple but elegant room made for a peaceful reprieve for my comings and goings. The chic but ultra-casual lobby bar turned an early check-in delay into a social event. A lobby extension connects to Pazzo Ristorante, a foodie foothold that marries the time-tested recipes of Italy with a Pacific Northwest twist. Pazzo also matches its classic huge window views of the city in motion with a colorful, in-the-know staff.
More on Portland:

The $2.50 tram ride (MAX) from PDX airport into downtown and beyond must be one of the most enjoyable and affordable airport-to-city links on the planet. The city features a beguiling list of non-touristy attractions including several epic gardens, one a Japanese garden.
Tax-free shopping adds up for travelers who want to bring home a locally-made heirloom or two.
Portland has more than 60 breweries—more than any other city in the world.
Portland is a cycling capital leading the nation in the percentage of commuters who pedal to work. It's also a great way to explore the city.
---
For even more on Portland, visit travelportland.com. For more on the Safeway Waterfront Blues Festival (July 1-4, 2016), visit waterfrontbluesfest.com. All photos credited to Bruce Northam unless otherwise noted.