Entering Hotel Vermont is a warm experience. The friendly reception gals and guys, the fireplace, the really cool large piece of Duncan Johnson artwork done in remembrance of Hurricane Irene, and the adjacent open restaurant "Juniper" all make it feel more like an inn than a hotel. It is, after all, the only boutique hotel in Vermont.
Our bedroom, with its king-size bed, ultra mod bathrooms, cozy duvet, and plaid wool blanket reminded me of Hotel Terra in Jackson Hole. Later I found out that the two hotels share the same design team.
Although Hotel Vermont has 125 rooms and three floors, it seems intimate. Each level has its own 24-hour pantry, complete with recyclable Keurig coffees, VT teas, apples, and still and sparkling waters.
It's dog-friendly
So we brought our Chocolate Lab, Baci. Baci is well-behaved, not a barker, and well-traveled, so she was "allowed" to stay in the room when we went to dinner. On the days we were not doing dog-friendly activities, Gulliver's Doggie Daycare picked her up in their purple bus, and she played all day in their indoor/outdoor yard under the supervision of their caring counselors. She used to be in the "goofy" group, but now, as a middle-aged gal, she was in with the more "mature" large dogs.
Dining: Farm-to-table brought to a new level
We ate dinner at all three of Hotel Vermont's restaurants—Bleu, Juniper, and Hen of the Wood—and breakfast at Bleu and Juniper. All three are committed to providing Vermont products.
Juniper, which overlooks Juniper Island on Lake Champlain, is the perfect breakfast spot. We indulged in the wild blueberry pancakes with maple syrup, house-made granola, soy, and organic milk lattes made by barista Kaila. Their dinners are also superb. Fried chicken served with anchovies sounded like a strange combination, but it worked. An interesting "orange" wine from Jeanne D'Arc and their coconut cake topped off the evening.
Bleu is nextdoor at Hotel Vermont's sister hotel (Courtyard Burlington Harbor) and provisioned with seafood from the northeast's Atlantic Ocean by a brother-and-sister team. The fresh-shucked oysters with three sauces were scrumptious and the Smoked Bleu Fish Cake (yes, bluefish!) was really good. Bleu's cornmeal-breaded fried clams were surprisingly light. Their international wine list is impressive and the views of Lake Champlain and the Adirondack mountains can't be missed.
The Hen of the Wood flagship restaurant in Waterbury, VT, is legendary among locals for premium Vermont cuisine. Their sister restaurant at Hotel Vermont is just as good. One page of the menu is dedicated solely to Vermont cheeses. Panisse Frites (an homage to Chez Panisse in Berkeley, CA) made with chickpea flour and served with a lemon yogurt dipping sauce was a good vegetarian choice. Their housemade prosciutto and copa was perfect for those who love meat. Everything is from local farms; no factory farming here. Hen of the Wood offers an excellent wine list and, of course, the best Vermont beers. The dimly lit atmosphere makes it a comfortable place to hang out with a glass and the cheeseboard. The housemade chocolate gelato was the best we'd ever had!
Burlington: Czech tea to L.L. Bean
Back in Burlington, a cup of Kashmiri tea from Dobrå Tea House on Church Street in Burlington brought me back to the cozy tea house, an amalgamation of many cultures. Dobrå Tea House started in Czechoslovakia, an intersection of exotic trade routes since the Middle Ages. We came off the cold streets and into the inviting warm café, with tables and seats low to the ground and tapestries hanging on the wall. The vibrant colors, strange music, and complex aromas made it like a quick visit to another culture.
Just up Cherry Street from Hotel Vermont, an L.L. Bean has opened its doors as the first L.L. Bean store in Vermont. Baci was allowed to go in (she's a trained therapy dog with papers), which was a good thing because we spent some time there and she picked out her favorite dog toy! My husband Cam got his Chamois shirt and I picked up another carry-on size purple rolling duffel for my upcoming trip to Europe.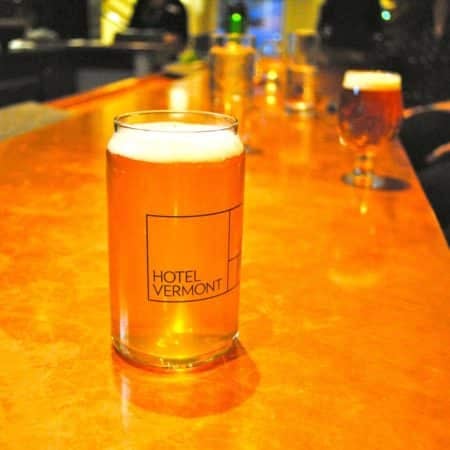 Beer and yoga with Hotel Vermont
The Vermont craft beer scene is thriving in Burlington, and particularly the flavorful IPAs—a success attributed to the distinct taste of the hops grown in Vermont. Hotel Vermont offers a Peddle and Pints tour, with access to their retro bicycles and a guide (bikes are free to use for guests for any reason!). We discovered nearby Switchback, Queen City, and Citizen Cider all located on Pine Street in South Burlington. This area has exploded with interesting boutiques and markets and antiques shops like Barge Canal Market. It also has great bakeries, juice bars, and Lunaroma, the luxurious makers of the aromatherapy products used at Hotel Vermont.
Later we "toured" the other Vermont beers back in the bar at Juniper, where we met with "Beer Concierge" Matt Canning, whose expertise guided us through the local draft beers including The Alchemist's Heady Topper, a top-rated beer, and some from my favorite Hill Farmstead, the #1 rated brewery. Matt can accompany you on a full-day tour or simply point out the stores where the hard-to-find Heady Topper or Lawson's Sip of Sunshine can be found.
A massage with Molly Seguelin, proprietor of Blissful Healing, located on the second floor of Hotel Vermont, proved to be true to her company name. Molly studied with a First Nations Healer and her signature massage includes sacred hot stones. Her intuition and healing hands made it a massage to remember.
Later, I took a yoga class in the Hotel Vermont gym, where instructor Meredith tailored it to my current state of health. The yoga classes are open to anyone and Hotel Vermont, newly opened, is already a staple for the community. Lola from Lunaroma told me Juniper's (on Sundays) is her favorite Burlington brunch spot.
Just nearby: Shelburne Farms
When in Burlington, a visit to nearby Shelburne Farms is a must. Stroll through acres of untouched Vermont land, learn to milk a cow in the children's barn, have a nosh at O Bread Bakery (authentic Parisian croissants and rustic wholegrain baguettes), enjoy a relaxing picnic by Lake Champlain or an elegant meal in the historic Vanderbilt home (the Inn), or visit the Shelburne Museum.
Fiddlehead Brewery and Folino's pizza are just down the road too, for more delicious IPAs and down-to-earth hearth-to-table flatbreads.
Burlington has the beautiful Lake Champlain, views of the Green and Adirondack Mountains, University of Vermont, a thriving art and music scene, and now…Hotel Vermont.