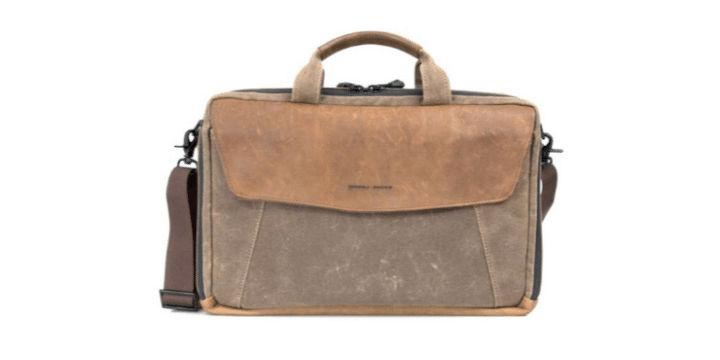 Does it make your blood boil when you board a plane and see a passenger taking their sweet time blocking the aisle so they can fumble through their too-big carryon to get their travel essentials? In that situation, I feel like flight attendants should have the right to take one of those toy blow-up bats and run down the aisle bopping rude passengers on their heads yelling "Why didn't you do this while waiting aimlessly in the gate area?" BOP! "Or bring a small bag that's already filled with your glasses, charger, iPad, book…?" BAM!
On the flipside, flight attendants should reward passengers that have their acts together and don't hold up the boarding process. One guaranteed way not to get bopped and to look like a pro when traveling is to get the collaboratively designed Air Porter and Air Caddy carry-on bag duo. It's a modular system created by Waterfield Designs to enhance convenience and comfort for airline passengers. The Air Porter slips over a wheeled suitcase handle and fits efficiently under any airline seat, while the Air Caddy can be put in a germ-filled airline seatback pocket to keep your frequently used items within easy reach and out of germs' way. The bags are available in either a tan waxed canvas or black ballistic nylon.
The slim, TSA-friendly Air Porter stands on its own under an airline seat, leaving ample leg room while maintaining significant capacity for tech items (laptop, phone, chargers, cords, headphones), personal items (wallet, books, toiletries), and travel documents (passport, tickets). You can grab one for $359 (for both together, see below).
Among Air Porter's travel-friendly features:
Slim and stands upright under airline seat leaving ample legroom
Dual main compartments keep tech and personal items separated
Waterproof exterior zippers and water-resistant lining help block the elements
Zippered pocket under front leather flap grants quick-but-secure access
Leather flap closes with magnets at two settings allowing front pocket to be fully or partly packed and remain secured
TSA-friendly laptop-sleeve compartment opens flat; dual handles facilitate quick grab after TSA screening
Padded laptop sleeve with corner cut-outs permits laptop charging while inside case
Water-bottle/umbrella pockets snap closed when not use in keeping bag svelte
Interior key fob stores home keys for easy recovery after a long return flight
Dimensions & weight: 15″ x 10.25″ x 4.5″; 2.4lbs
The Air Caddy ($59 on its own; 12″ x 7.25″ x 1.25″; 5oz) zippered pouch is designed with pockets to hold the accessories air travelers need to access easily while seated, such as a smartphone, a pen, an iPad, a book, glasses, and snacks. The Air Caddy is designed to fit into an open-topped front pocket under the Air Porter's leather flap during transport and transferred to the airline seatback pocket for convenient in-flight access.
If you buy them both together, the set is $379.