My wife, Natalie, and I met our friend Pamela (PJ) for lunch one afternoon in Saint Germain (Sixth Arrondissement) at Paris' best affordable restaurant, Le Comptoir du Relais (9, carrefour de l'Odéon, Paris; 011-33-8-2610-1087.). PJ had rented an apartment in Paris for the month of April and since it was her last few days there, she took us to her favorite restaurant.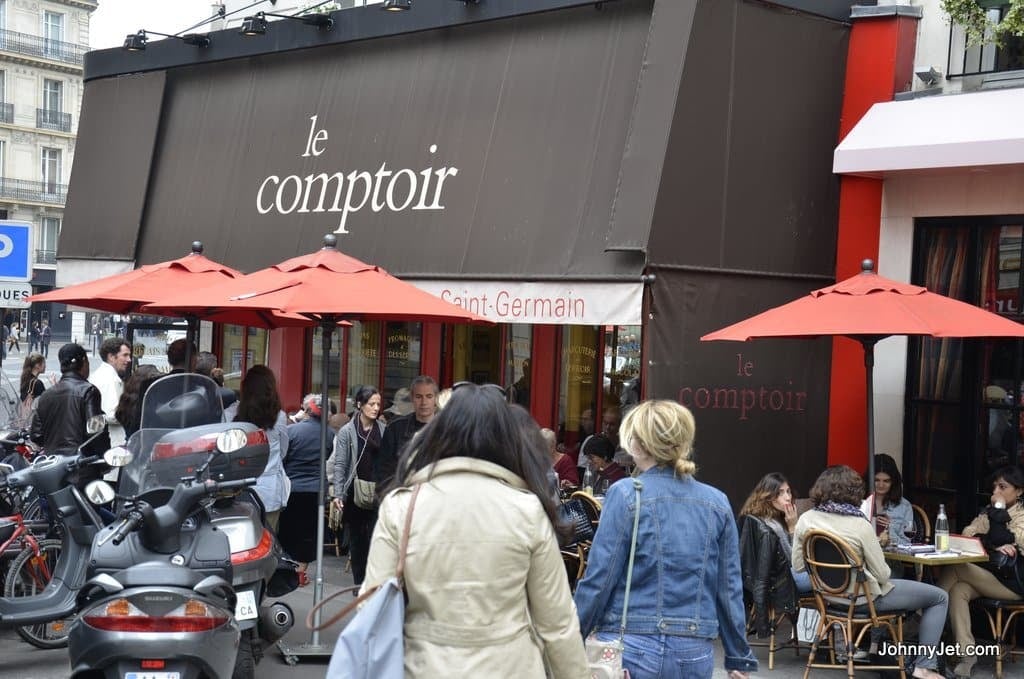 Le Comptoir, The Counter in English, is in the Hôtel Relais Saint-Germain. It's a popular place with both locals and tourists since every celebrity chef from Anthony Bourdain to Thomas Keller has raved about it. They don't take reservations, except for their prix fixe dinner on weekdays (so I hear) and breakfast is reserved for hotel guests. So if you want to avoid a long line, try going at off-peak times.
We were having a late lunch and there was still a 20-minute wait. I'm not sure if it was because PJ was friends with the manager or not but they kept our place in line for a table while we waited next door at L' Avant Comptoir. It's a tiny, standing room only bar that serves delicious wine and French hors d'oeuvres. And just like Le Comptoir, the menu is only in French.
After a few bites, sips, and stories, we were sitting at our outdoor table. Seating is ridiculously tight but the food is amazing, the prices are reasonable and the service is … French. I had the Croque Poulet (pictured above), while Natalie had a charcuterie platter and escargot. PJ had lobster bisque and a lamb entrée, which she said was amazing. For dessert we shared a vanilla and chocolate pot de crème. Magnifique!
In the photo gallery below, I've posted both receipts so you can see what we ordered and see why this is Paris' best affordable restaurant.
Bon Appetit!