By George Rajna
Ever since 2009, when Lisa—my wife and travel partner—and I swam with jellyfish in a lagoon on Indonesia's Kakaban Island, we had wanted to once again immerse ourselves amidst jellyfish in a place famous for it: a lake located within Palau's gorgeous and UNESCO-recognized Rock Islands.
Our first day visiting the famous Rock Islands (by boat) was impressive. The area is undoubtedly beautiful, with lush limestone rock formations surrounded by gorgeous seas of turquoise and deep blue hues. Mark—the manager of Sam's Tours—stated, "The Rock Islands is Eden." Our tour guides—Crystal, Jayden and Jefferson from professionally run Sam's Tours and Planet Blue—led us to our first stop of the day: the Milky Way, a spot where the unique mud's medicinal qualities led us to eagerly smear sludge over our entire bodies and let it dry to a paste before diving into the sea to rinse off.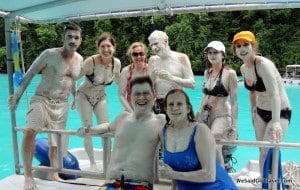 Next we docked near a desolate white sand beach and hopped into kayaks. As a group, we paddled the stunning sea around karst until we came upon Secret Cave, an arched entrance to a crystal clear water lagoon. We entered the isolated area where the sea was flat calm. After circling by kayak a few times, we exited via the arch we originally entered through and headed back to the boat, which transported us to a beach where we ate a tasty boxed lunch at a picnic table.
After lunch we headed to Jellyfish Lake armed with our entry permits ($100 USD) and snorkels. Before entering the water, we were asked to rinse off our feet and wash off all sunscreen, the goal being to keep the isolated lake as uncontaminated by outside influences as possible.
The Palau setting was similar to what we'd found in Kakaban five years ago in that we arrived by boat, traversed a steep slope, and then descended toward a marine lake. Unlike the Kakaban experience, though, where we gathered courage to enter the jellyfish infested waters just off the dock, in Palau, the encounter was less daunting since we were able to submerge ourselves in the water and then swim leisurely toward the center of the lake (where the jellyfish are concentrated). Supposedly, five million jellyfish inhabit these waters and based on the quantities we saw that one day, that estimate could be accurate. The jellies were everywhere, floating and maneuvering in all directions in sizes that ranged from babies to adults.
In the end, the experience was worthwhile and unforgettable. We enjoyed floating among the jellyfish and free diving downward to shoot opportune photo ops surrounded by wonderful sea creatures. We did note that jellyfish are fragile, and we noticed fragments of jellies floating in the water. We felt that a no-fins policy would be prudent.
The last stops with Sam's Tours included a visit to Clam City to view giant clams. A large group of Asian snorkelers huddled together while their guide disappointingly free dived to poke the clams below—simply to entertain visitors who watched the massive creatures clamber their jaws shut. We continued onward to a snorkeling spot called the Cemetery, where large Napoleon Wrasse loomed among a variety of small tropical fish and hard coral heads. En route to Koror, we stopped briefly to take photos from the boat of both a natural bridge and an island shaped like Homer Simpson lying down on his back with his belly protruding upward.
That evening we dined at Sam's Tours. The host, Mark, was very knowledgeable and amiable. Our buffet dinner consisted primarily of typical Palauan dishes such as taro, tapioca, grilled fish, and rice, all washed down with white and red wine.
At night we cozily slept at the Rose Garden Hotel where our spacious (distantly) oceanview rooms were comforting. In the morning, the Palauan breakfast—consisting of egg, rice and delicious white—energized us to have yet another day enjoying Palau's attractive Rock Islands. However, on this day we would appreciate the Rock Islands' deep underworld. Thanks to the Palau Visitors Authority for inviting us!
About the author(s): Lisa Niver Rajna and George Rajna are co-authors of Traveling in Sin and co-founders of We Said Go Travel. They are accomplished writers, speakers and travelers who are members of the Traveler's Century Club, a unique travel club limited to travelers who have visited one hundred or more countries. They loved swimming in Jellyfish Lake and you will too!