If you're following me on social (my handles are below!) then you know that I was in Texas for an unforgettable long weekend with my family and best friend. We were there so my wife (@NatalieDiScala) could shoot Pinterest photography for the Arlington CVB.
American Airlines New 787-9
As usual, I was in charge of getting our plane tickets so I booked us on American Airlines' (AA) brand new 787-9, which is a beautiful bird with true Premium Economy (PE) seating. Since I have elite status on AA, I was able to reserve these seats for no additional charge (at least for the time being).
The PE seating configuration is 2-3-2 and I reserved the last middle row so Natalie and I could put baby Jack in between us. Yes, I know that since Jack is under two years of age, he can fly for free but it's much safer for him to be in his car seat so we purchased the extra seat, which was only $106.
BTW: These Premium Economy seats are just as nice if not better than American's standard first class on their 737, A319 and 757. They have power/USB ports, leg rests, touchscreen entertainment systems and Wi-Fi (powered by Panasonic). Wi-Fi costs $12 for a two-hour pass and $19 for a whole flight pass but the service was terrible. It took a long time to even connect and once it did, it kept cutting out. It was pretty much a waste of $12;. I heard the guy across the aisle complaining to his seatmate that he had the same patchy service last month when he took the same flight.
http://www.aainflight.com/
Good to know
-Premium Economy service is the same as economy so there's no free food but on a flight that's just two hours and 31 minutes long, does it really matter?
-This 787-9 flies LAX-DFW-CDG-DFW-LAX-NRT-LAX.
-The flight attendant working my section said she really likes working on 787s because the air quality, windows and bathrooms (touchless flush and sink) are so much better but she doesn't really like working the 787-9 since it holds 50 more people than the 787-8. She also said that on international flights, Delta staffs two more flight attendants than AA, which makes a big difference for both passengers and crew.


DFW to hotel
The nicest terminal at DFW is Terminal D but we arrived into Terminal C. What's nice about arriving at the C gates is that baggage claim and the curb are a really short walk away. I monitored American's app to see when our bags would be unloaded so I could order our Uber and they were quoting a 15-minute wait RELATED: 10 Uber Tips That Will Totally Improve Your Next Experience.
But after I ordered our UberX thinking I was timing it perfectly, it changed the wait time to just three minutes! Our VIP driver (a 4.8 or higher) was awesome and said that all Uber drivers are just stationed in the parking lot across the street so it shouldn't ever be a long wait and he waited curbside until we came out, which was just a couple minutes later. .Fortunately, it was one of the shortest baggage waits I've had with American Airlines (about 20 minutes). The 11.5-mile drive from DFW to the Hilton Arlington was 21 minutes and cost $19.81.
Hilton Arlington
The organizers for Natalie's trip put us up at the Hilton Arlington, which is directly across the street from Six Flags Over Texas (soon to be called Five Flags?) and two miles from AT&T Stadium, where the Cowboys play, and Globe Life Stadium, where the Texas Rangers call home.
FYI: Arlington is situated between Dallas and Fort Worth, Texas so it's conveniently located. We were a tad disappointed that our room upgrade didn't go through as Hilton emailed us an automated sales pitch the day before asking if we wanted to possibly upgrade to a Junior Suite for $5 a night (heck yeah!) but it was based on availability and of course it wasn't available. I would rather pay more for a confirmed upgrade then be let down.
The hotel was just okay. I liked the location but didn't like that the bathroom door was squeaky (if I didn't have a sleeping time bomb of a baby, I wouldn't have cared). One of the three elevators was out of service all four nights so waits for a lift were sometimes really long and the club room (pictured above) was below average and the hallways were loud with rowdy guests. When I mentioned the noise to a couple of employees, they said it's always like that on game days (for either Rangers or Cowboys) and that it's a good thing. I'm still not quite sure how it's a good thing. TIP: Ask for a room at the end of the hallway, away from the elevators and bring earplugs or a sound machine.

My favorite part of the hotel was its restaurant, R Bar and Grill, which serves arguably one of the best Margarita pizzas ($14) out of any hotel period. It was surprisingly delicious and I'm an Italian pizza snob.
If you've ever been to Arlington before, then you know it's one of the best sports destinations in the country. The big reason is because AT&T Stadium is across the parking lot from where the Texas Rangers play. So if they're both in town you can go to two games on the same day like I did. On top of that, tickets to the Rangers are so much cheaper than in New York, Boston, San Francisco, etc.

Yankees vs. Rangers
My best friend Mike, who lives in Connecticut where I grew up, was coming into town to go to the Cowboys vs Giants game with me but when I noticed that our favorite team (the New York Yankees) was in town to play the Rangers, we decided to get tickets to that game, too. FYI: The Yankees vs Rangers game started at 2:05pm, while the big season Sunday Night Football game between the Cowboys and Giants began at 7:30pm.
When I saw the prices of the baseball tickets, I realized why there were so many Yankees fans in town. It's cheaper to go to a game in Texas than in New York City. We had decent seats and tickets were just $32. Flights from New York to Dallas can sometimes be found for $80 round-trip and hotels and food are inexpensive, too. My buddy Mike booked a Marriott (20 minutes from the stadiums) last minute on Trivago for just $65 a night!
It's a really unique experience going to a Texas Rangers game as they have some interesting food including fried Twinkies, S'mores and pickles. They also serve monster size burgers, cheesesteaks and hot dogs. One is two feet long, called the Boomstick. The first time I ever saw a hot dog this large was at a ballpark in Australia in 2014. I was there for MLB's season opener to see the Dodgers take on the Diamondbacks and thought the Aussies were making fun of Americans by serving hot dogs called "All-American SuperDog" but it turns out they were just replicating the Rangers' Boomstick.
Jack Daniel's Club
It was so hot outside that Mike and I decided to forgo our seats and watch the game from the Jack Daniel's Club, which only has an all you can eat buffet for $37.99. I couldn't understand why the bar/restaurant wasn't that crowded because it was so cool inside temperature-wise and there were tables along the window available. But not many people want to spend that much money on a buffet.

Note: The buffet shuts down early and patrons can only stay 90 minutes but if you ask me, this is the best place to watch a game on a hot day.
Since the Yankees were destroying the Rangers and after we saw our favorite player Aaron Judge hit his second homerun of the game, Mike and I left early to beat the traffic and go see Natalie and Jack back at the hotel. We were originally just going to walk across the parking lot and go to the Cowboys game early but Mike wanted to see my family before he left town.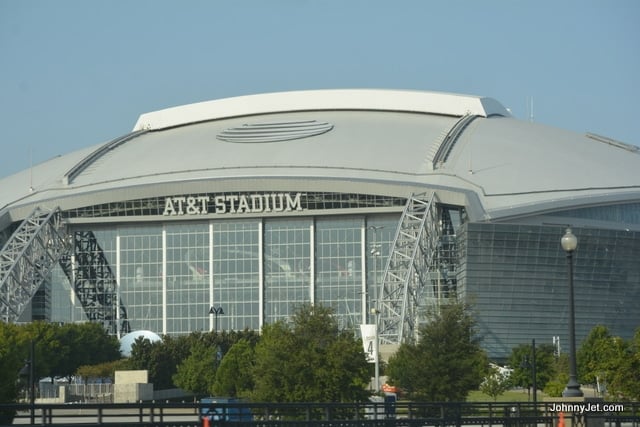 AT&T Stadium
We ended up staying at the hotel too long because we got stuck in some nasty stadium traffic so we missed the first seven minutes of the big game. Mike, who is a lifelong Cowboys fan, had never been to the dazzling $1.2 billion  AT&T Stadium so it would've been better if he'd had more time to check it out. FYI: The stadium is sometime referred to as the Death Star since that's what it looks like from afar. One thing is for sure: Mike was on could nine when we walked in and he stayed that way since our seats and the game couldn't have gone better for him.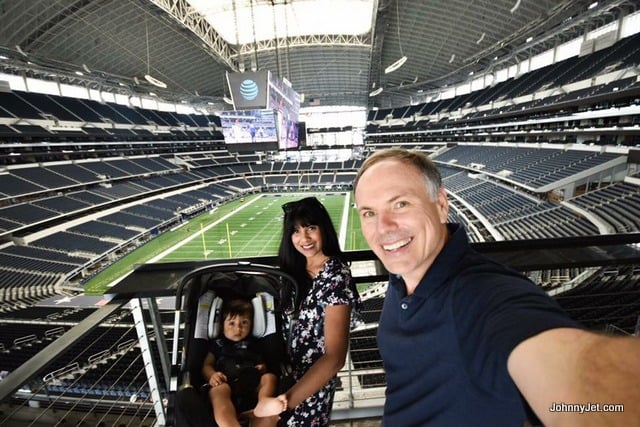 Good to know: AT&T Stadium offers two types of tours: Self-Guided for $17 or the VIP tour for $32. I've done the tour twice and, even as a Giants fan, know that this stadium is something special. My wife was in awe too when she toured it earlier in the week and saw all the facilities and artwork and how clean it was.

Field Suites
The good folks at the Arlington CVB invited us to a Field Suite. .I wasn't quite sure what to expect since I'd never heard of a Field Suite but let's just say, I'm glad I didn't look it up in advance because it would have taken away the surprise. AT&T stadium has suites that are literally on the field. Actually, they are a few feet under the field so when you are standing or sitting on the suite's private patio, you're below eye level to the players, refs, photographers and cheerleaders.

The suites are epic. They have a private bathroom, a fridge stocked with drinks, two TVs, catered food and then three of the Dallas Cowboys cheerleaders come by to take photos which you can purchase afterwards. After the Giants got their butts kicked, I realized it was the first time I wasn't in a bad mood after their loss.

Without a doubt, these were the best seats I've ever had at a football game and I've been very fortunate to have some of the best .. including the time I saw the Giants beat the Patriots in Glendale, Arizona in a suite full of celebrities (photo below)!


Good to Know: Uber was surging after the game. Mike tried to get an Uber from the Hilton to his hotel and Uber was charging $100. He ended up getting a taxi for $50 but it took him an hour to find one that would go that direction without tacking on a surcharge.


As you can see, Arlington is a fantastic sports destination and I was surprised to learn it's only going to get better because the city just started breaking ground on a new ballpark for the Rangers. Yes, I was thinking the same thing! Isn't Globe Life Field relatively new? It is, it was built in 1994. But they are going to replace it because it didn't have a roof and the owners were losing money since no one wants to sit outside in the hot Texas sun. Here's what it's going to look like, including Texas Live, which will have world class entertainment and a plush Loews hotel.
BTW: The city isn't going to tear down the old stadium but instead repurpose it.
I look forward to going back in 2021 when it opens and hopefully then, the Giants will win!
Map of places mentioned in the post.