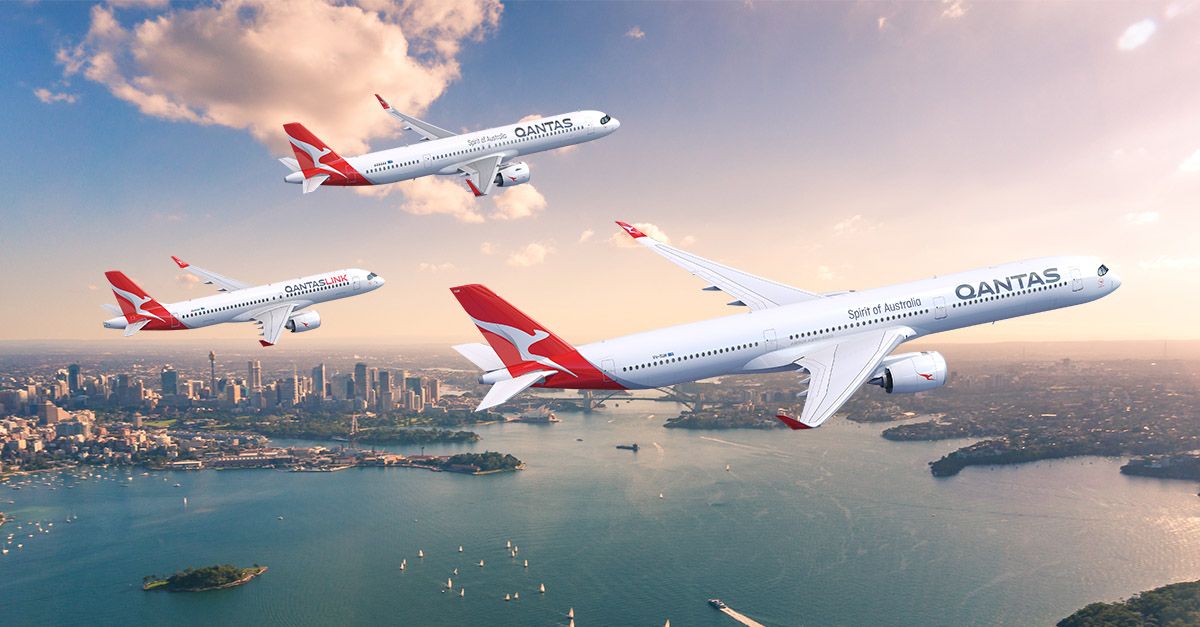 Singapore Airlines currently operates the longest flight in the world – New York to Singapore, which comes in at 9,527-miles and takes 18.5 hours. Well, that's going to change come late 2025 as Qantas, Australia's national carrier, just announced an order for 12 Airbus A350-1000s to allow for non-stop flights from Sydney and Melbourne to New York and London.
According to the Great Circle Mapper image above, JFK to Sydney would be 9,950 miles, while JFK to Melbourne would be 10,374 miles. London to Melbourne will be 10,503 miles. That's almost halfway around the world as the earth circumference is 24,901 miles.
To give you an idea how much has changed in 75 years, according to the BBC, the first Sydney to London flight was launched in 1947 and it took 58 hours and seven stops. Come late 2025 the flight will be nonstop and take 20 hours.
Qantas has been planning these ultra-long-haul flights since before the pandemic and they codenamed the endeavour 'Project Sunrise.' Back in 2019, they took test flights between both New York and London to Sydney to see how passengers' bodies would hold up. It was merely a publicity stunt as Singapore Airlines has been flying flights of almost the same duration since 2004. In fact, I know that it's been since June 24, 2004 because I was on the inaugural flight. Here's my story.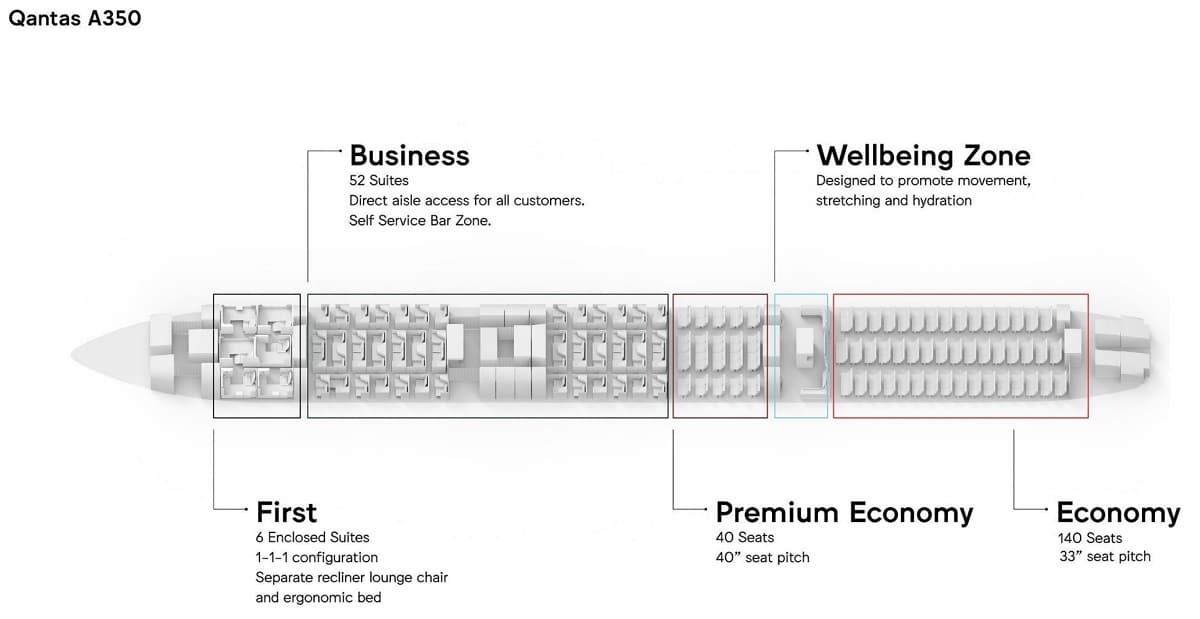 According to Qantas, their A350-1000 will have a total seat count of 238 and will offer four classes of service.
What every frequent flier and miles/points hoarder is most excited about is Qantas' First Class suites, which come with a separate bed, recliner lounge chair and personal wardrobe. See images above and below for Qantas' renderings.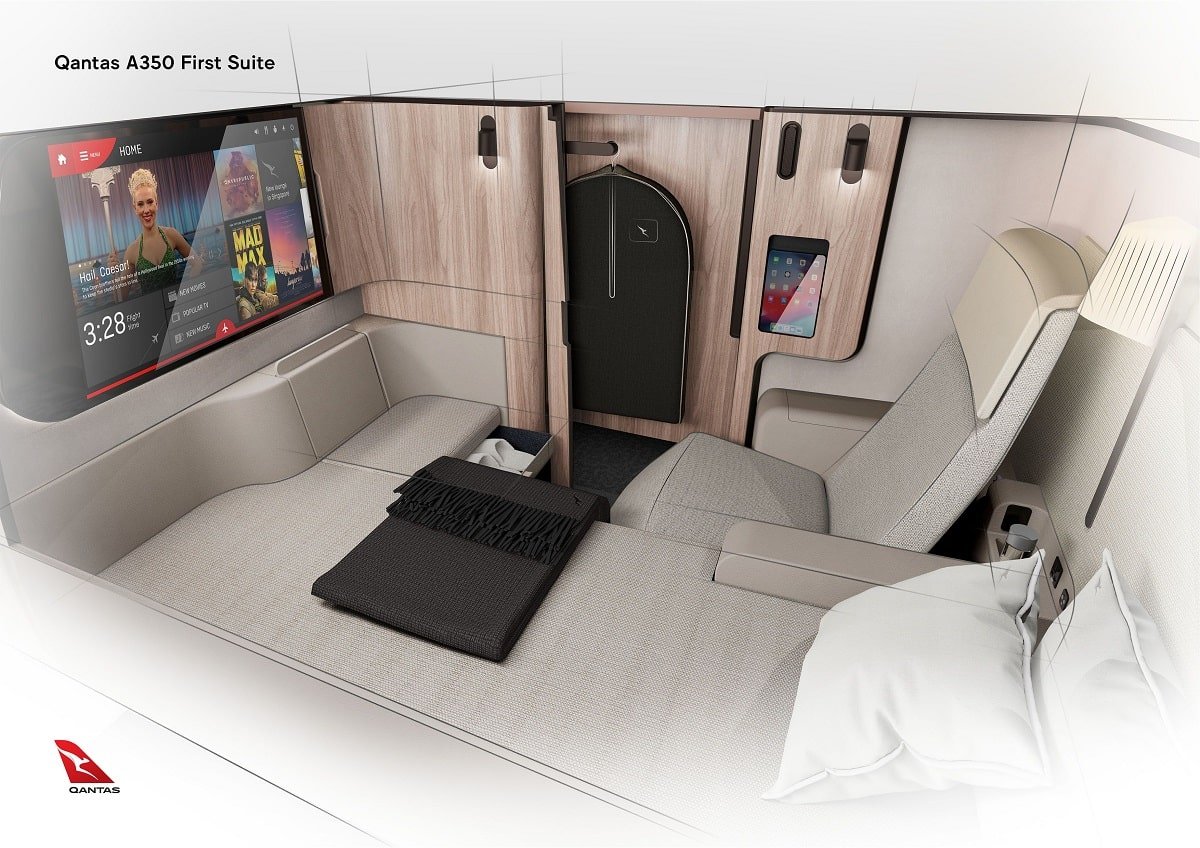 There's going to be a next-generation Business suite; a new Premium Economy seat pitched at 40 inches, a new Economy seat pitched at 33 inches. 33 inches isn't great for economy as JetBlue offers 34 inches of pitch in their economy section of the A320 and they don't have anything close to a long-haul flight.
There's also going to be a dedicated Wellbeing Zone designed for movement, stretching and hydration. See drawing below of Qantas' Wellbeing Zone.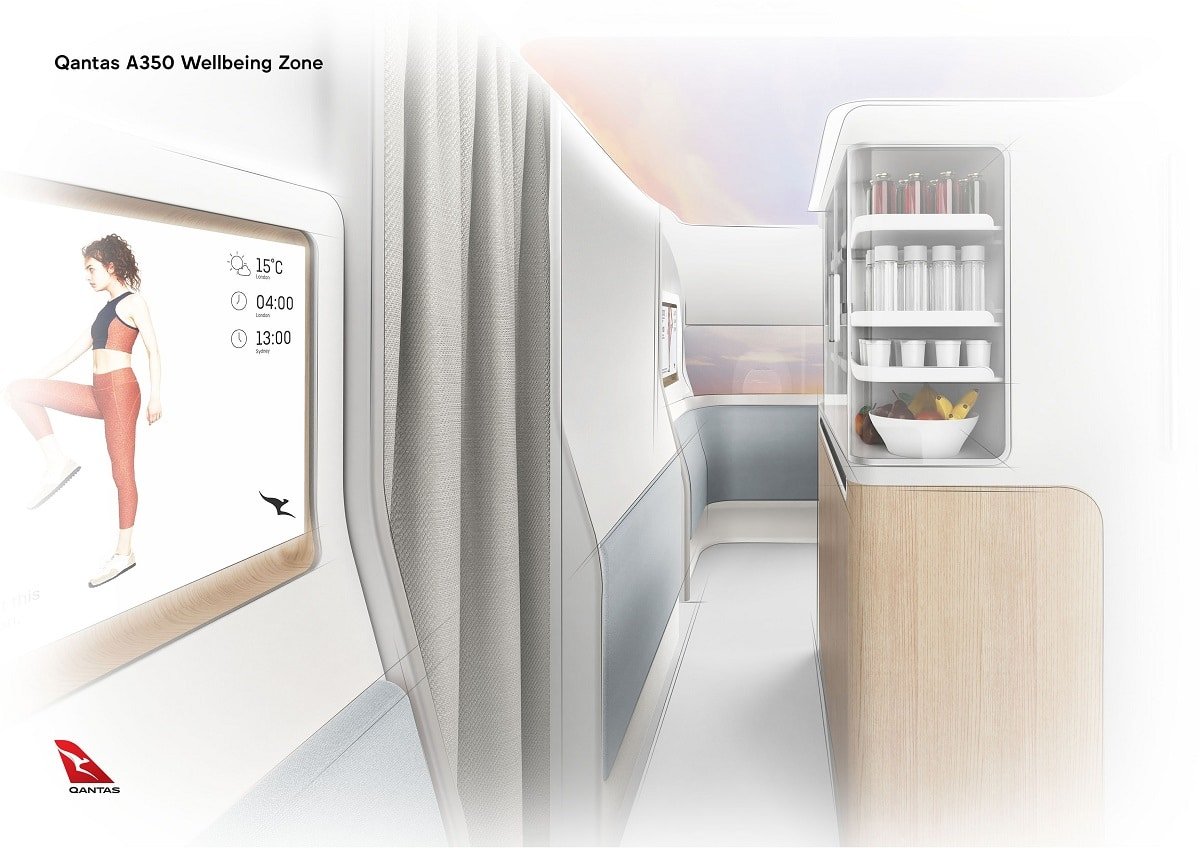 Personally, I'm not a fan of long-haul flights. I prefer to break long flights up for a few reasons:
1. I don't like the idea of being on a plane for almost an entire day — although if I was in one of these Qantas first class suites, I might think 20 hours is too short.
2. I prefer not to just look out the window at different countries. I would rather stop for a night or two, which is why I've flown many times to Asia from Los Angeles, making multiple stops along the way, including on my last trip around the world where I flew with my wife: LAX-YYZ-LHR-LIS-FRA-DOH-BKK-NRT-LAX.
3. Making multiple stops and shorter flights is easier on the body and helps adjust better to avoid jet lag.
How about you? Do you prefer taking one long, nonstop flight or making multiple stops? Are you excited about the new, ultra long-haul routes Qantas has planned for 2025?