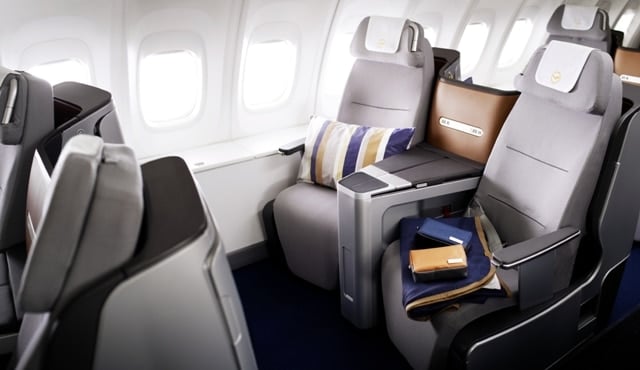 The new Lufthansa Business Class seat was revealed to the public today. It boasts a full-flat, horizontal sleeping surface measuring 6.5 feet in length. The seat, which at the push of a button, converts to a comfortable bed, offers exceptional comfort as a flatbed or as an upright or reclining seat, with its intuitive adjustments, additional storage space, and enhanced entertainment system. In a few weeks' time, when the new Lufthansa Jumbo — the Boeing 747-8 — enters scheduled service, passengers will have their first opportunity to enjoy the features of Lufthansa's new Business Class cabin.
Another novel feature is the innovative seating arrangement in the form of a "V". Two neighboring seats are angled towards one another along a central axis. This solution enabled Lufthansa to fulfill one of the main wishes expressed by customers – to sit or lie facing the direction of travel. This seating arrangement also enabled Lufthansa to virtually double the distance between two neighboring seats at shoulder level, which in the future will give Business Class passengers greater privacy.
The new Business Class seat is a major component of Lufthansa's largest investment to date in its inflight product. Over the next few years, some three billion euros will be channeled into product improvements for passengers. The new seat rounds off the travel experience for Business Class passengers perfectly – from dedicated check-in counters and additional free baggage allowances to fast-track security lanes, access to Lufthansa lounges worldwide, and preferential boarding through to exclusive inflight menus and the excellent service provided by the cabin crew. "All of that shows that we are offering our Business Class customers an exceptional experience at every step of the travel chain," said Jens Bischof. Retrofitting Lufthansa's entire long-haul fleet of more than 100 aircraft is expected to take four years.