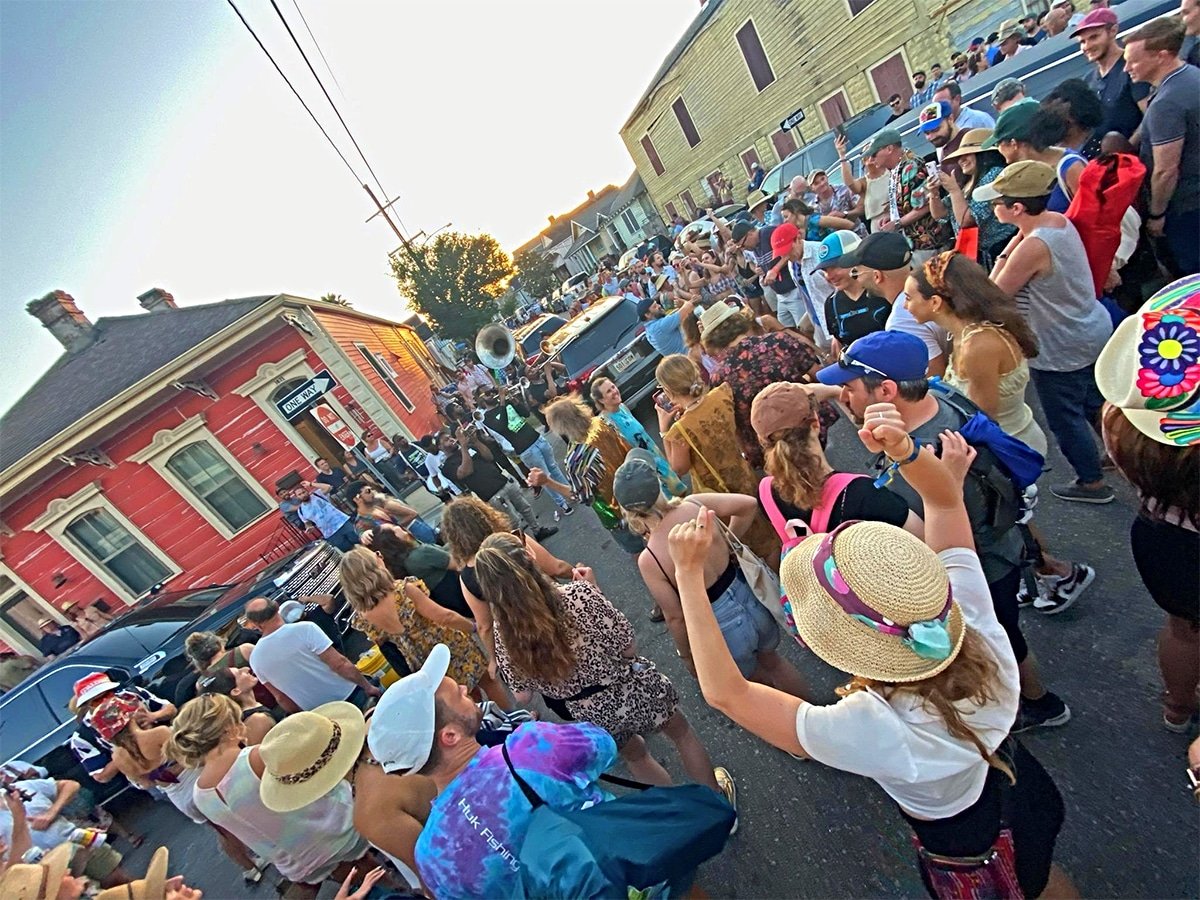 Musically, Louisiana isn't a state—it's a starter planet. And there's way more. Alaska Natives have a hundred different words to describe ice. Louisiana returns the favor when naming its sauces. "Fast food" here has claws and legs.
Describing Louisiana is like explaining why you love someone—there are typically many reasons. Well, this state stands alone not only as America's most musical place but it's also a world-renowned comfort-food destination. A handy way to experience the eternal fun here is attending any of the Bayou State's music festivals, because they truly get it right. I recommend your initiation begin by first going small with Festival International de Louisiane in lesser-known Lafayette and then going big with the New Orleans Jazz & Heritage Festival.
Laidback Lafayette
Louisiana enjoys a massive dose of inherited French flair. Located 135 miles west of New Orleans, the city of Lafayette's annual late-April Festival International is a French-speaking summit of World Music, with acts from as far as Haiti, Guadeloupe, Brazil, and Africa. This free five-day festival also serves up a nourishing pastiche of local and infectious Zydeco (think washboards) and Cajun (fiddle) music. Differentiating Cajun and Zydeco music can be tricky, depending upon which local you ask and how many drinks they've had. Either way, the genres overlap.
Originally established for French-singing bands, Festival International still rocks the French vibe but is now a truly international event featuring 500 artists from 15 countries on six stages. For five days every April, this corner of Southwest Louisiana becomes America's free live-music capital. The festival debuts many rising stars as well as veterans from every curve of jazz, blues, rock and pop. African and Brazilian bands create their own orbits, but Louisiana's evolution of French folk often takes center stage. Because this is a free festival, navigating between the large and small stages is a cinch. An inexpensive upgrade means express-lane drinks and on-stage access. You really can't go wrong with this one.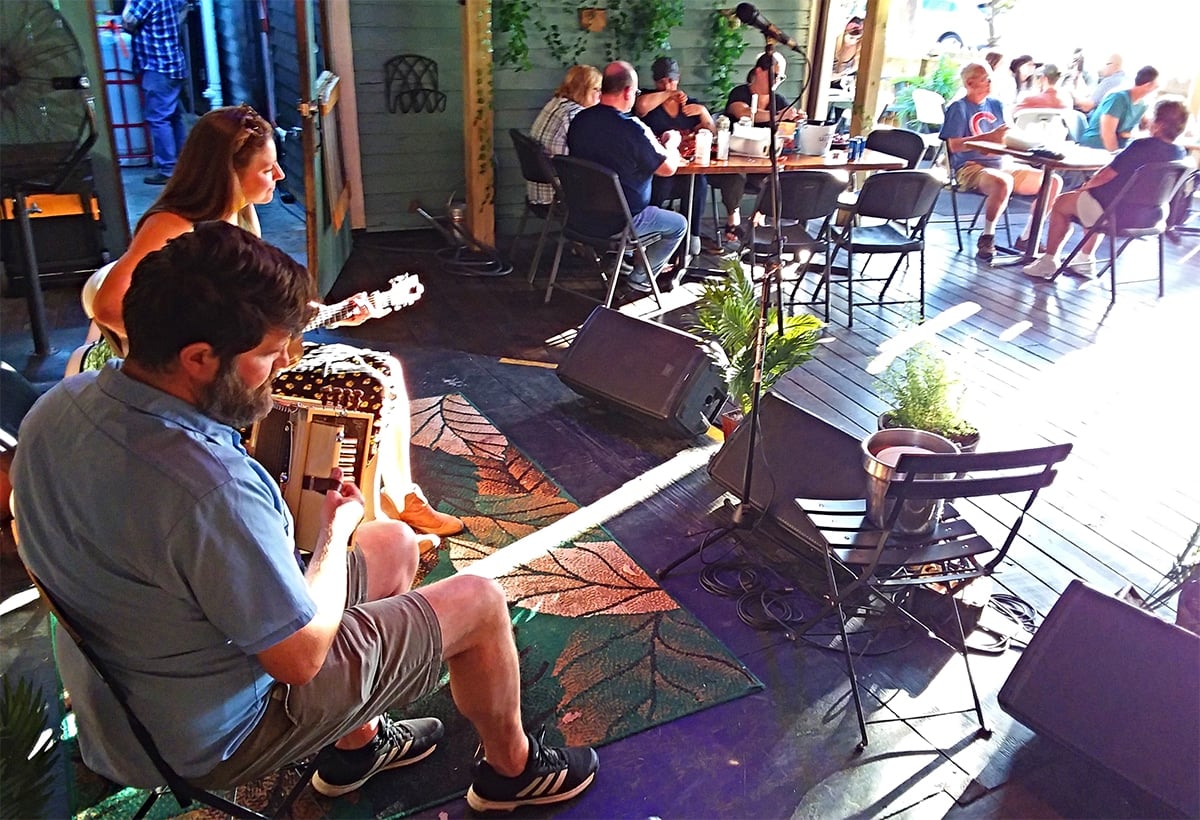 Lafayette, a very safe town, also celebrates the state's second largest Mardi Gras. It's hard to take a break from live music here, which is a good thing. The Hideaway is a rustic, year-round, open-air live-music joint that upgrades customers to gimlet or negroni cocktails. And, of course, before long, the outdoor dining area transitions into a dance floor. During crawfish season, you may find a Hawk's Crawfish Boil truck parked out front. Also, hit the ultra-local Judice Inn, a classic burger joint since 1947.
This small South Louisiana town with big energy was founded in the 1820s. A walking tour reveals gems that range from sushi to seasonal suds to broken-in live-music joints. One of Lafayette's stunning centerpieces is a 550-year-old Live Oak tree boasting a trunk with a 10-foot diameter. A cool place to hang your hat is Johnson's Boucaniere, a local hub for smoked meats, boudin (a traditional blend of cooked pork, rice, onions, peppers, and seasonings packed into a sausage casing), and homegrown music. The French Press has a James Beard-nominated chef that puts a forward-thinking spin on each dish, resulting in divine regional cuisine (start with gumbo) that's both modern and comforting. Walk off some calories by checking out the Alexandre Mouton House for an intimate, local journey back in time.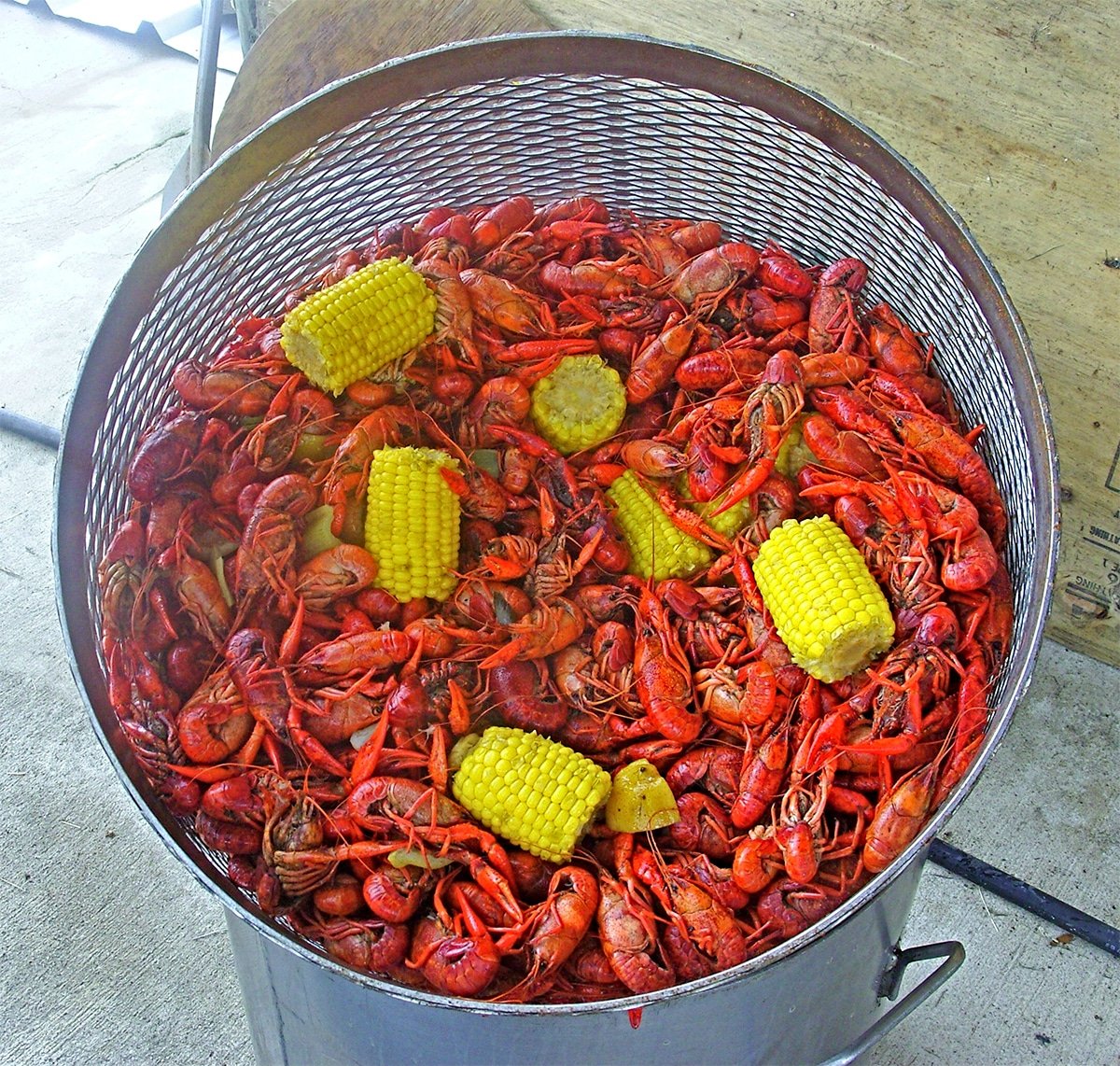 As a travel writer who has visited 150 countries, I don't usually do or recommend travel repeats. However, I first came to Festival International 13 years ago to make this video, and had to come back for another dose.
For more information, roam on over to Lafayette, Louisiana. The tourism folks from Lafayette also sponsor Swamp in the City, a Cajun and Creole music festival in New York City!

New Orleans JazzFest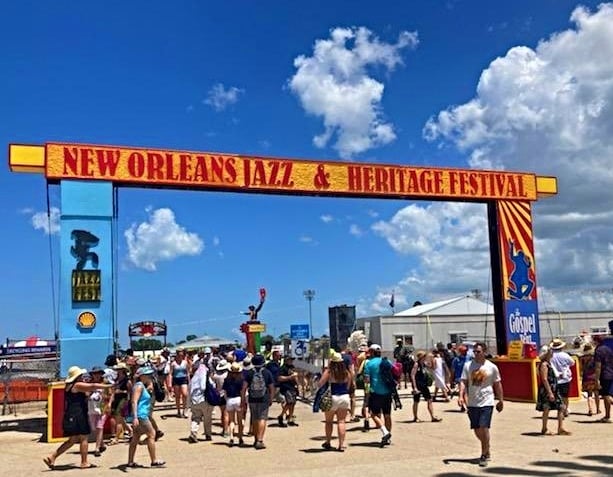 Whatever comes to mind when you hear music festival, forget it. Yeah, as you'd expect in this music capital, JazzFest, which involves multiple bands performing simultaneously, is a very special and unique cultural universe that goes way beyond the norm. First, check out the map below. Once a year for two weekends (last weekend of April and first weekend of May), a horse racetrack is converted into a massive festival campus. Jazz Fest ranks second to Mardi Gras in terms of local economic impact. Here are some vital JazzFest FAQ.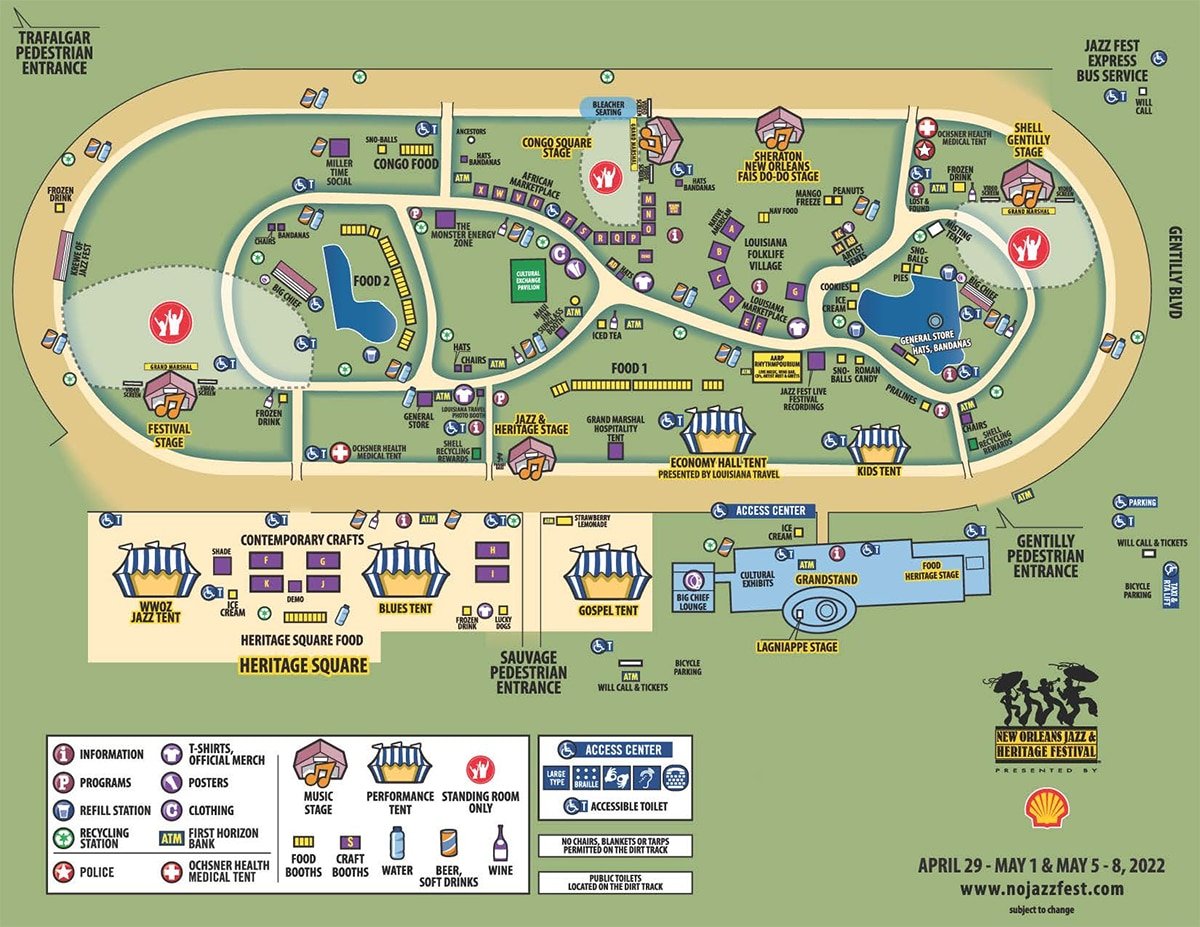 The massive New Orleans Jazz & Heritage Festival is also a Louisiana soul-food festival, as its culinary offerings almost upstage the performances. The festival features a variety of local food and craft vendors. There are more than 70 food booths that include local dishes like crawfish beignets, alligator-sausage or softshell-crab po' boys (otherworldly sandwiches), boiled crawfish, Cajun jambalaya, jalapeño bread, fried-green tomatoes, oyster patties, muffulettas (Italian sandwiches unique to New Orleans), and crawfish Monica (jazzed-up pasta). Vegan and vegetarian options are also available. All food vendors are small, locally-owned businesses. There are also numerous art and craft tents. They surely keep it real.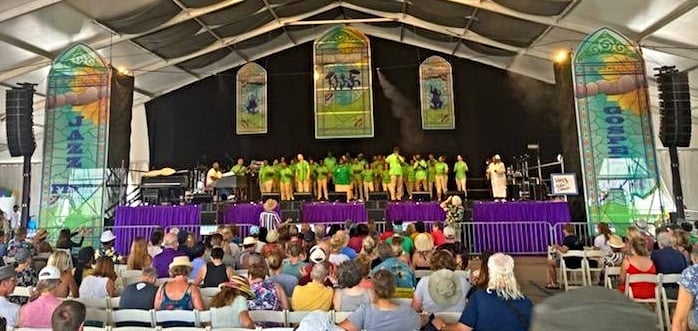 The music happens on a dozen stages, either outdoors or inside massive tents featuring non-stop Cajun and Zydeco prodigies, seriously magical gospel choirs, deep blues masters, and traditional jazz entertainers (clarinet heaven). You can roam between stages in a flash. Other stages rock bad-ass brass bands and divine swamp-pop. Swamp pop? Think opening chords to a Creedence Clearwater song. Along with featuring local acts (in 2022) like Anders Osborne, the main stage showcased giant acts like The Who and Red Hot Chili Peppers (who filled in for the Foo Fighters). You won't be bored here. Bring a sun hat and college-weekend-style endurance.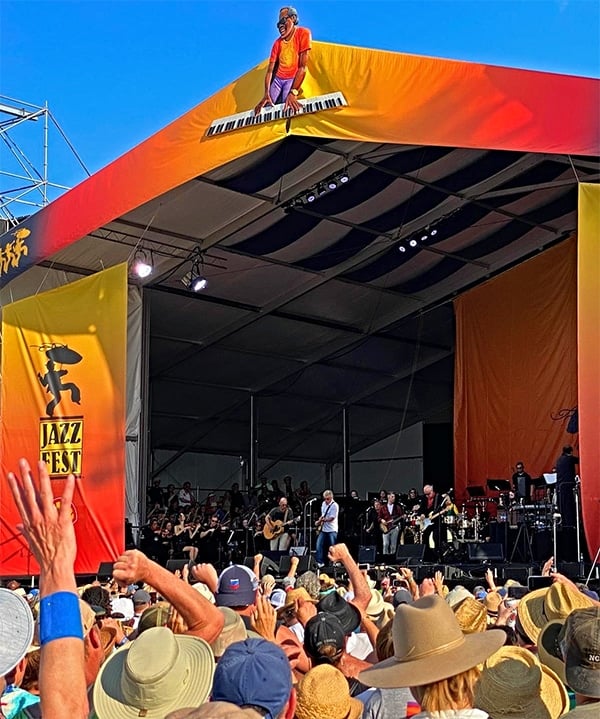 Comforting Cajun music, with all French lyrics, is the product of Creolization, like most other features of Louisiana French culture. European folk music at its core, the Cajun sounds blend German, Spanish, Scottish, Irish, Anglo-American, Afro-Caribbean, and American Indian influences with a base of western French and French Acadian-folk tradition. Got that? Let's just call it French bluegrass. The infectious melodies inspire couples to break into the Cajun two-step waltz anywhere, including restaurants during breakfast. The traditional Cajun instruments are the fiddle and triangle. Early Acadians had no instruments but soon learned to fashion their own from household items like spoons, washboards, and clacking sticks for percussion.
New Orleans, In Style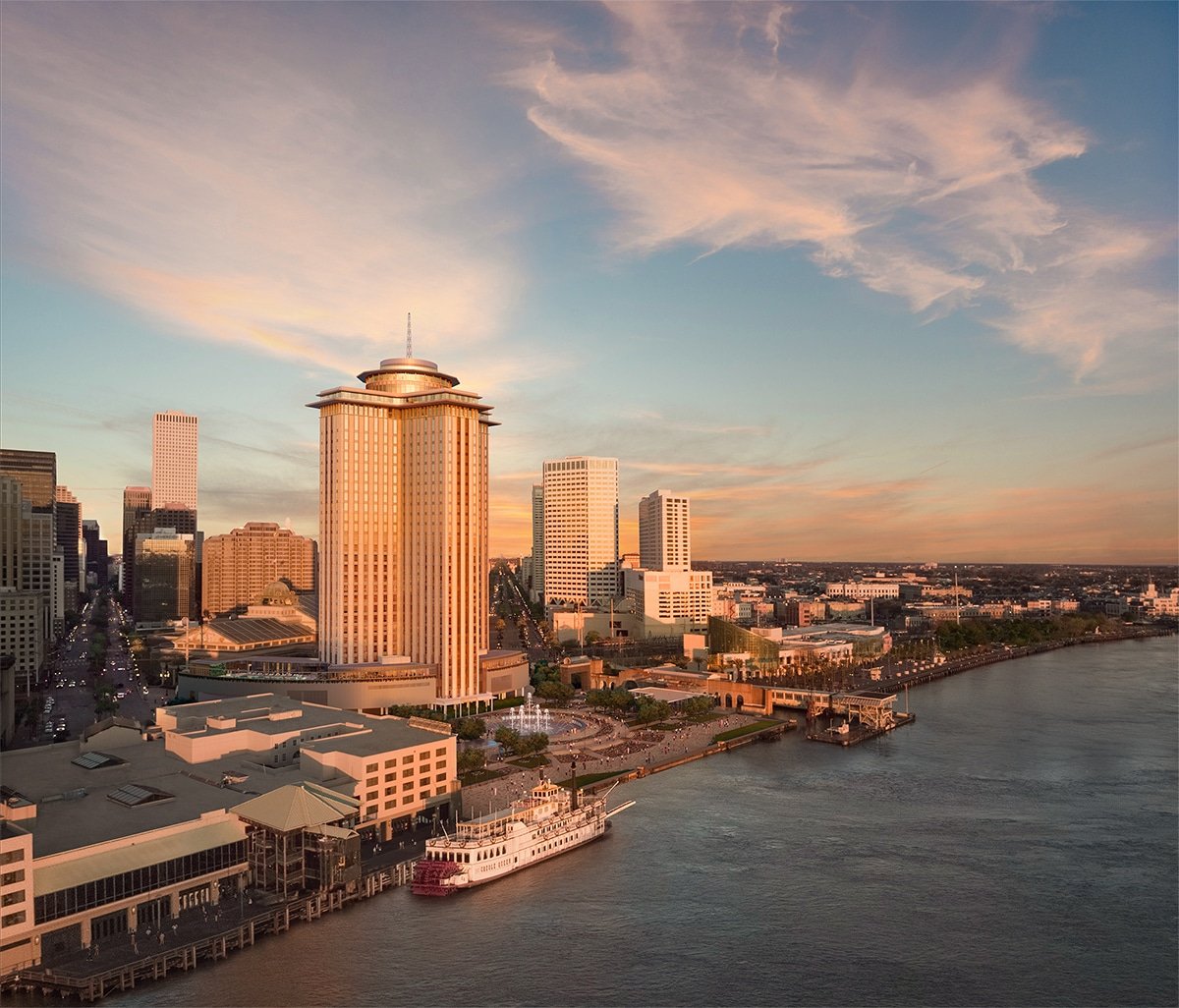 Well, you're gonna need a place to hang your hat. The Mississippi Riverfront Four Seasons New Orleans is in an iconic building that used to be New Orleans' landmark World Trade Center. It's been upgraded so that no aspect of luxury is overlooked. But, a bit of New Orleans hardworking soul creeps in every now and then when you hear either freight train or river-barge whistles. The hotel's two in-house restaurants truly stand out. The high-in-the-sky Chemin à la Mer has panoramic indoor and outdoor views overlooking the Mississippi River, where you'll enjoy a curated menu of Louisiana fare expertly executed with French technique, including a grand oyster bar.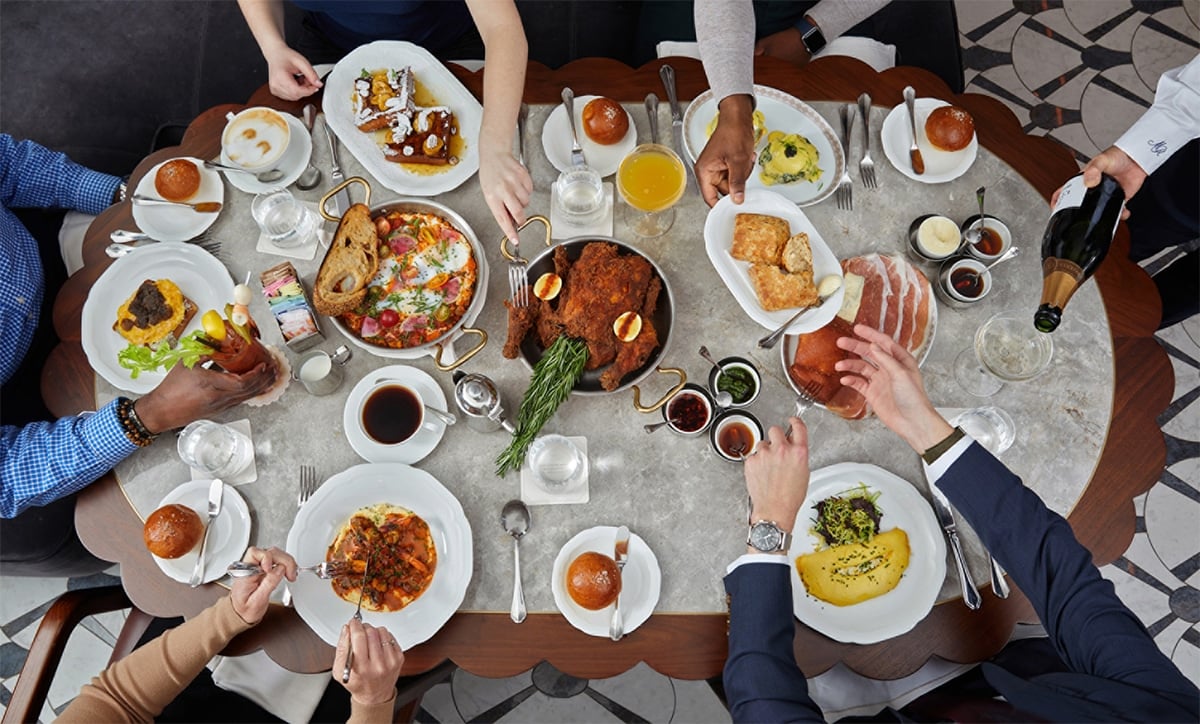 The signature lobby-level restaurant of the hotel is Miss River, a "love letter to Louisiana," as the concept is based on the celebrated chef's vast experience with the local culture and cuisine over his nearly 20 years as a resident. This ingredient-driven restaurant pays tribute to grand dining in New Orleans, showcasing the chef's spirited take on beloved local dishes (carved buttermilk-fried chicken), while providing surprise and fun to the indulging experience (duck and andouille gumbo). I enjoyed dining with Alfred Banks, a Louisiana native and acclaimed hip-hop star. We got to talking music. When our conversation landed on Boston's famed Berklee College of Music, he noted, "Just being in New Orleans is like being at Berklee." He's so right.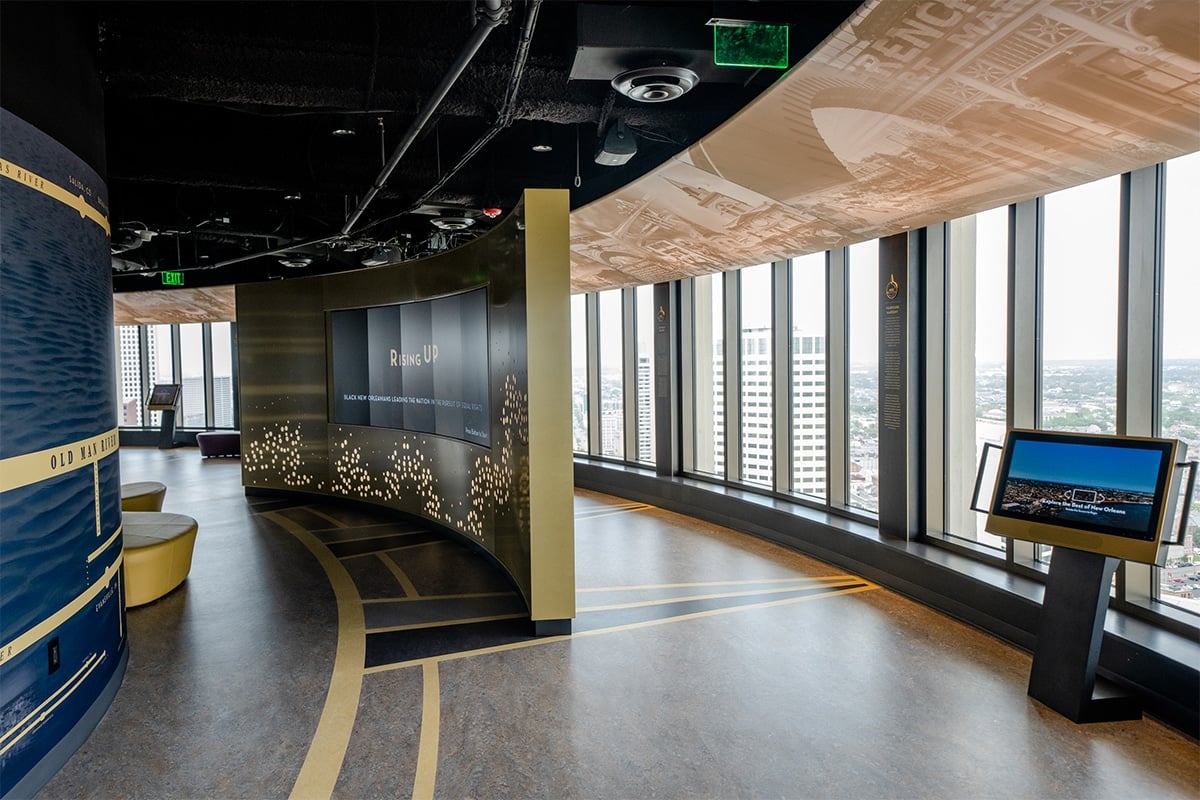 In the same building as the Four Seasons, check out the city's newest attraction Vue Orleans, a 35th-story panoramic view of the sprawling city. Discovering this riverside city from the region's only 360° observatory is a stunner. Along with indoor and outdoor viewing areas, exhibits highlight the Crescent City's history, culture, river transportation, food, art, festivals, and music. I've been visiting New Orleans since the mid-80s and finally comprehended how the city is pinched between a river and a lake after seeing it from this perspective. As a bonus, the ground floor of Vue Orleans is also an ultra-interactive Louisiana history museum.
More on Experiencing the Bayou State's Live-Music Lifestyle
Yeah, so I went to Mardi Gras in 1986 on a whim and ended up lingering in New Orleans for two months. This place gets in your blood. To enjoy a musical slice of the city's music anytime, tune into WWOZ, the guardian of the groove! National acts aside, this is the perfect sampling of the local music you'll hear at JazzFest, as they broadcast it live. Music is ingrained in the soul of Louisiana. The birthplace of jazz, Zydeco, Cajun, and swamp pop, Louisiana has also inspired genres ranging from blues and country to hip hop, gospel, rap, and rock 'n' roll. And there is a festival that celebrates every one of these rhythms!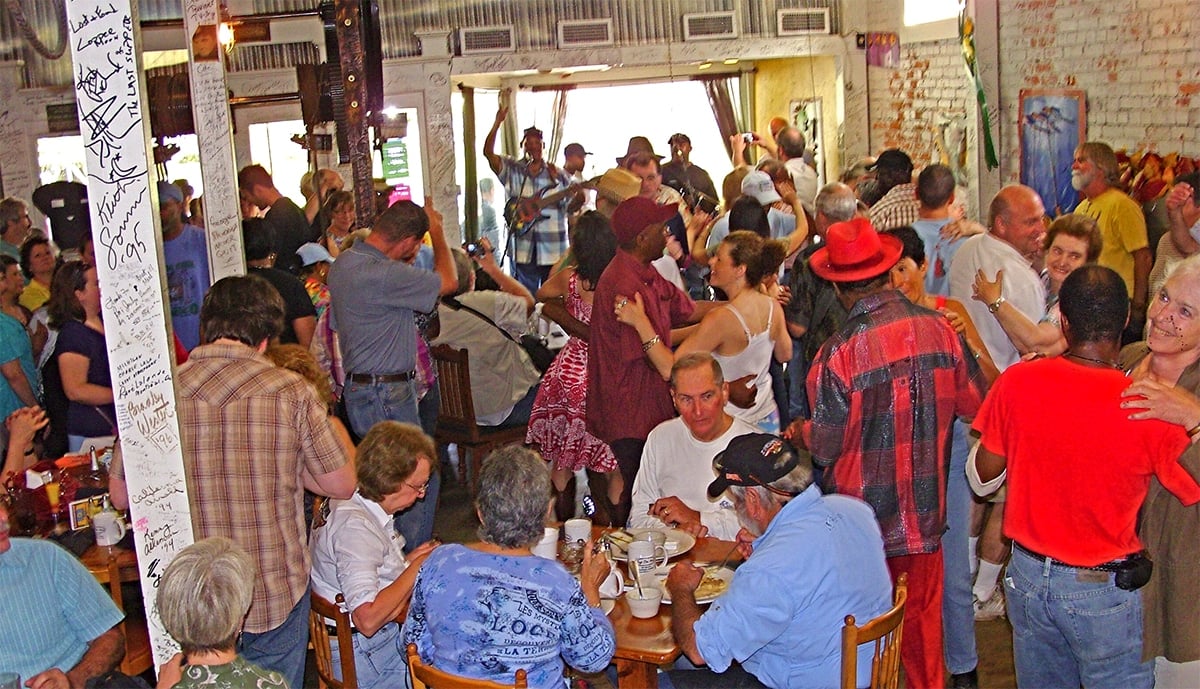 Nearly every traveling writer who visited Louisiana in the early nineteenth century commented on the genuine passion the state had for music and dancing—both impromptu in the streets and in elaborate ballrooms. Louisiana can be Spring Break for anyone, anytime, at any age. Magically, there's an absence of ageist and trendoid discriminations. The key difference to partying in this eternal song-land versus other party zones is that instead of narrow musical classifications, you step into a melodic universe that's blind to flash and computerization.
FOR MORE: Check out Louisiana Travel and NewOrleans.com to start planning the musical and culinary expedition of a lifetime.
PHOTO CREDITS: Lafayette photos by Bruce Northam. New Orleans photos courtesy of Will McGough, Larry Lovell, and New Orleans courtesy of Louisiana Travel.