We all know the lore of Napa Valley. Its legendary wines are famous, and for good reason. But what most people don't know is that some of the finest pinot noir in the world is crafted 30 miles to the west, tucked away in the rolling hills outside the Marin towns of Sebastopol, Bodega and Freestone. Bordering the world-renowned Russian River Valley and Sonoma Coast appellations, this region is known to locals as "West County," Sonoma.
For many who live in wine country, Sonoma is the preferred location for a day of wine-tasting. There are often smaller crowds, and the rustic vibe feels more like old-style Napa before the hordes of tourists began showing up to create their own rendition of Sideways. I wanted an authentic West County experience, so I recently sat down with Ken Freeman, owner of the award-winning Freeman Vineyard & Winery, to see how a Sonoma local would spend a perfect day in West County. I then took his recommendations and set out on my own to experience them for myself. The result was a day of indulgence composed of eating organic local foods, exploring artisan shops, and of course, tasting excellent wines…perfect by my standards. Here's the itinerary if you'd like to experience this perfect day in Sonoma for yourself:
Brunch at Lowell's, 7385 Healdsburg Avenue, Sebastopol, CA
Begin your day with organic delicacies at Lowell's in Sebastopol. The owner is a farmer in the area and everything he serves is sourced within five miles of the restaurant, with 60% coming from his own farm during the summer. Take a seat in the back atrium to bask in the morning Sonoma sun while sipping coffee and perusing the menu.
After much debate, I ordered the scone plate with housemade jam and local butter as a starter. For the main event, I went with the frittata of the day made with fresh local mushrooms, goat cheese and eggs. Incredible. Other favorites are the the classic Neapolitan pizza and the "Pizza 'Scarole," topped with housemade pork sausage.
Wine-tasting at Freeman Vineyard & Winery, 1300 Montgomery Road, Sebastopol, CA
About five minutes up the road, I visited Ken Freeman's place where I was met by Ken's wife—and head winemaker for Freeman Vineyard & Winery—Akiko, who led me to the tasting room inside their magnificent wine cave.
I began sampling Freeman's award-winning varietals while touring the hundreds of barrels of future vintages and discussing how the winery came to be. After years of searching for the perfect location, Ken and Akiko realized their dream in 2001 under the guidance of famed winemaker Ed Kurtzman. Just a few years later, their handcrafted, small production wines were being served in the finest restaurants around the world in Paris, Hong Kong, London, San Francisco, and even Washington, D.C., at a White House State Dinner.
Freeman specializes in pinot noir and chardonnay, as most wineries in the region do. Each wine is elegant, well-balanced and very approachable for connoisseurs and casual wine drinkers alike. You can sample their wines in the cave or outside in the redwood grove. Tastings are available at Freeman Vineyard & Winery by reservation only and can be scheduled on their website.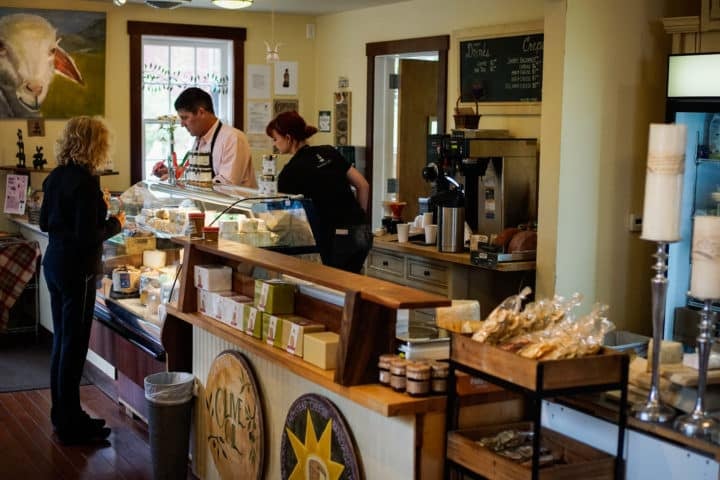 Pit stop at Freestone Artisan Cheese, 380 Bohemian Highway, Freestone, CA
Before my next tasting, I took a quick trip to Freestone Artisan Cheese off the Bohemian Highway. At a true cheese-lover's paradise, you can taste and purchase cheeses from production cheesemakers and entrepreneurs, all of whom live within a 20-minute radius.
Seven years ago the owner, Omar, quit his job as a specialty wine and beer buyer and attended the Vermont Institute for Artisan Cheese (VIAC) to learn the art of fine cheesemaking. Upon graduating, he moved home and was given the opportunity to open his shop—to the benefit of us all!
After tasting several cheeses made from cow, goat and even buffalo milk, you'll no doubt want to purchase a couple favorites for the road, possibly along with some local olive oil and bread to accompany the—a decision you won't regret.
Tip: If you're looking for the perfect pairing with your cheese purchase, visit Wild Flour Bakery down the street for a fresh-baked loaf of French bread from their wood-fired brick oven.
Wine-tasting at Emeritus Winery, 2500 Gravenstein Highway North, Sebastopol, CA
Emeritus Vineyards was born in 1999 when Brice Cutrer Jones purchased a prime apple orchard in the heart of the Russian River Valley. The 115-acre parcel, Hallberg Ranch, is located two miles north of Sebastopol and directly on the Gold Ridge, the ten-mile long ridge that bears the name of the predominant soils of the area. The orchard was replaced with vineyards and the legend of Emeritus Vineyards began.
Today, Emeritus continues its legacy of world-class wines, and its new tasting room and patio further enhance the guest experience. Instead of a traditional bar setup, Emeritus chose to go with a more personal approach with clusters of cozy couches and chairs indoors and out. The result is a fantastic tasting experience that feels more like the living room of a close friend than a winery. Reservations are not required for a tasting but recommended for larger groups.
Dinner at The Barlow, 6770 McKinley Street, Sebastopol, CA
After a day in Sonoma County's beautiful countryside, head back to town for a casual dinner at the newly minted outdoor market district, The Barlow. This 12-acre community of 30 shops and restaurants features local food, wine, beer, spirits, and crafts made onsite by Sonoma County artisans.
Once you've acquainted yourself with the area, perhaps stopping for a drink or indulging in some retail therapy, choose one of the outstanding farm-to-table restaurants for dinner from Mexican-style street food at Barrio (which is also served at Crooked Goat Brewery) to rustic northern Italian at Zazu Kitchen + Farm. For dessert, head to Two Dog Night Creamery for some gelato-style ice cream. In terms of where to eat, you simply can't go wrong as everything is made with the highest quality ingredients, so I recommend parking the car and walking around until you find something that catches your eye. With so many options, it's easy to find something for your taste and budget.
If you're looking for some after-dinner entertainment, head to Hopmonk Tavern. This casual brewpub has an impressive local beer & wine selection and live bands every Friday and Saturday.
Have you been to Sonoma's West County? What are some of your favorite wineries, restaurants and activities?