From nestling up inside a 170-square-foot cozy, upscale shed to wallowing in 1,875-square-feet of Adirondack chic, these two vastly differing but equally inspiring digs highlight this mountainous region's far-reaching variety. Located on opposing sides of Lake Placid's "downtown," the nicely hobbled-together, intimate Eastwind and the grand Whiteface Lodge are spot-on options to dually perceive this eternal Olympic Village. Driving there via the toll-free Adirondack Northway is a super-highway cruise through a piney-mountain paradise. Lake Placid goes beyond a four-season getaway—it's an irresistible American landmark that celebrates the best of New York State's stunning North Country.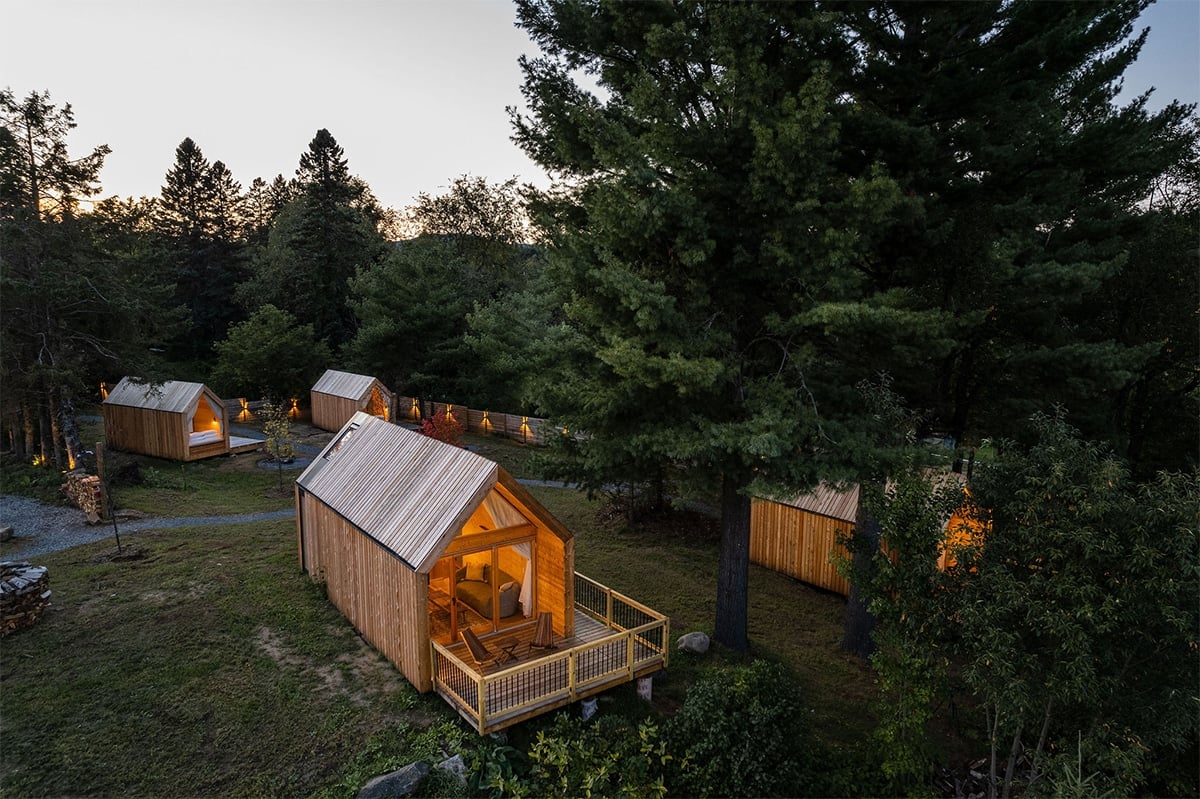 EASTWIND
Eastwind Lake Placid is more than a collection of different lodgings. It's an experience. The 26 intimate accommodations—17 rooms and eight cabins including lofts, suites, and studios—all coax you toward a nightly fire pit, a gigantic metal burning-bowl encircled by reclined teak chairs. A highlight here is the way guests interact with staff, especially in the check-in lodge that doubles as a bar-lounge and campus community center. The approachable and well-traveled owners and staff ensure that your stay in this genial hodgepodge of lodgings is down-to-earth fun.
Each simple tiny house, called lushnas, recreates the Scandinavian notion of camping (glamping, actually) without sacrificing comfort. Petite lushnas sleep two in a king-sized bed and have modern bathrooms with showers but no kitchen. One of your walls is a giant window that invites Mother Nature into your hideaway. It's like being in the woods without enduring the elements. They also offer 400-square-foot lushna suites. All of them have outdoor fireplaces and decks. The 170-square-foot tiny house we stayed in is their smallest option. Other lodgings include a renovated, historic motor lodge and bed and breakfast-style rooms in a modernized house.
The campus is blessed with hammocks swaying in the wind and a community BBQ area. You can also enjoy the vintage library, private dining room, outdoor barrel sauna, and seasonal pool. Explore the area on Retrospec bikes, as downtown Lake Placid is a five-minute pedal away. The code for your room door lock comes via text along with a terrific list of local restaurants, breweries, and hiking options. You're gonna dig this avant-garde getaway.
WHITEFACE LODGE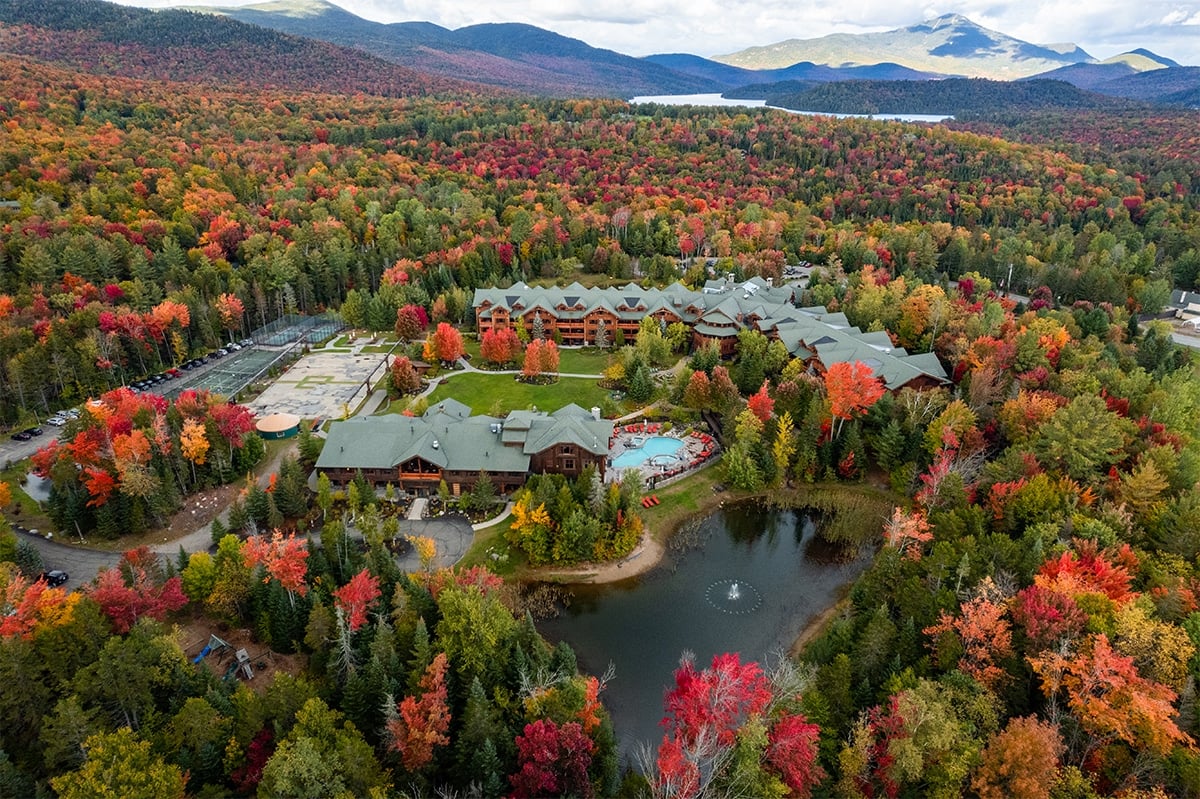 The Whiteface Lodge is Adirondack cabin panache on steroids. Staying in this enormous 96-suite lodge is nothing like a typical fancy hotel experience. It feels more like you're staying at your rich friend's ski house while they're away. I enjoyed their largest choice, an 1,875-square-foot three-bedroom suite spanning two levels—a classy, rustic palace. It had a full kitchen, a six-seat dining room table, and a washer/dryer to boot. The lodge also has more understated 700-square-foot suites.
It has two inviting restaurants. Peak 47, a play on the Adirondack 46ers Club, is a roomy-yet-cozy restaurant/tavern. A real-wood fireplace adds to the peaceful vibe and the mushroom soup takes the ambiance up another notch. Across the way from Peak 47 is the fabulous Kanu (canoe) restaurant that's as vast as an indoor basketball gym. Here, the open-kitchen restaurant's 500-plus wine list is difficult to focus on, as your eyes scan the 35-foot-high pitched-timber ceiling's skylight while stuffed moose, bobcat, and deer; five steely chandeliers; and a dangling canoe snatch the mood. Oh yeah, this feasting universe also features dueling 25-foot-high fireplace hearths. It's also the breakfast spot where the hearty buffet includes mammoth blueberries and blackberries.
This v-shaped wood castle fronts the sprawling courtyard and activities center, which double as conference and wedding spaces. Outside, there are two campfire-cool options, a huge chair-encircled fire pit, and two cozy lean-tos next to a fire that have phones if you need bar and food service. The campus also has an indoor/outdoor pool and two outdoor Jacuzzis, skating rink, basketball hoop, tennis courts, snowshoe and cross-country ski trails, and a catch-and-release pond.

Indoor activities include the Spa at Whiteface Lodge, where the massage therapists mean business. There's also live entertainment, yoga and circuit training classes, feature movies in the 56-seat surround sound Trail Side Theater, a bowling alley, a game room, and gym. Even the worst weather conditions can't kill the buzz at this grand getaway.
DINING IN LAKE PLACID
The rustic Dack Shack (AdironDACK, get it) is an ultra-casual bar/diner concealing a gourmet chef. This unpretentious Adirondack-style cosmos truly rocks the fried Brussels sprouts, fish tacos, clam chowder, and ahi-tuna poke. It's attached to the Simply Gourmet deli's fresh options, which includes 46 sandwiches. Behold both at EatLakePlacid.
The Greeks is a timely new addition to the local palate where the authentic Mediterranean bliss shines bright. Luna Restaurant, where, although modern art lines the walls, the menu embraces comfort-food classics. Noon Mark Diner, in the nearby and storied Keene Valley, is everything a diner should be: run by longtime pros who share tough love, a homemade-inspired menu, and fried haddock with mashed potatoes slathered in brown gravy.
HIKING IN LAKE PLACID
Visiting the Lake Placid region and not checking out High Falls Gorge is like visiting NYC and not eating pizza. A multi-stage waterfall cuts through a gorgeous gorge and a network of trails, cliff-edge staircases, and bridges put you right into the heart of it all. A more local, free option is a nearby trail leading to Owen Pond, which is part of Sentinel Range Wilderness Area.
To get this voyage going, visit LakePlacid.com and also check out the Lake Placid Legacy Sites website and ponder a visit to experience the collection of iconic venues—Olympic Center, Olympic Jumping Complex, Whiteface Mountain, Mt Van Hoevenberg, and Lake Placid Olympic Museum.
Coming soon! The FISU World University Games is the world's largest international winter multisport event for collegiate athletes ages 17-25. The 11-day, Jan 11-22, 2023, Lake Placid 2023 FISU Games is expected to attract as many as 1,500 athletes from more than 50 countries and 600 universities, competing in 12 winter sports and 86 medal events. Stop by www.lakeplacid2023.com.
Also consider the annual 22-years-strong Lake Placid Film Festival in 2023, as it pays tribute to countless films, filmmakers, industry professionals, and film fans. It brings professional coaches to the festival to help not only North Country filmmakers but also filmmakers countrywide. The festival also highlights the ongoing efforts of the Adirondack Film Commission, which will help with permitting, location scouting, extras, and everything from electricians to camera operators, to gaffers, to hairstylists—and not counting out supporting cinematographers, casting directors, and acting coaches.