By Juliet Pennington:
There may come a time when, rather than saying you're going to Las Vegas, you will say "I'm going to CityCenter." Opened less than one year, this $8.5 billion development built on nearly 70 acres in the heart of the Las Vegas Strip is fast becoming known as a destination unto itself.
Why do people go to Vegas? Gambling, dining, nightlife, shopping, luxurious lodging … CityCenter has all of that and more – and it's still a work in progress. New stores are opening in Crystals, the high-end retail and entertainment mall that combines dramatic architecture and design with luxury brands ranging from Tiffany & Co. to Louis Vuitton, and the fourth property, The Harmon Hotel, is scheduled to open soon.
Already welcoming guests are the 61-story Aria Resort & Casino, with 4,004 rooms, the Mandarin Oriental Hotel/Residences (400 rooms/227 condos), and the 1,543-unit Vdara Condo/Hotel tower. The 37-story leaning twin Veer towers are private residences featuring 337 luxury condos.
As with all large projects, there have been some stumbling blocks. The sour economy has meant more room vacancies than had been predicted, and then there was the issue with an architectural flaw in Vdara that made the news. On hot days, when the sun hit the hotel's glass-sheathed curve, it produced a beam that would get so hot that it could actually melt plastic and burn skin. The architectural defect, which hotel executives say causes a "solar convergence phenomenon," is being addressed.
The complex, which is contemporary and lavish, with fountains and water features and more than $40 million worth of fine art on display, has ¼ mile of Strip frontage. The properties are all connected by aesthetically appealing walkways and plazas that give CityCenter, owned by both MGM Group and Dubai World, its own identity and feeling of being a modern metropolis.
I stayed at Aria, which specialized in fine service and state-of-the-art amenities, including a television remote that not only controls the TV, but the lights, temperature and curtains. My room was average sized, but very sleek and modern looking with a great view of the mountains. The bed was very comfortable, with crisp, white sheets, and the nighttime turndown service – complete with soft lighting, mellow music and a bedside treat – added a nice touch.
CityCenter runneth over with restaurants, and I was only able to sample a handful in the weekend I was there. My first meal at Sirio Ristorante, a yummy Italian restaurant that served Tuscan-themed traditional fare, started off with perfectly-seasoned marinated artichokes with flatbread, followed by a hand-made spaghetti with a light, flavorful marinara sauce. I topped off my meal with the Sicilian-style cannoli filled with ricotta cheese, dried fruit and pistachios. A real treat! My friend ordered the crème brulee, which was also delicious.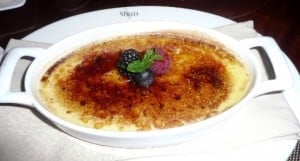 The next day I had lunch at Julian Serrano, which serves classic Spanish fare including tapas and paellas. While the piguillo peppers stuffed with goat cheese and mushrooms were a tasty appetizer, they did not compare to the vegetable paella that tasted as great as it looked. The vegetables were seasoned perfectly and cooked just right, and the mix of flavors topped the best paella I have ever had. Surprisingly, it was better than those I've had in Madrid and Barcelona.
While it was tough to top Julian Serrano, BAR MASA at Aria came close, thanks to the scrumptious creations of renowned Japanese chef Masa Takayama, served in a casual, airy space with high ceilings and small drop lights. The spicy cucumber tataki, tempura and vegetable rolls were delicious, and filling. Despite that fact, I could not resist the savory sautéed eggplant or the main dish, a delicately seasoned crispy-topped tofu creation that was not on the menu – but should have been.
Visiting Las Vegas? Find Deals, Compare Rates, and Read Hotel Reviews on TripAdvisor
With all of the eating I did, I felt compelled to dance away some of the calories, and once again I did not have to leave CityCenter to find what I was after. The first night I checked out "Eve," the nightclub in Crystals that is owned by Eva Longoria. My first impression was that it was pretty small, but the number of people who were admitted was clearly controlled because it never felt too crowded on the dance floor. The music was a good mix of techno and hip-hop – delivered via a first-rate sound system – and the bartenders were friendly – something you don't always find at chic Vegas clubs. The rotating video screens that surround the dance floor are pretty cool, as are the lighted drink menus, and the large windows offer great nighttime views of CityCenter's striking architecture. The club is located above Longoria's restaurant, Beso, which I didn't get to but is said to serve very good food.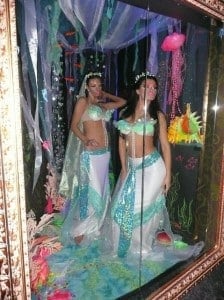 The next night I went to Haze, located at Aria. The two-level club was a trip. Oversize hanging props greet patrons, who are then welcomed by dancers in dramatic makeup, towering above the dance floor on stilts. Guests can ascend a grand staircase to the mezzanine level, where they are afforded a birds-eye view of the laser lights and the action down below. As with Eve, Haze is a celebrity hotspot. On the night I was there, British R&B singer/rapper Estelle was on the mezzanine level celebrating her birthday with friends.
What is a trip to Vegas without something Elvis? I was fortunate enough to catch the show "Viva ELVIS," a Cirque du Soleil performance in Aria's impressive modern theater. Even if you're not a big Elvis fan, the show is worth seeing, as the acrobatics are alternately astounding and hilarious, and there is an interesting story to be told. If you're an Elvis enthusiast, then fasten your seatbelt, because you're in for quite a treat. A gift shop that sells all things Elvis is conveniently located outside the theater's exit, and based on the foot traffic after the performance I attended, the singing sensation from Tupelo, Miss., is still the king.
Since I was catching an evening flight, I decided to top off my visit to Vegas with high tea at the Mandarin Oriental Tea Lounge. The warm hues and cozy atmosphere provided just the right backdrop for an afternoon respite. Located on the hotel's 23rd floor, the Tea Lounge offered spectacular views to go along with the variety of epicurean delicacies and the English- and Asian-inspired teas. I ordered a mix of mini-cupcakes that were rich and scrumptious. My favorites was a s'mores cupcake topped with roasted marshmallows. A perfect sendoff after a great visit toLas Vegas, er, CityCenter.
WEB RESOURCES