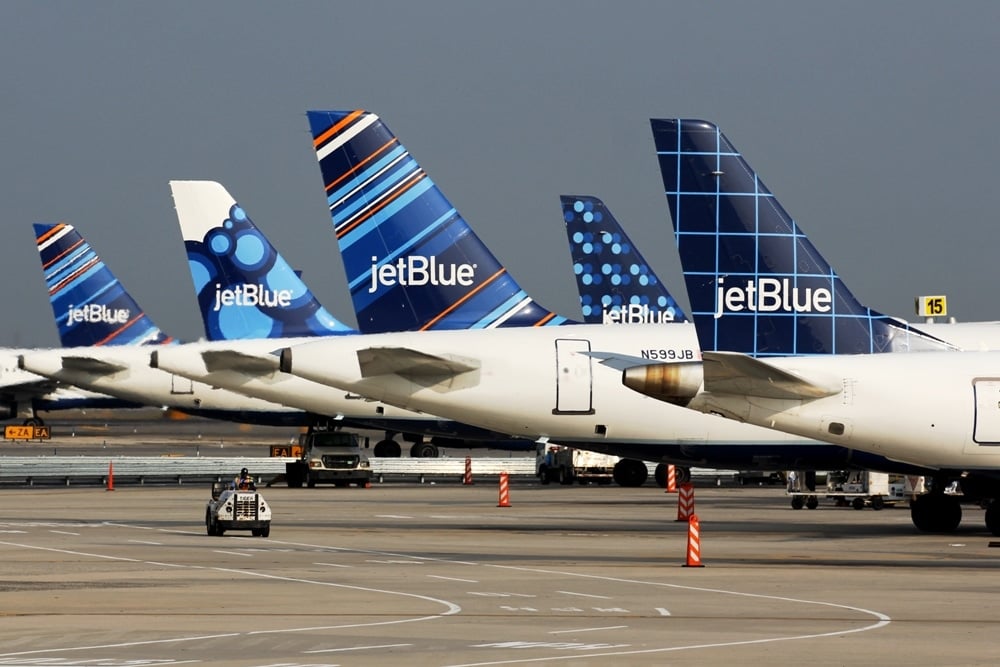 A friend of mine just texted me a screenshot (below) of an email of their JetBlue flight for tonight from Florida to New York and it reads: "Take-off: Today, 9pm. Landing: Tomorrow, 4:49pm. Flight Duration: 19 hr, 49 min.
My friend asked if I knew what was up and if JetBlue was playing an April Fools' joke or what. I said, "There's no way JetBlue or any airline in their right mind would play a joke like this since so many people are already afraid to fly and don't need any more stress." Including my friend's spouse, who is also on the flight tonight.

She then wrote back that her flight was delayed by two hours. I replied telling her not to show up to the airport late because airlines can rally to: get a new part, aircraft, crew member(s) or the weather could clear up. It all depends on the situation.

Really? she said, like she didn't believe me. A few minutes later, she wrote: It's a good thing I asked you because we were going to show up to the airport late. She then texted to say that I was right. The flight was just moved up by almost an hour.
In the meantime, I checked out JetBlue's flight tracker to see what was up with the erroneous long flight duration and noticed they do have a warning that states: "Delayed flights leave as soon as possible. Please be at the airport 60-90 minutes prior to Scheduled Departure."
Having a delayed flight is usually no fun but it's even worse if you show up to the airport thinking the flight is delayed, only to find out it went out on time and you missed it.
This has almost happened to me multiple times but I've learned over the years to:
-Show up at the airport in advance
-Not go too far from the gate if I'm already at the airport
-Continue to monitor the flight by checking the departures board
-Check the airline's website, Tripit and other apps for flight information
I also always track the inbound aircraft, which is especially important if you're flying from a destination where the airline only has one flight a day (and is not a hub) so you know they then can't leave early.
For example, my wife, son and I were in Bermuda a few years ago, heading to London. Just before leaving for the airport, I learned our flight was delayed by 12 hours. We obviously weren't going to hang out in the airport for 12 hours but you can bet I kept tracking the status.
This also happened to one of my reader's kids just the other day. Reader Paul wrote: "Just this past Sunday our daughter and son in law were booked on Alaska Airlines flight 40 scheduled to depart from SFO to Orlando at 7:15 AM. Because a one hour delay had been announced, they, along with their 1 1/2 year old daughter, made a leisurely visit to the Alaska Lounge only to subsequently discover the delay had been shortened to 1/2 hour. A race to the gate enabled them to make the flight but they were reassigned to two center seats due to the "late" check in.
As Paul wrote: "This is an uncommon situation but it's obviously not a good idea to assume that a posted departure can't actually be shortened by an airline."