Michaela Guzy, Founder of OhThePeopleYouMeet.com, from Nairobi, Kenya.
Nairobi is a city of the most extreme diversity.  After weeks in the bush, it felt great to wash off the dirt and wear the limited non-safari gear in my bag.  Admittedly, Nairobi gets a bad rap.  Sure, you have to use your head, however, this city has become one of my favorite places on this earth– in large part to the millions of Kenyan smiles you are greeted with at every turn no matter the race, ethnicity or income level of the people you meet.  In a day, you can start with a morning run around the giraffe centre in Karen (a wealthy suburb), pop by a local designer (see a few favs below) and visit one of the many charitable organizations working within the slums of Nairobi.  Word of warning:  make sure to leave yourself the time…the traffic is maddening, fighting the maniac matatu's (they make NY taxi drivers look like angels) on the "roads"  (to be used loosely) can take you a few hours to get from point A to point B.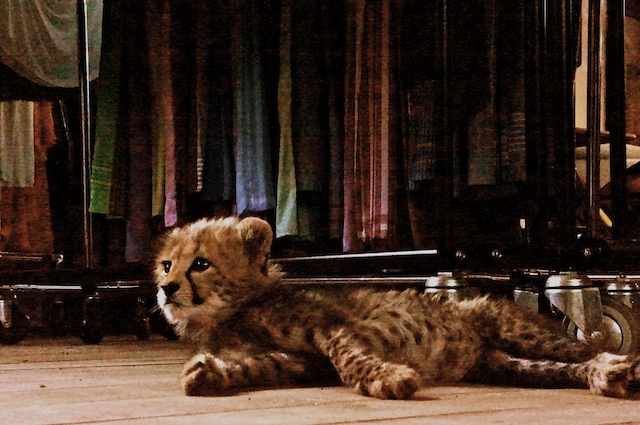 This three month old cheetah has a calcium deficiency.  Local designers, Anna & Lana Trzebinski (Anna's daughter) are nursing back to health before releasing back into the wild. In the meantime, this guy just runs around Anna's shop!
NAIROBI INDEX:
1. Where to stay
2. Local designers
3. Cultural and family activities
4. The slums and the charities that support them (AMREF and OneLifeAfrica)– a life changing experience and trust that your donation is in the hands of the right people.
1.  WHERE TO STAY: 
I've heard great things about Giraffe Manor and House of Waine, though I didn't personally stay at either.  Rumor has it, they are on the very high-end side of things.  While I love a good pampering, I prefer more relaxed and understated luxury.  I was not disappointed with Cheli&Peacock's recommendations of Ngong House (tree houses and one of the best shops EVER) and Hogmead (like a very large home and great views of the giraffes).
2.  FAVORITE LOCAL DESIGNERS:
– Anna Trzebinski, born in Kenya and married a Masai who she met while on a camel safari.  In addition to being an amazing high-end fashion and home designer, she also helped create the "look & feel" of Lemarti's Camp in Northern Kenya (her husband, Lemarti, runs the lodge).  I walked out with a beautiful beaded wrap dress, sandals from the latest collection and a signature handbag.  Visits can be arranged to her studio or you can order through her website. Typically a two-week turn-around for delivery to the states.
– Lana Trzebinski (below), is currently working out of her mother's shop.  At the ripe old age of 19, she is making very chic, more casual/beachy wear.  Moderately priced in the $70-$200 USD range.  From jersey dresses, slick t-shirts, horn-buckle belts (got one) and great skirts (also bought one of these) + tops.
– Penny Winter, Belfast born designer, married to Paul, owner of Ngong House– where her shop is located.  Let's say I bought a pair of earrings that I've not taken off in weeks and a necklace.  While her jewelry is amazing and decently priced ($60 USD+), her clothing is more spectacular ($250 USD+).  I walked out with an olive green silk cat-suit (very safari chic) and a cream canvas blazer to match.  A custom ordered chocolate brown leather jacket with horn buttons is being made as we speak and shipped to the USA.  The shipping is what will get you, so order lots from her site or better yet, go in person.  She also has great scarves, belts and dresses.
– I was sent to Charlotte Lefebvre of Bush Princess by Penny Winter.  Certainly the most reasonably priced local designer I'd met yet.  When I found the handbag design I loved (amber XL), but wanted in olive green suede vs. grey, she had made at my request in under 24-hours (only about $200 USD).  In addition, I couldn't help but buy myself a cow-hide clutch (approx $50 USD) and plenty of gifts for friends and family.
3.  CULTURAL & FAMILY ACTIVITIES:
– Karen Blixen Musuem & Gardens (1885-1962) is famous for her memoir, Out of Africa. She wrote in English, after living on a coffee farm in Kenya from 1914 to 1931.  If you are staying in Karen and or a fan of Out of Africa, I would suggest popping by for a visit and rose lunch in the gardens.
– Giraffe Centre: The Giraffe Centre was founded in 1979 with the mission to create an educational institution in conjunction with rescuing the endangered Rothschild giraffes.  A great activity especially with younger children.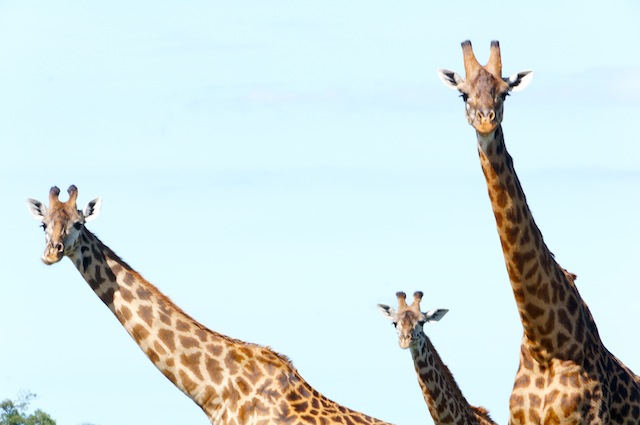 – Nairobi National Park is the only protected area in the world close to a capital city. The park is located only 7 km from Nairobi city centre.  Major wildlife attractions are the Black rhino, lion, leopard, cheetah, hyena, buffaloes, giraffe, zebra, wildebeest, elands and diverse birdlife with over 400 species recorded.  Other attractions include the Ivory burning site Monument, Nairobi Safari Walk, the Orphanage and the walking trails at hippo pools.
Note:  while I was staying at Hogmead, apparently two lionesses escaped the park and were roaming around Karen!
– The David Sheldrick Wildlife Trust is a small charity (began in 1977) to honor Naturalist, David Leslie William Sheldrick MBE, the founder Warden of Tsavo East National Park in Kenya (8069 sq. miles) is home to Kenya's single largest population of elephants and a greater biodiversity of species than any other Park in the world. In a country where an expanding human population is making increasing demands on the land, there is no better form of land use for this region than under wildlife. Tourism is a main source of foreign exchange for the country so Tsavo under wildlife is an extremely valuable national resource.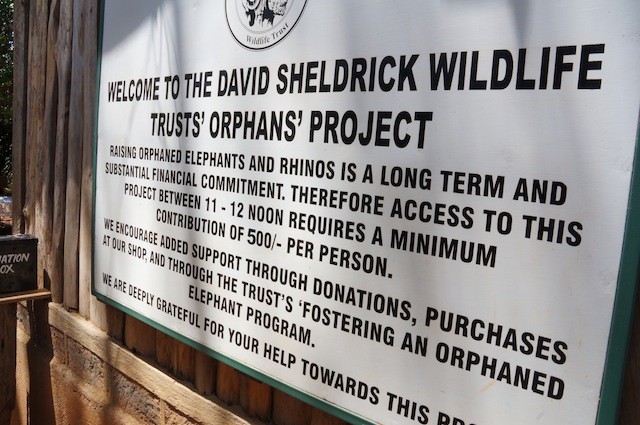 The Trust was also the pioneer of Kenya's very effective conservation strategy to retrieve the highly endangered Black Rhino from extinction, something that has been emulated elsewhere in Africa. It masterminded the concept of electrically fenced enclosures within the Protected Areas so that outlying survivors of the species could be concentrated for breeding purposes. Aside from purchasing Crates and constructing Relocation Holding Stockades, the Trust was instrumental in the establishment of Kenya's first enclosed Rhino Sanctuaries in Tsavo West and Lake Nakuru National Parks. It also pioneered the free release of excess animals from these Sanctuaries into Tsavo East, mindful of the fact that should security collapse (as it has in the past), enclosed rhinos are more at risk than those living free.
4. THE SLUMS AND THE CHARITIES WHO SUPPORT THEM:
A.  African Medical and Research Foundation (AMREF), in the Kibera slum, Nairobi, Kenya:  AMREF's vision is for lasting health change in Africa: communities with the knowledge, skills and means to maintain their good health and break the cycle of poor health and poverty. AMREF believe in the inherent power within African communities – that the power for lasting transformation of Africa's health lies within its communities. committed to improving health and health care in Africa.  AMREF works to ensure that every African can experience the right to good health by helping create vibrant networks of informed communities that work with empowered health care providers in strong health systems.
B. One Life Africa, Nairobi, Kenya.  One Life Africa brought me to the Mathare Slum, the oldest slum within Nairobi to see Valley View Primary School (40% of their participating students currently come from this school) to meet the students and see the challenges that they are overcoming every day by working towards a career through education.  One Life Africa began a couple years ago to assist "qualified" grade eight students who didn't have the money to continue onto secondary school. The program of course helps give these under-priviledged students a chance to succeed through both scholarship and mentoring.  In year two, the program supports 73 students. One studying law at the university of Nairobi law school and 72 students are attending national and provincial boarding high schools in Kenya.  Please visit their website to learn more about the program, to set up an in-person visit or to donate.
Valley View currently has over 887 students and 45 teachers.  Valley View's largest need is to help increase the monthly salary of their teachers from $100 USD to $250 USD.  Other than the obvious costs of living, this increase will help Valley View (a non-formal school, in simple terms means that they do not receive government aid, but their students do qualify to test for secondary school) offer "competitive salaries" to their teachers and help break the cycle of poverty for the students.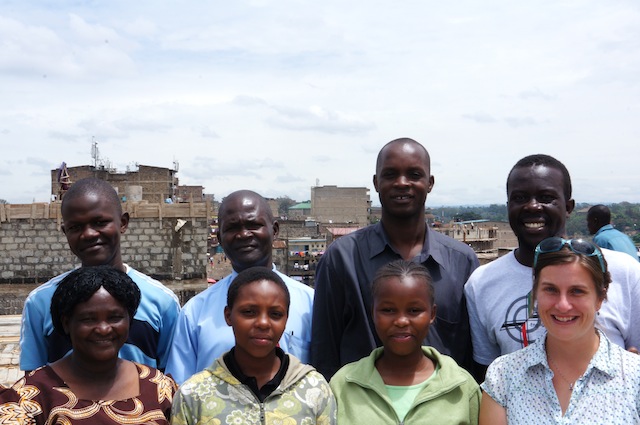 Founders Andrew (back right) and Stephanie (front right) of One Life Africa.  Principal of Valley View Primary School in the Mathare Slum (back, mid-right), graduates of Valley View and secondary students in the One Life Africa program with their parents.