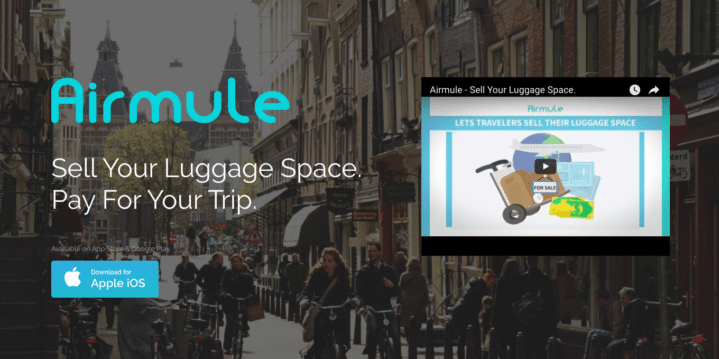 Here's another tool I learned about at the Phocuswright Conference (see this week's travel website). Everyone knows that's it's really expensive to ship a package overseas. I learned that the hard way when my dad left his hearing aid battery in Connecticut and we were in France.
Well, instead of paying some ridiculous fee to the Post Office, FedEx, DHL, or some other courier service, you can now ship faster and for much less thanks to the sharing economy. Airmule claims to provide shipping two to three times faster and 75% cheaper. It does this by offering air travelers the chance to make money by "loaning" the extra space in their luggage.
Per the website, shipping with Airmule takes less than two minutes and just four steps:
Login to the app, enter the address or the city where you want to ship and search.
Choose a Mule (Traveler) that best fits your needs. By default, you are searching "Mules" in your area, however you can adjust your search origin city if there are no Mules close by. The date is local time and indicates when the package will arrive at the destination. You will also see the distance between you and the Mule, this will determine the pickup fee if you request a pickup.
Fill out the form, add your credit card, then send the inquiry. A few things are very important here: Time, Description, Photo, Weight, Recipient, Pick-up. All times are local and the package must be picked-up by recipient

within 48 hours

after arrival.
To manage your shipments, view shipment history and messages under "MY SHIPMENTS". You can click the shipment, view its details: Price breakdown, Recipient's available pick-up date, and QR code for pickup. You can also adjust the weight here (before pickup or drop off). Communicate with your Mule, share more photos and locations with the messaging feature. The Recipient can join the group message if they use the same email address as entered by the Sender.
Mules earn 80% of the shipment cost. To become one (full details here), travelers must have a U.S. address and bank account to receive payment. List your trip by entering the flight details and available luggage space in pounds. Mules can decide if they are willing to pick up shipments from senders and earn an extra fee. The fee for pickup is $5 plus $0.60 per driving mile between the sender and mule as gauged by Google Maps.
Airmule is currently available only for iOS users.
Important: Obviously, if you use this service as a mule you'll want to make 100% certain that what you are bringing with you is nothing illegal or harmful. There are obviously risks, but if done right, this service could be a win-win.