This is a guest post written by Joe Szopa. 
On December 23rd, I was on flight 731 from Seattle to Anchorage when we had to make an emergency landing in Juneau due to a mechanical malfunction. My dad has always taught me to think ahead when entering a space, whether it's a room, a stadium, or an airplane.  Sometimes, I mentally note my position in relation to exits in case of an emergency, in case anything comes up.  This subtle mental practice of situational awareness has been very useful in a number of situations throughout my life where I've needed to make quick decisions, and most of these involved travel scenarios.  In the case of Flight 731, emergency flight situations tend to rattle the nerves and create anxiety for the passengers aboard.  Here are some measures you can take to mentally prepare yourself if you are ever in this situation.
Remain calm.  Once the flight crew announced there was a problem with the plane, my paranoid mind immediately jumped to the worst-case-scenario assumption that ice-buildup on the wings was the reason we were landing in Juneau.  Ice is bad news.  The captain only gave us limited information, which was "There's a slight malfunction with the aircraft, and we decided to take the appropriate precautions and land in Juneau."  I felt my heart rate jack up and realized that I was beginning to psych myself out.  So I looked around and realized that the entire situation wasn't in my control.  Once I accepted having no control, I needed to be the calmest person on the plane, for the sake of everyone else.  It's important to be mentally prepared to tell people how to act and what to do.  If I kept sitting there freaking out, it wouldn't have been good for anyone.  I closed my eyes and took some really deep breaths to calm my nerves.
Create a distraction for yourself.  Once I was calm enough I needed a distraction to further curb anxiety.  I looked at my seat mate in 7B with her beautiful 3 month old sound asleep on her lap, and decided this woman was probably also very nervous.  I created a distraction by offering her some gum. Having gum is a great conversation starter (I learned this by watching people who smoke cigarettes. Ever notice how many of them are incredibly good at connecting with people socially at bars?  It's because they share cigs). She willingly obliged and engaged.  She was definitely nervous.
Have something to start a conversation.  Pick out an object, whether the other person is wearing it, or it's a book, or whatever.  It doesn't matter what it is, just get yourself and others talking.  It's good for you and will calm you down.  But DON'T talk about plane crashes, or other bad experiences you've had on planes or any transportation.  Don't theorize about what is happening to the plane.  If you don't know, it doesn't matter.  It's not in your control.
Be proactive.  Immediately begin thinking about your next step.  At this point it doesn't really matter what was wrong with the plane, all you need to know is how the heck you're going to get out of where you're at, and when.  In the case of flight 731, we were told immediately upon arriving  that there was an engine malfunction, and then once inside the terminal that we could travel on two flights the following morning. Knowing I was guaranteed a spot was helpful, but the three on duty attendants still needed to rebook all the tickets and provide hotel accommodations for every passenger, and the line started to grow.  I knew I would be guaranteed a spot on those flights, but decided I didn't want to stand in line all night (it was already 11:21PM) to book a hotel room and  wait for a ticket.  I entered the situation in Juneau assuming that every hotel room would be booked.  You never know what kind of event is going on at the time you arrive in a city, and to me it was important to at least book a room where I could kick it until my flight the next day, whether it was at 7:30AM or noon.  I also assumed Alaska Airlines would reimburse me for my room instead of waiting for a voucher.  On my way down to the ticketing counter I spotted an ad for a Best Western near the airport, and I found them on Google Maps and reserved a room.  I was the first person to call, so I told the hotel to expect a lot of phone calls coming his way.  At the worst, I'd have to pay out for a room or call them back, cancel the reservation and rebook with an Alaska Airlines approved hotel.  I've spent plenty of nights in airports to only do it again as a last resort.
Get in line and get on a line. Attendants are usually so overwhelmed with the situation that it will likely take you a long time before talking to one.  Instead, get on a phone and talk to the airline directly.  Alaska has a general line for reservations that only operates during business hours.  They also have an Awards hotline and a MVP hotline for their special travelers.  Call those numbers instead even if you're not a rewards member, because if they can't help you then they can get someone on the phone who can.  I have an Awards account and called the Awards hotline.  After waiting on hold for ten minutes, I was able to get through and talk to an agent.  The agent rebooked my flight as well as my seat mate's flight.  Within minutes, we were able to leave in the same cab and check-in at the hotel together.  I was sound asleep long before the line at the airport purged.  By being proactive and taking matters into your own hands, you're also helping other travelers by leaving the line and making everything move faster.
Follow up. The next day, make sure you talk to more than one airline employee or ticketing agent to assure the information they are giving you is accurate.  Once your travel is complete, make sure to call the customer care representatives to file your claim.  This is crucial if you want to get reimbursement for your hotel room and any mileage credit or discounts due to the flight cancellation.
Go buy some new underwear.
Keep on traveling!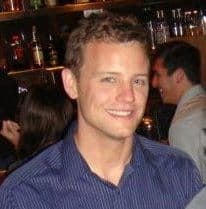 Joe Szopa is a producer and editor for The Dan Patrick Show and The Nick and Artie Show on DIRECTV, a blogger for LiveMusicBlog.com, and a freelance producer of branded web videos.  His work can be seen on NBC Sports Network, The Audience Network, MTV Africa, TechCrunch, and Gizmodo.