If you've been following me on Facebook, Instagram, Twitter, and/or Periscope then you know that I took my dad to the 142nd running of the Kentucky Derby! Horse racing is my dad's passion (don't ask me why) and when Tauck invited us, I couldn't turn this incredible opportunity down.
2014 Tauck's Baseball Hall of Fame Event in Cooperstown
If you've ever done a Tauck tour or attended one of their events, then you know they do everything right. It's not cheap, but with Tauck, you don't have to worry or really even think about a thing. I first experienced their tours in 2014 when I did Tauck's Baseball Hall of Fame event in Cooperstown, New York. They brought in award-winning documentarian Ken Burns, Hall of Fame pitcher Phil Niekro and many others; it was the trip of a lifetime, and you can read about it here.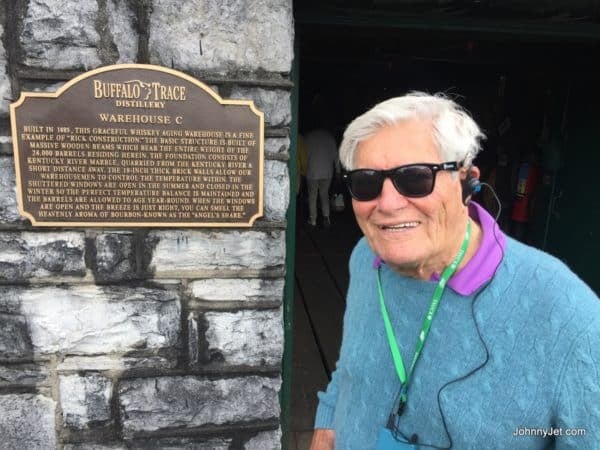 Day 1: Lexington, Kentucky
If you're a horse racing fan like my dad, then the Kentucky Derby Tauck event is the trip of a lifetime as it was for my dad and the other attendees. The trip begins the Wednesday night before the Derby (always held on the first Saturday in May), with a welcome reception at the host hotel. I wasn't able to make it since I was in Europe for work (on a Viking Ocean cruise) but my dad attended and wouldn't stop raving about the people, food, and band. They had local entertainment by the Berea Festival Dancers and the Hog Operation Bluegrass Band, a Derby favorite. BTW: The host hotel is in Lexington because it's closer to the attractions they visit leading up to the Kentucky Derby. It also doesn't hurt that Lexington, Kentucky is the horse capital of the world.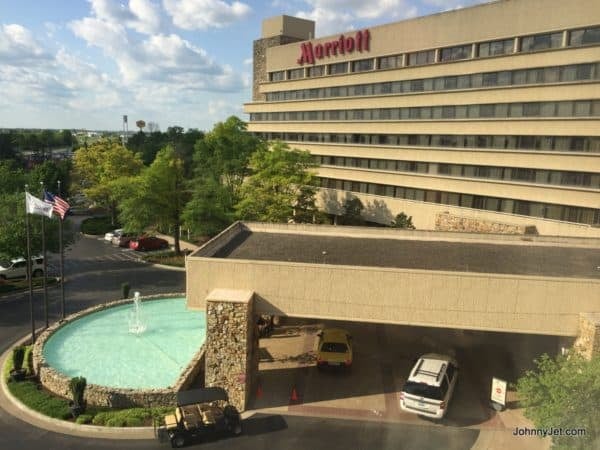 Griffin Gate Marriott Resort and Spa
The host hotel is the Griffin Gate Marriott Resort and Spa (1800 Newtown Pike, Lexington, KY 40511; Tel.: 1-859-231-5100). It's a nice hotel but it's not quite up to the caliber of what Tauck usually has on their tours. But since this is Kentucky, there aren't a lot of luxury options in the area that can hold 160+ guests and Tauck's staff. Don't get me wrong: the Griffin Gate Marriott Resort and Spa is a solid four star hotel and there's a lot to like about it but Tauck hotels are usually truly memorable. What I like about the Griffin Gate Marriot is that it's less than 15 minutes from the Lexington Airport and Keeneland Race Track, which is where they hold a private dinner (more on that in a minute). The resort has a spa, indoor/outdoor pool, gym, club lounge and has enough rooms and meeting space to hold large events. It's also the first hotel that I've stayed in that has the horse racing channel (TVG), which my dad watches as intensely as kids watch the Cartoon Network.
Tauck Guides and Busses
While I was making my way from Paris to Lexington via Chicago, my dad toured around Lexington with his group. What's cool about Tauck is that they break everyone up into small groups to make it a much more intimate experience. My dad made friends right away and he loved his tour guide, Wayne Allen. Wayne was born and raised in Kentucky and has been doing this Kentucky Derby tour for decades. Another Tauck detail is that you don't have to worry about those people who rush to the front of the bus to score the best seats each morning and try to lay claim the whole trip. Instead, Tauck assigns seats every day and they rotate them so everyone gets a chance to sit in the best seats. I loved this and the fact that the bus had excellent, free WiFi, electrical outlets and a toilet in the back. They also don't pack the buses so each one had empty rows in the back, mostly to make room for the drinks and snacks they provide but I would go sit back there for more room to work on my laptop; as with all my travel, this was a working trip for me. FYI: For 160+ customers they provided five buses.
Good to know: Tauck guides call each customer a few weeks before the trip to get to know them and answer any questions or concerns. I had plenty of questions regarding my dad; in particular, I wanted to know that they'd make sure my 87-year-old father made it from the airport to the hotel without me at 11:30pm. He did!
Day 2: Kentucky Heritage & Dinner at Keeneland
My dad and his group toured around the Lexington area learning about the heritage and traditions of Kentucky's Bluegrass region. They went on guided visits to historic sites. They explored the life of Kentucky statesman Henry Clay and his descendants on a guided tour of Ashland. This was the Lexington estate established by "the Great Compromiser" – an early horse racing patron and breeder of thoroughbreds – in 1806. I arrived just in time to join them for a very special dinner overlooking the racetrack at Keeneland, which is considered one of the finest thoroughbred racing facilities in the world.
Chris McCarron
Earlier in the day, Tauck had legendary jockey Chris McCarron, winner of the Kentucky Derby in 1987 and 1994, come speak to the group and they he joined them for dinner. That's where I met him and he couldn't have been any nicer. My only regret was that I shouldn't have asked him who he liked in the Derby since the horse he liked (Creator) didn't even place—and of course I bet on it! Just goes to show, it's anyone's guess who will win a horse race. FYI: Chris was also one of the stars in the movie Seabiscuit, which Tauck sent everyone a DVD copy of a month earlier.
Day 3: Thoroughbred Horses, Bridles & Bourbon in Lexington
Some of the groups went to Louisville for the Oaks Day – the 142nd Running of the Kentucky Oaks, a 1-1/8 mile race for three-year-old fillies at Churchill Downs in Louisville, dubbed the Run for the Lilies. The Oaks dates back to 1875, and has been won by some of the greatest fillies in thoroughbred racing history. Most of the Louisville locals prefer to attend the Oaks but I opted to join those who didn't want to go to the Oaks for the chance to get an in-depth look at the enduring local traditions of raising and racing world-class thoroughbred horses. We went to Adena Springs about an hour away, which is a highly-awarded North American thoroughbred breeding farm and home to many important thoroughbred stallions. Some of the horses we saw were Mucho Macho Man, Ghost Zapper, and Awesome Again. They breed to race and it's not cheap. I think they said it's $70,000 for the season where they guarantee a pregnancy. They breed from February through July and they want the horses to be born on January 1 or after. Not a day before.
Buffalo Trace Distillery
Afterward, we drove through Paris, Kentucky to Frankfort (the capitol of Kentucky) to have a private BBQ lunch at the 130-acre Buffalo Trace Distillery. The food was amazing and they had a bluegrass band, which everyone enjoyed. Then we went on an hour-long walking tour of the oldest continually operating distillery in America, for a unique, firsthand look at the art of distilling, aging, and bottling fine Kentucky Bourbon. When we got on the bus to go back to the hotel, Wayne had left everyone a fun Blanton Stopper (they sell them in the gift shop for $2.75). It's the unique bottle top that adorns every bottle of Blanton's Bourbon, one of the distillery's most famous bourbons.
Julep Cup Restaurant
That night, Tauck invited everyone to have dinner in town at a local favorite restaurant. What's unique about Tauck is that they will make reservations for several tables of six at popular local restaurants and pair couples up. Tauck pays for the dinner but not the alcohol. They also provide transportation to and from the venue. We went to the Julep Cup and I ordered arguably the unhealthiest item on the menu or any menu in the United States for that matter … a Kentucky Hot Brown, which is made of oven-roasted turkey and spiral ham on sourdough bread smothered with Mornay sauce, cheddar cheese, tomato, and bacon. ($15).
Day 4: Derby Day: The 142nd Running of the Kentucky Derby
Saturday was the big day everyone was waiting for and it began just like every morning with a huge breakfast buffet. The Tauck buses all left at 8:15am for the 77-mile drive to the derby. Tauck is smart to get there early to avoid all the traffic and craziness but it makes for a long day. Once we arrived at Churchill Downs, we walked to a trolley to get to the infield. What's a bummer is that you can't bring any professional cameras (nothing with a detachable lens or six inches or longer). So I was stuck taking photos with my iPhone 6 Plus instead of my big Nikon. Tip: If you use your phone a lot like me then bring a portable charger to juice up.
Did you know? On Derby day they sell 120,000 Mint Juleps (made with Kentucky bourbon, simple syrup, crushed ice, powdered sugar, and mint)!
Tauck's Derby Seats
Tauck offers a few different types of seating for Derby Day. The Jockey Club, which is as good as it gets except for Millionaire's Row (we were there in 2002) or a Start Gate Unit.. The latter are new to the Derby as of a couple of years ago. They are tents that are put up just for the event and are on the infield. You don't have a whole view of the track but you do have an amazing view of the Finish Line and the turf races. There are also all kinds of amenities like air-conditioning, regional cuisine, open bar, TV monitors, a self-service betting machine, and a live Pari-mutuel teller! That means we didn't have to leave the tent, brave the crowd, or wait in long lines to go bet. On top of that, they had luxe portable bathrooms that were nicer than most restaurant bathrooms. Of course, I walked around to take some photos, see a friend and admire all the hats. FYI: This Kentucky Derby had the second largest attendance with 167,227 people. Last year was the highest in history with 170,513. You can see all of my photos below.
Nyquist, the favorite, won the race and that meant it was the seventh favorite to win the Kentucky Derby since 2000.
The only negatives were that Tauck couldn't get all their tents together so if you had friends in other groups like my dad, it wasn't easy to visit with them. Also, the people next door wouldn't stop smoking cigars.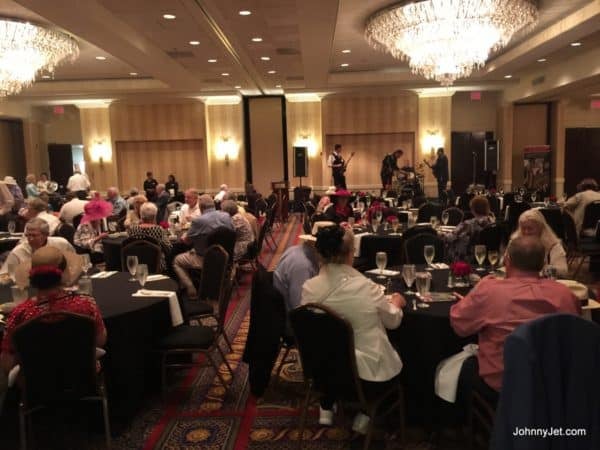 Farewell Dinner
As Wayne predicted, Derby Day is a long but unforgettable day. I was impressed by how well Tauck and Churchill Downs organized everything and kept traffic moving. We didn't wait in any traffic jams and made it back to the hotel by 8:30pm. The day wasn't over because Tauck had a farewell dinner in the hotel's ballroom with southern food and a fantastic country music band.
Day 5: Journey Home
Sunday is when 99.8% of the participants left but I booked us an extra night in the hotel ($271) so my dad could rest and I could save some money. I spent a month monitoring flights out of Lexington and Louisville for the Sunday after and everything was triple the normal price. So we stayed an extra day and it was really great to relax, catch up on work, and sleep. Flying out of Lexington on Monday was super easy as there were no lines at the ticket counter or at the TSA security check point.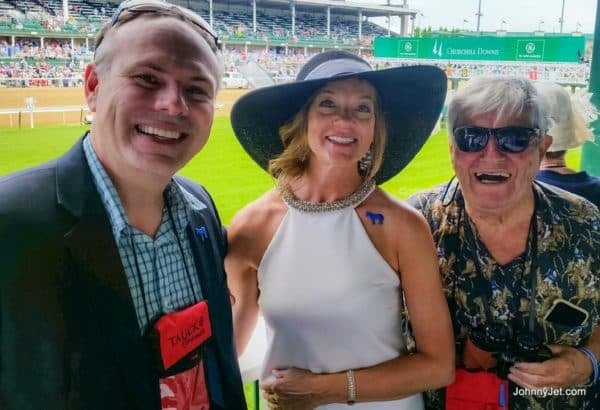 Want to Go Next Year?
If you want to attend next year's Tauck Kentucky Events, the dates are Wednesday, May 3 – Sunday, May 7, and they'll have the same two itinerary options: Thoroughbred World (with Oaks Day) and Bluegrass Country (with additional sightseeing around Lexington). Prices haven't been set yet, but interested readers can certainly reserve space now.  Once prices are announced, you can either confirm your reservation or cancel with zero penalty within two weeks.