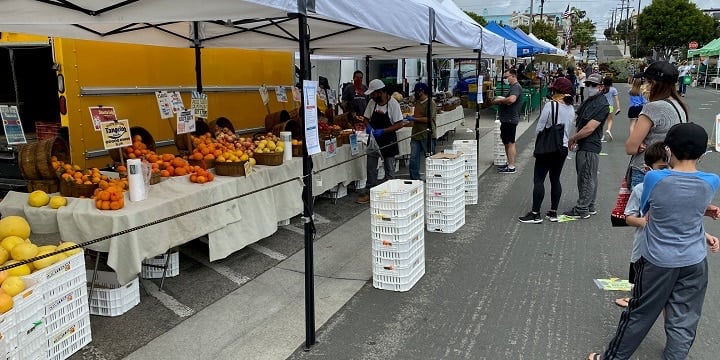 Greetings from sunny Southern California! Our local Manhattan Beach Farmer's Market reopened on Tuesday for the first time in a couple of months. It was a welcome but surreal experience: everyone had to wear a face mask, line up six feet apart, could only enter from one entry point and go in one direction. They allowed and encouraged zigzagging to different vendors but no backtracking. Unfortunately, in the few minutes I was there, I saw three people go downstream. There was only a fraction of vendors compared to "normal" times and no hot food. Patrons couldn't touch the produce as tables were roped off about three feet from the goods so you just request what they want and it's packed up and handed to you. It's similar to how markets work in Italy in pre-COVID-19 times as you don't touch the fruit unless you're going to buy it. I liked it but wish they all had contactless capabilities to pay like Apple Pay, not just credit/debit cards or cash.
I just kept wondering: What if I had been marooned on an island or in a coma for a few months and was dropped in the smack middle of this with no one telling me about COVID-19. Would I be able to figure out what was going on? I also think that every time I watch (and tear up) at the Uber commercial. Life is just so crazy right now and this pandemic makes us realize how lucky we were to be living the lives we were before it happened.
I feel terrible for those at highest risk like my 91-year-old dad who is basically a prisoner in his house in Florida. By now I've would have seen him multiple times as I was averaging a visit every few weeks. Obviously, I can't risk infecting him or his fellow seniors so I'm not going anywhere near the Sunshine State. But I do know he needs a big hug right now especially since he lost his brother to COVID-19 last month.
Like everyone, I'm just waiting, hoping and praying for a vaccine/cure. In the meantime, I will lean on the side of caution and follow the advice of the health experts and not get on a plane unless I absolutely need to.
This is what I did to get my money back from Air Canada
This week, I was supposed to be sending this newsletter from Toronto and then flying to New York City on Air Canada (AC). If you remember from a few weeks ago, where I wrote about my experience calling five different airlines (AC, American, Hawaiian, JetBlue, Southwest, I had tickets booked and I was waiting until Air Canada canceled our flight so I could get a full refund instead of a travel voucher for 24 months. Well, guess what? Air Canada is refusing to refund my money, which is not only a lame thing to do, but it's against the Department of Transportation (DOT) rules. Here's my post on how I'm getting my money back and why I'm filing a complaint with the DOT.
I also updated this post with a Hawaiian Airlines and this Air Canada update:
DOT warns airlines—again—to issue refunds for canceled flights after receiving 25,000 complaints
Sadly, Air Canada isn't the only airline trying to keep customers' money. United is back to their old tricks and the DOT had to issue another warning to the airlines. USA Today reports, "The agency said it has received more than 25,000 air travel service complaints in March and April. That compares to an average of 1,500 in a typical month." Here's that story and the DOT press release.