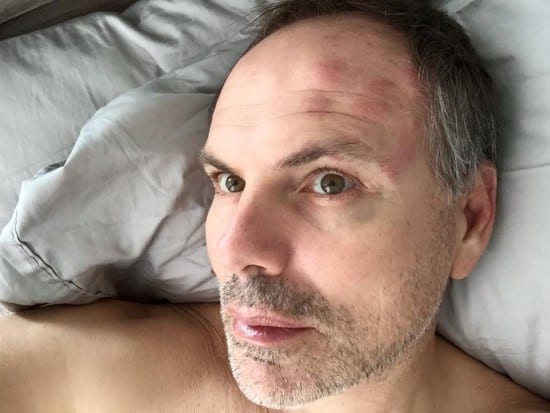 I went to the doctor last Wednesday because I had a really nasty earache, which felt like someone was stabbing my inner ear with a pin. Each time, the pain would only last for a split second but it would make my eyes water and part of my body twitch. I was surprised when the doctor said my ear looked clear. I then briefly mentioned that when I even lightly touched my eyebrow, forehead and my scalp on the left side, it felt like I had pimples growing but nothing was there. He confirmed there was nothing there but said it sounded like Shingles. I didn't even know what Shingles were so he gave me a quick tutorial. When I left I asked what the chances were that I actually had Shingles. He estimated 50/50 and wrote me a prescription for Valtrex, just in case anything popped up.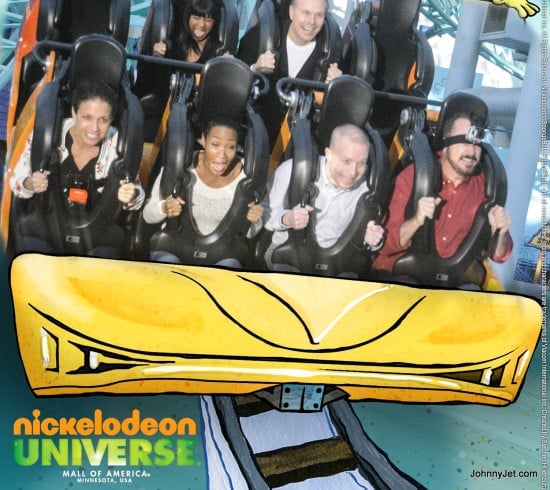 I initially thought he had misdiagnosed me because I thought it was for sure a sinus infection since I had had an upper respiratory infection the week before while in Minnesota and Canada.
But of course, I was wrong, because the next afternoon I felt something on my forehead. I was lying in bed and downloaded the free mirror app on my iPhone and when I saw red marks on my forehead, I jumped out of bed like I'd just seen a ghost and went directly to the bathroom mirror. I snapped a photo and texted it to my doc with the question, "SHINGLES?!" He wrote back immediately and said YES and told me to get on Valtrex ASAP. I was at the pharmacy within twenty minutes.
The following morning I felt the Shingles creep under my eyebrow so I texted my doctor again since everything I read said it could cause blindness. He recommended I go see an ophthalmologist and referred me to a doctor. That doctor squeezed me in on a Friday afternoon (I waited almost two hours in his office but didn't care). I got tested, learned I had 20/20 vision and that I should be okay but if it gets worst to call him so I can get on antibiotic eye drops.
What was cool about seeing this doctor is that he sees a lot of patients with Shingles and confirmed that I did indeed have the disease and recommended I go on a higher dose of Valtrex. Instead of 1 gram twice a day, he told me to take it three times a day.
I then asked what causes Shingles and he said it's usually brought on by stress. I didn't think I was that stressed until I looked back at my hectic week. From Toronto, I'd gotten up super early to take a 6am flight to Miami for a lunch meeting that never happened. Then, my hotels didn't allow me to get any sleep (here's my story on how I had to change rooms five times in three days).
A few days later, I flew back to L.A. on an early flight and hit the ground running. I had to get my house cleaned for my buddy who was coming into town, pick him up. Drive to Long Beach for a couple of cocktail parties and a speaker's dinner for the L.A. Travel and Adventure Show, at which I gave two talks the following morning. The real kicker was probably that my dad's flight from New York (he was coming in special to see me speak) was delayed by 7 hours and he didn't land until 4:45am! So I'm pretty sure all of the lack of sleep is what caused it. In fact, writing this is making my Shingles tingle.
This whole Shingles diagnosis has been a learning process. I had no idea that once you have chicken pox, the virus lies dormant in your system and can come out when you are stressed or have a weakened immune system. I did a lot of research and have included the most helpful links below.
One mistake I made was posting that I had the virus on my personal Facebook page (only friends could view it) to see if any of them had the disease and what their experience was. To my surprise, I had nearly 300 comments and 99.9% of them said it was hell, some even going as far to say it is worse than child birth or passing a kidney stone. Gulp.
The best part about posting it on Facebook was that my distant cousin kindly offered up her doctor husband's advice, which I gladly took since I couldn't get a hold of my doctor over the weekend. He was kind enough to take the time and speak to me for more than thirty minutes. When I told him the left side of my face was now really swollen, he suggested I get on Prednisone. 40MG at first, then 20mg twice a day for at least a few days. That's where I'm at now.
He also said that if the rash gets bad, to use aloe gel with at least 90% aloe or Polysporin (so far I haven't had to use it).
I've pretty much cleared my schedule for the next week or so and I'm just taking it easy. Working in bed and watching TV, which I rarely do. I almost feel like I'm back in high school again but sadly I don't have my mom around to take care of me. And my wife is working in Toronto. So to make sure I could
keep track of the date and times I took my medicines (and to monitor my symptoms), I made a chart and I've been diligent about keeping it updated.
One thing that's been on my mind: What if I'd been on the road and I got Shingles? What would have happened? Luckily, I carry a yearly travel insurance plan from Allianz Travel Insurance (here's my story). So I asked them and this is what they had to say about what would happen if I were to get shingles on the road:
You would call the Assistance team at Allianz Global Assistance to advise them of your situation.
They would direct you to the closest appropriate medical facility and arrange transportation if you needed it.  Our medical team rates medical facilities all over the world, so we know the best place for you to go for treatment.
After you arrive at the medical facility, our medical team will consult with your doctors to make sure you're receiving proper treatment and determine if you need to be moved to another facility or even brought back to the United States.
At the same time, our Assistance team will contact the medical facility to provide a guarantee of payment, so that you don't have to pay any costs upfront. Many hospitals outside the U.S. require upfront out of pocket payments from patients who do not have a guarantee of payment.
If you're hospitalized for more than 7 days during your trip, we'll arrange and pay for round-trip transportation for a family member to be with you.
If you need to be brought home, we will arrange and pay for medical transportation to a facility near your home and we'll provide a medical escort if one is necessary.
We will pay reasonable medical costs not paid by your primary insurance provider, up to the limit of your policy.
We will make sure you get home safely and assist you with any questions you may have about filing an insurance claim.
This type of situation happens every day to our customers. Check out a couple (1, 2) of our customer stories.
So there's my story. I'm thankful that I was home but it seems if I did catch it while on the road but had a good insurance plan, I would be in good hands.
You might want to look into getting the Shingles vaccine. It's not a guarantee you won't get it but it's probably worth it.
Here's to you never catching Shingles.
Helpful Shingles resources: